(Announcement) Candied Smoked Paprika Cherry Berries
Last month, I was contacted by a PR representative from Lipman Produce. Lipman Produce, is North America's largest field tomato grower being in business for over 70 years and located in South Florida (Immokalee, Florida). Lipman asked me, along with 11 other bloggers, to create an original recipe using their delectable tomatoes in a dish for their new website; Lipman Kitchen.
Sounds simple, right? I use tomatoes on a daily basis. I buy pints of grape tomatoes on a weekly basis. All of a sudden when the pressure is on–my mind went blank. So I pondered over the recipe development offer for a few days until I came up with a few ideas, and then I officially committed to the project. Let's get real here, people. We all go through recipe block–very similar to writers block.
I chose to create a recipe with the bite-size Cherry Berries. These sweet tomatoes burst with flavors and are grown fresh year-round. As Lipman writes on their website "Our farmers agree – this is the sweetest, most irresistible tomato Lipman has ever introduced."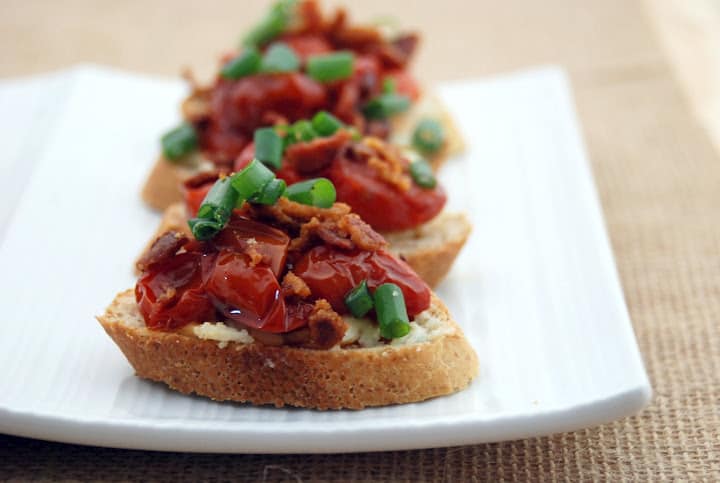 The first idea that came to mind… candying Cherry Berries. Why can't I candy a tomato? Small tomatoes like the grape variety, can be sweet and full of flavor. Adding just over a tablespoon and a half of sugar brings out those sweet flavors even more.
At first I thought about a long drawn out process to candy these gems. Slow roasting for a few hours; tomatoes mixed in a sugar mixture. That's when it occured to me that people want quick and easy; packed full of flavor. When I'm entertaining I don't want an appetizer that will take me hours to cook for a simple before dinner snack. That's when the Candied Smoked Paprika Cherry Berries was created. This sweet and savory appetizer is sure to have all of your guest begging for more and best of all your candied tomatoes are done in minutes! You can eat this appetizer warm or at room temperature and if you happen to have any leftover candied tomatoes leftover they are just as good the next day (refrigerated of course).
I hope you'll visit the new Lipman Kitchen to check out my recipe and all the other bloggers who contributed recipes to the Lipman website.
Disclaimer: I was provided tomatoes and compensation for creating this recipe; however, all opinions are my own.
16 Responses to "(Announcement) Candied Smoked Paprika Cherry Berries"
Trackbacks/Pingbacks

Leave a Comment