Dill Buttermilk Salad Dressing
My salad obsession continues. Today, I'm sharing a super simple creamy dill buttermilk salad dressing recipe I recently discovered and have come to love. I love making my own dressings. Since being pregnant, though, I've done a bad job of keeping up with making my own. If I get a boost of energy that's when I typically make a dressing. For the most part though I've been counting on higher-end refrigerated varieties that don't have a year or two shelf life. I like to buy the ones that have a month to two month shelf life. At least then I feel a little bit better about buying a store bought dressing and know (and feel) that its a little better for me.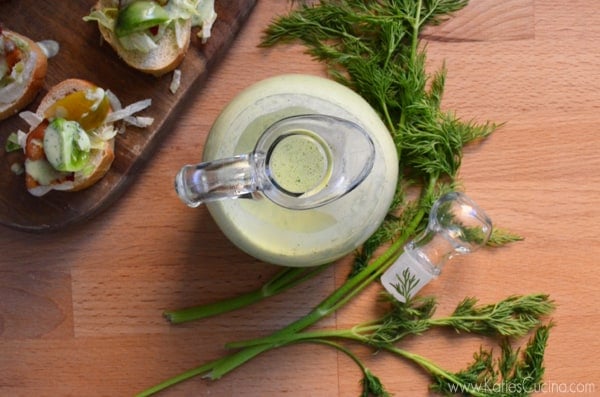 Normally, I would be all for the vinaigrettes, like my Greek vinaigrette dressing, but the creamy salad dressings have been wear its at all pregnancy long. This dressing, like other homemade dressings can be whipped up in less than 5 minutes and stores well in an airtight container. Utilizing fresh herbs from the garden (or store bought) brings this creamy dressing to life. For some reason, I went on a buttermilk buying frenzy a few weeks ago and when I saw I still had a carton of buttermilk to use within a week I had decided I would make a buttermilk dressing. I actually had all the ingredients on hand–so it really worked out well.
I also used this salad dressing to top a tasty crostini I served up to friends the other weekend. Remember, salad dressings don't have to be served just on salads. You can use them to marinate meats,  toss with vegetables, or use in an appetizer, like pictured in the background of this dressing photo. I'll be sharing the recipe for the crostini later this week–so stay tuned.
Adapted from About.com Local Foods
Dill Buttermilk Salad Dressing
Ingredients
1/2 cup buttermilk
1/3 cup mayonnaise
2 tbsp fresh dill, chopped
2 tbsp fresh chives, chopped
1 tsp salt
1/4 tsp garlic powder
1/8 tsp black pepper
Directions
In a food processor combine, buttermilk, mayonnaise, fresh dill, fresh chives, salt, garlic powder, and black pepper. Puree for 20 seconds or until well incorporated.
Best if refrigerated for 30 minutes before serving. Store in an air tight jar for up to one week.
http://www.katiescucina.com/2014/03/dill-buttermilk-salad-dressing/
This recipe is brought to you by Katie Jasiewicz of Katies Cucina
Warning
: Use of undefined constant rand - assumed 'rand' (this will throw an Error in a future version of PHP) in
/home/kjasiewicz21/webapps/katiescucina/wp-content/themes/katiescucina/single.php
on line
74
6 Responses to "Dill Buttermilk Salad Dressing"
Leave a Comment