I'm so excited to share with everyone today our fourth installment of our virtual progressive dinner party. For those just tuning in or might not know what a progressive dinner party is… it's basically a party where you hop from house to house to have different courses of the meal. This go-around we've decided to make this an appetizer and dessert dinner party! I'm bringing a super simple appetizer to the party; Grape Tomato & Ricotta Crostini.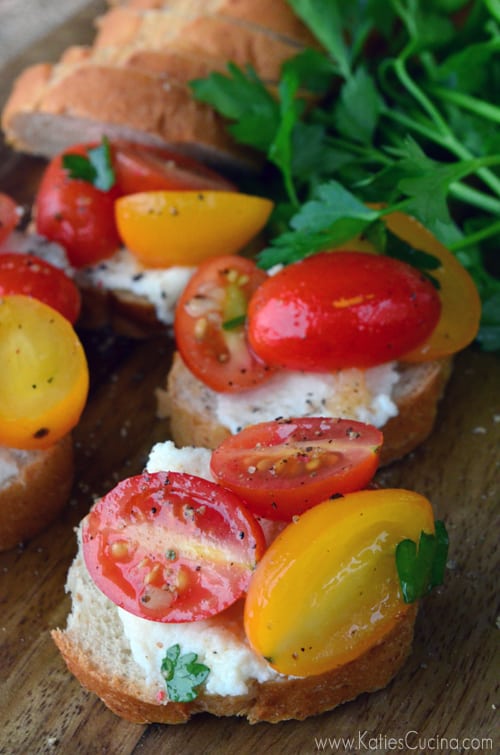 Before Jon and I left for our babymoon I was craving this appetizer–yet I had never even made it before. I had went food shopping after work, had the bag boy load all my groceries, and I even pulled out of the supermarket parking lot when it hit me to buy a baguette and make this Grape Tomato & Ricotta Crostini. Seriously. I was not dreaming this–this really happened to me a few weeks ago. So I circled back around the parking lot. Found a spot and marched right back into the grocery store to buy a baguette. I needed to use up the pint of grape tomatoes and ricotta cheese in my fridge and my rationale was to buy something else to use it up!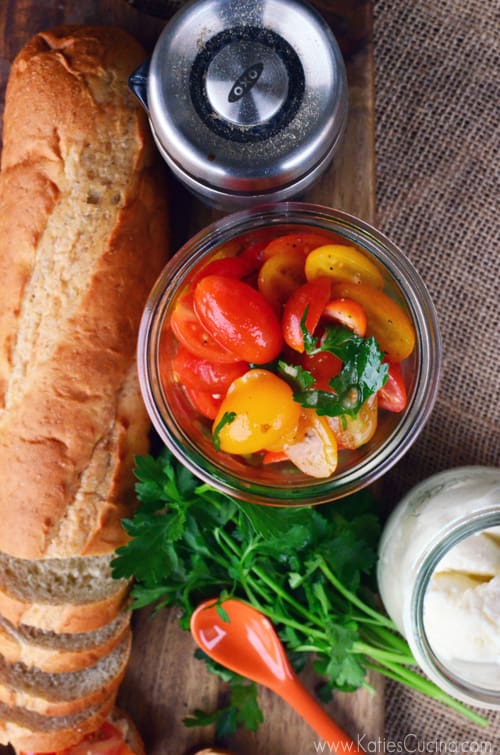 As soon as I got home, I unloaded the groceries and dispersed them between the refrigerator, freezer, and pantry. I cut the baguette and began toasting them. While the baguette toasted I started slicing the grape tomatoes in half. I seasoned them generously with salt and pepper, chopped up a little fresh parsley I had in the refrigerator and gave a squeeze of my refrigerated minced garlic. I pulled the toasted baguette out of the toaster oven, and started slathering on fresh ricotta. I topped each crostini with a few sliced tomatoes and freshly cracked pepper using my OXO Pepper Grinder, and proclaimed to my husband that our appetizer was ready before dinner.
read more