Make my recipe for Iced Pumpkin Coffee in the comforts of your own home. Best of all you won't be spending money every day at the coffee shop after you make this! 
Are you addicted to all things pumpkin? Do you count down the days until you can get one of the coveted seasonal iced pumpkin coffees? If so, my recipe for iced pumpkin coffee is your year-round ticket. No need to wait until the fall to get your favorite coffee. You can now have it every day if you choose. Yes, I know that's crazy talk but it's true. My recipe is just as good as the big box stores (ok, maybe even better) and cheaper! Gone are the days of paying $5 a day for a pumpkin flavored coffee. You can make them in the comforts of your own home.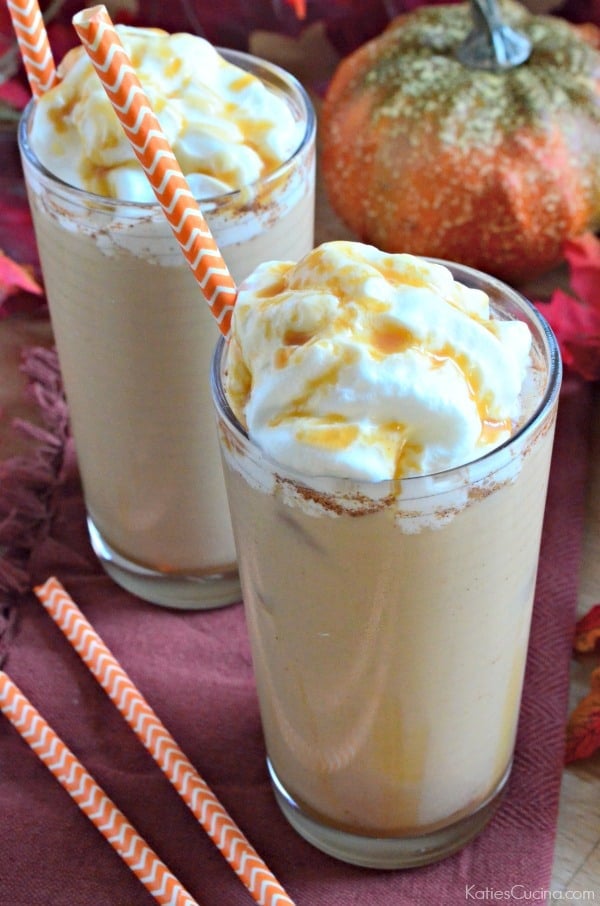 What makes this coffee a success? I found Pumpkin Pie Sauce during my last trip at World Market. This syrup is the bee's knees. If you can't find this or don't want to spend the additional money you could use traditional caramel sauce; however, you won't get the same intense pumpkin flavor like you will if you use this sauce. You can even make a big batch of this coffee and keep it stored in your refrigerator for up to one week. That way in the morning all you have to do is swirl a little pumpkin pie sauce in your cup, add ice, and pour the pumpkin coffee in the cup. Making coffee in the morning is now much easier.
Katie Original Recipe
Iced Pumpkin Coffee
Ingredients
16 oz freshly brewed coffee, chilled
1/4 cup half and half
1/4 cup powdered sugar
1/4 teaspoon pumpkin pie spice
pumpkin pie syrup
ice
whipped cream
Directions
In a large bowl mix together the chilled coffee with half and half, powdered sugar, and pumpkin pie spice. Whisk until incorporated.
Pour the pumpkin pie syrup around the rim of the glass, moving around in a circular motion. Then add ice, fill the glass with pumpkin coffee. Top with whipped cream and more pumpkin pie syrup. Enjoy
http://www.katiescucina.com/2014/10/iced-pumpkin-coffee/
This recipe is brought to you by Katie Jasiewicz of Katies Cucina
read more