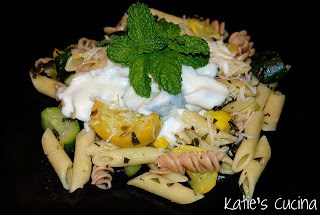 I found this recipe in the Wednesday section of my local newspaper. I was intrigued by the use of mint in this dish. To be honest the only way I ever use mint is for mojito's and since I have a rather large pot on my porch I figured I would give this dish a whirl. My husband wasn't too happy with the cream sauce since he's not a big fan of parmesan. But all-in-all it was good and easy of course!



Prep:

5 minutes




Total:

25

minutes
Serves:

4
Ingredients:
1 box penne pasta

(or whatever you have on hand–I had half boxes of each)

3 tbsp olive oil

1 cup part-skim ricotta

1/2 cup freshly grated Parmesan, plus extra for serving

2 tbsp warm water

1 lb summer squash, cut lengthwise in half and sliced into 1/3-inch half moons

6 tbsp chopped fresh mint

salt & pepper to taste
Directions:
1.
Cook pasta; reserving 1/3 cup water. Whisk 2 tablespoons oil with ricotta. Add Parmesan, water. Add more water if necessary.
2. Cook squash with remaining oil in skillet for 5 minutes. Add salt. On medium, add pasta and reserved water to squash. Cover; reduce to low, cook 2 minutes. Add mint. Season with pepper. Transfer to bowl. Garnish with ricotta mixture and parmesan; enjoy!