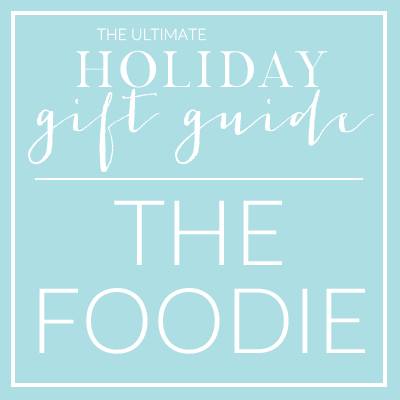 The holidays are right around the corner and what better way to help guide you in the right direction than to take a look at a variety of gift guides. I'm sharing with you my picks for The Foodie in your life. Even better if you scroll to the bottom you'll have a chance to win some of the items I'm featuring in my 2014 Foodies Gift Guide. And you can also get ideas for a wide variety of topics from 22 other bloggers (and enter their giveaways too)!

1.
Zoku Ice Cream Maker
: I've been making ZOKU ice pops for a few years now and now I'm so excited I can make single serve ice cream!!! Make individual portions of ice cream, custard, frozen yogurt, gelato, sorbet, or sherbet in as little as 10 minutes with the Zoku Ice Cream Maker
2. OXO Twist Top Bottle: This is my go-to use everyday water bottle. Everyone needs a good water bottle in their life! The large opening makes filling, cleaning and adding ice easy. The 24 oz Twist Top Bottle features a soft, non-slip carrying loop that is angled downwards for a natural, comfortable hold and is perfect for attaching to backpacks. Convenient measurement markings help track how much you're drinking and can be used as a reference when adding supplements.
3. Silpat Mat: I've been using Silpat® Non-Stick Baking Mats for the past two years. I bake everything on my Silpat! They are designed for every type of oven. From savory to pastry baking, nothing sticks to Silpat®. It is reusable for thousands of uses and provides even heat transfer to baked goods.
4.Lindt Celebrations Chocolate Basket: Everyone loves chocolate and who doesn't love Lindt Chocolate? The basket gives a little bit of everything and holds the most popular recipes, including LINDOR truffles, EXCELLENCE bars and diamonds and SWISS LUXURY SELECTION.
5. Peugeot Annecy Cheese Mill: I love freshly grated cheese and this is one of my favorites! Exclusive mechanism grates hard and semi-hard cheeses effortlessly; chocolate, walnuts, almonds, hazelnuts and more.5. I Like Pig Butts Multi Pack Can Coolies: Everyone needs a coolie to keep their drink cold. If your at the Food Trucks or tailgating you will appreciate this for sure. This vintage style can cooler is perfect for keeping your drink cool while the party heats up.
6. OXO Little Salad Dressing Shaker: I love this smaller version of a salad shaker. Perfect for a one-dinner salad dressing with no leftovers. The watertight Shaker offers a clean, neat and convenient way to mix, serve and store dressings, sauces and marinades. The top unscrews to reveal a wide opening ideal for adding a range of ingredients like oil, vinegar, mayonnaise, mustard, garlic, onions and spices. The Shaker is made of a BPA-free, break-resistant and dishwasher safe material.
7.
Spiceologist Block™ – Starter With Spices
: I had to include this into my holiday gift guide for foodies. This company of amazing spices was created by a fellow food blogger Heather from
Farmgirl Gourmet
.
Knife block meets spice rack in this beautiful European Beech block filled with 22 glass vials of fresh spices. Beautify your kitchen in one easy step! It's not only gorgeous, but it will help you be creative in the kitchen by keeping your most used spices close at hand. Each cork is hand stamped and every tube is hand filled.
8. Peugeot Spring Cradle: If you are a wine lover you will love this stylish wine bottle holder. A beautiful piece that underlines discreetly yet graciously your most beautiful wines. Spring holds all styles of bottles in the ideal position, highlighting the label.
9. OXO SteeL Wine Stopper/Pourer Combination: To follow up with the foodie wine lover you need this wine stop and pourer in one. The OXO SteeL Wine Stopper/Pourer Combination is the perfect two-in-one gift for anyone from the wine connoisseur to the casual entertainer. Combining function and elegance, the sleek, brushed stainless steel Stopper/Pourer Combination reduces drips and spills while pouring and allows for even and consistent wine flow.
10. Wine Club by Whole Foods Market: Who doesn't love wine delivered to their door? Whole Foods Market is now offering six extraordinary, hard-to-find wines. Carefully curated by their two Global Wine Buyers. Delivered to your door four times a year for $125 per shipment.
11.Skillet Bacon Jam Bacon Spread 7 0z. – 3 Jar Pack: Most foodies (like me) love bacon. Give a little bacon this holiday season. Made from Uncured Bacon, No Nitrite or Nitrates added and an incredibly flavorful, tasty condiment!
12. CDN ProAccurate Waterproof Pocket Thermometer: Every foodie MUST own a thermometer and what better than one that is waterproof! For home cooks who want a highly practical cooking thermometer, the long stem provides accurate temperature readings with a fast 6-second response.
13. Frieling Black Cube Fry Pan: Ever since I've received this frying pan I haven't stopped using it. This is the first of many other pans coming out from Frieling–once you cook with this frying pan you will never go back to anything else. The Ultimate Cooking Surface – A world's first: Black Cube™ combines all the benefits of stainless steel and nonstick cookware.
14.Molecular Mixology Kit – Cocktail R-EVOLUTION: If you know someone who loves a good cocktail this is the kit for them. This kit comes with 5 food additives (50 sachets), 5 pipettes, 1 slotted spoon, 1 set of measuring spoons, and 1 DVD of 30 recipes.
15. OXO Small
Silicone Spatula
: Every foodie needs a good
spatula
in their life (or a dozen like me). Easy-to-clean silicone covers the head and neck of the Spatulas and they are heat-resistant up to 600°F, so they won't discolor, warp or melt.
16.
Welcome Home Brands Paper Bakeware
: I'm all for disposable and cute bakeware!!! The free-standing, disposable bakeware eliminates the need for metal bakeware, offering a whole new way to bake, serve, store, and give all in one unit. It's oven safe to 400°F and freezer safe.
17.LETTER PRESSED Type-Style Cookie Cutter/Stampers: If you know a foodie and font lover you know they will love these cookie cutter stamps! These cookie cutters are made of strong durable food-safe plastic, packed in reusable storage trays, makes 26 different designs, and are fun and easy to use!
18. OXO Hand-Held Mandoline Slicer: My absolute favorite go-to tool that I use EVERY single day! Use the soft knob to adjust to the desired slice thickness, and slide the food over the stainless steel blade for perfect, even slices. The Hand-Held Mandoline features a clear surface that shows slices accumulating below.
19.
Kitchen IQ Better Zester
: I've bought this zester for all the foodies in my life. The only way I'll zest! The V-etched Zester blade is made up of over 300 tiny V- shaped teeth and is covered with a non- stick coating. The food- approved coating allows the zester to smoothly glide across the surface of all types of citrus, while finely zesting the outer layer of skin and not the bitter pith. The Better Zester includes a "fresh zest" storage container with squeegee. This additional accessory gathers the fresh zest as it is grating and the squeegee helps remove the moist zest from the back of the blade. The clear container is marked with measurements in teaspoon and ML.
20.Misto Brushed Aluminum Olive Oil Sprayer, Tomato: Get your spray on. These olive oil sprayers are awesome! Perfect for the foodie trying to watch their weight and still want to indulge in a little EVOO. Or simply just want to mist on the olive oil while cooking.
21.
Totally Bamboo 3-Tiered Salt Box
: I love having salt right next to my stove when I'm cooking. What better way than a 3-tier salt box. Pivoting three-section storage box holds sea salt, spices and more. Designed with weighted base for better balance when open. Keep multiple salts or other seasonings near the stove and ready to use when cooking or baking
22. OXO Locktop Lunch Set: Every foodie needs a sturdy container to store their lunch or leftovers in. LockTop™ Lunch Containers were designed with leakproof, airtight lids that snap on easily and confidently. Just push the outer frame down onto the lid to engage the inner locking tabs and silicone ring for an instant, secure seal. Durable, BPA free Tritan Container bodies resist warping and staining, and are crystal clear to reveal contents inside. The lids are also clear to make contents viewable from above.
23. Deluxe DIY Cheese Kit for Beginners- Make Mozzarella, Ricotta, Crumbly Goat Cheese, Creamy Chevre, Paneer or Queso Blanco in 1 Hour!: I've always wanted to make my own cheese and what better way then to give this gift to the foodie lover in your life–or cheese lover for that matter. Kit includes: Instruction& Recipe Handbook and Unlimited Email Support. Fine Mesh, 100% Cotton Cheesecloth also known as Butter Muslin. Glass Dairy Thermometer (alcohol not mercury). Gluten-free, Non-GMO Vegetarian Rennet Tablets. Gluten-Free, Non-GMO Citric Acid. Pure, Non-Iodized Flake Salt. Makes at least 30 batches of the listed cheeses.
24. Kyocera 6-Piece Slicer Set: Grate cheese or vegetables with ease of knowing it's contained in one place! Kyocera's handy six-piece set equips you with everything you need for a variety of slicing and grating tasks.
25. I Like Pig Butts 2 Pack Can Coolies Magenta– perfect doozie to have if you are frequenting the food trucks for a meal! Holds 12 oz cans or 12-16 oz bottles. Folds flat for easy storage. Machine washable. Neoprene material allows for beverages to stay cool.

Now for the giveaway. ONE reader will win some of my favorite foodie gifts this holiday season. If you win you can choose to keep them for yourself or give them as a gift to the foodie of your choice! Must reside in the USA and be 18+. Must enter the mandatory entry to qualify to win. One winner will be chosen at random. Giveaway ends 11/9/14 at 11:59 pm EST.
Giveaway items up for grabs:
$50 Whole Foods Market Gift Card

Silpat Mat

Peugeot Spring Cradle

CDN ProAccurate Waterproof Pocket Thermometer

Kyocera 6-Piece Slicer Set

Frieling Black Cube Fry Pan

OXO Locktop Lunch Set
OXO Hand-Held Mandoline Slicer
OXO Small Silicone Spatula
OXO SteeL Wine Stopper/Pourer Combination
OXO Little Salad Dressing Shaker
OXO Twist Top Bottle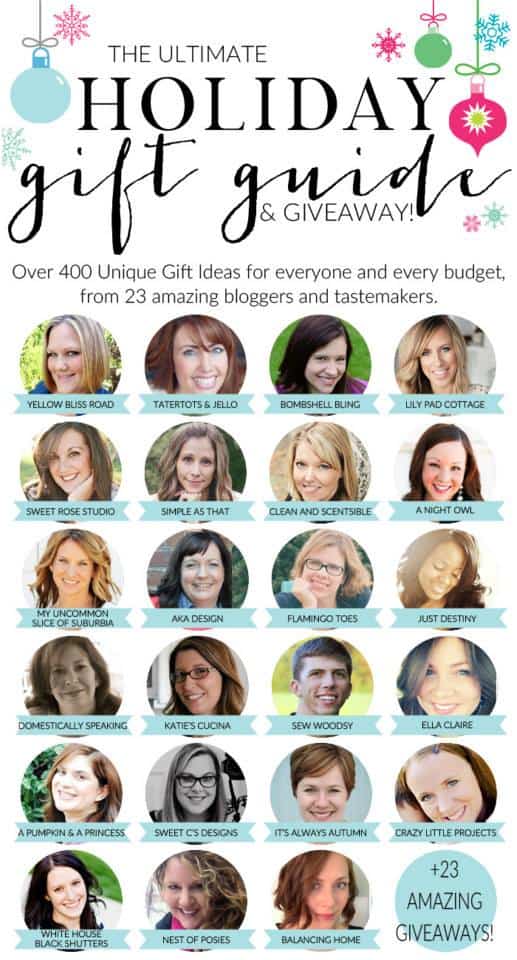 I hope this helps get you in the spirit and ready for the holidays!
Disclaimer: We did not receive any compensation to create this gift guide. All prizes are donated from our favorite brands that we love. As always all opinions are our own. There are affiliate links in this post, if you buy from the links we will receive a percentage of the sale.