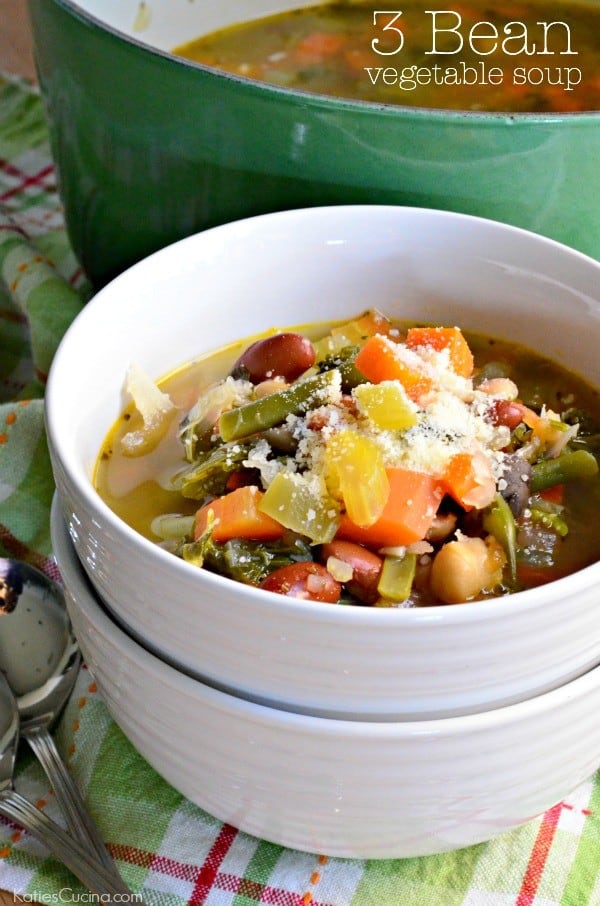 If you subscribe to my weekly newsletters (or any of my social media channels) you'll know that I was crazy sick last week. This was my first real cold as a parent. Sure, I had bronchitis when Ryder was 5 months old, but I wasn't as sick as I experienced last week. Last week, was the real deal and I don't wish that on any of my worst enemies. I had zero energy. As I laid in bed, during one of Ryder's naps I thought about making a big pot of soup; however, I had no energy to make that happen. Thankfully my mother and mother in-law brought us over soup both days that I (as well as my husband) were really really sick. And then after that I had some energy and made the biggest pot of soup my Le Creuset pot could handle.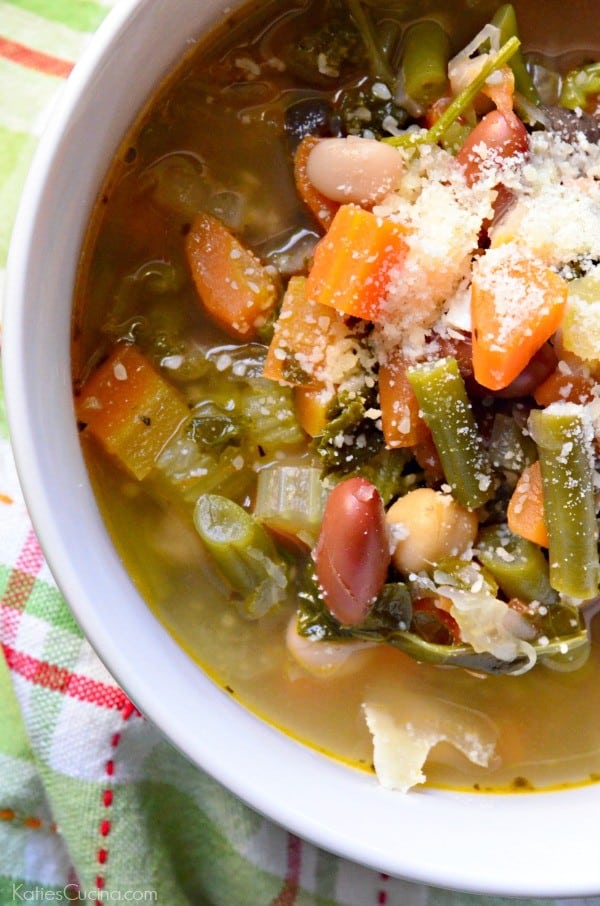 Because I didn't want to leave my house I decided I would just use what I had on hand, and that's how this 3 Bean Vegetable Soup came to life. Originally I was going to make a minestrone soup, but after I added all the vegetables and beans there was no more room in the pot! That's when I decided I would keep ti as is.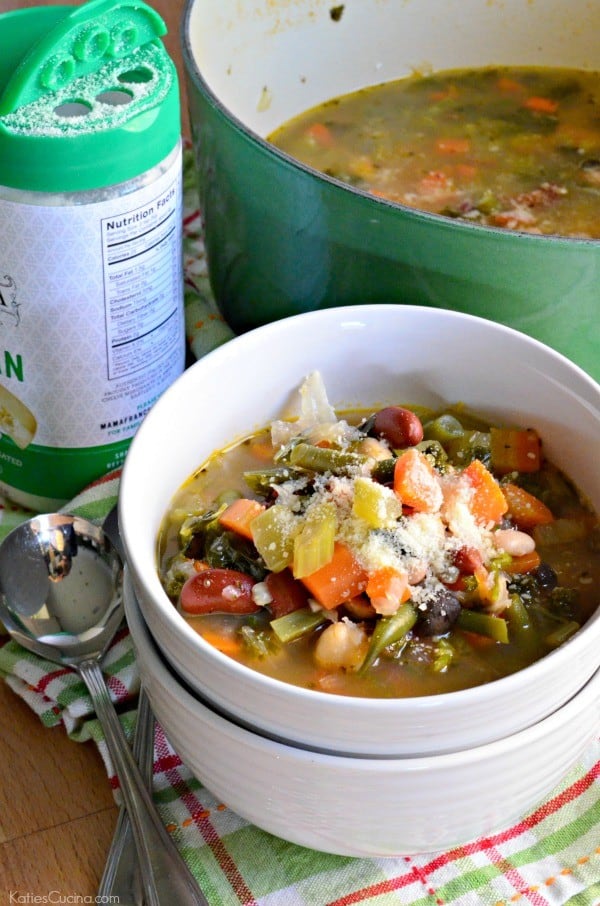 To be honest I'm so glad I did! It was so good! This soup was so comforting and packed with veggies goodness. Of course with a sprinkling of grated parmesan cheese I felt the soup was complete. The best part about this soup is that you can use whatever vegetables you have on hand. Same goest with the beans!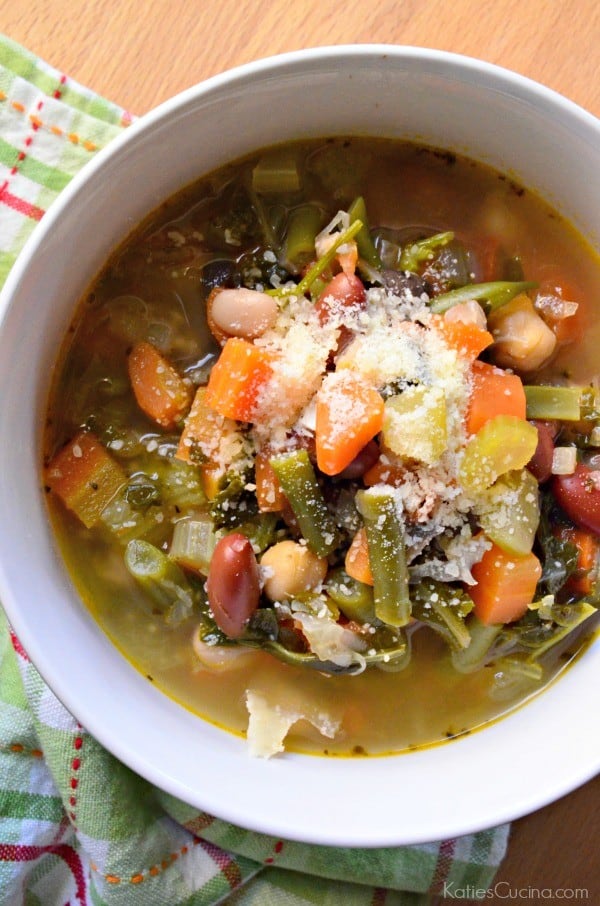 The night I served this soup we were out of all of our traditional "cereal/soup" bowls. So I had to use pasta bowls. It made it look super fancy. So don't be afraid if you are out of traditional bowls… serve it up in something different and switch it up! Regardless, whether your feeling healthy or not… give my recipe for 3 Bean Vegetable Soup a try. I can't wait to make this again on the next cold day of the year!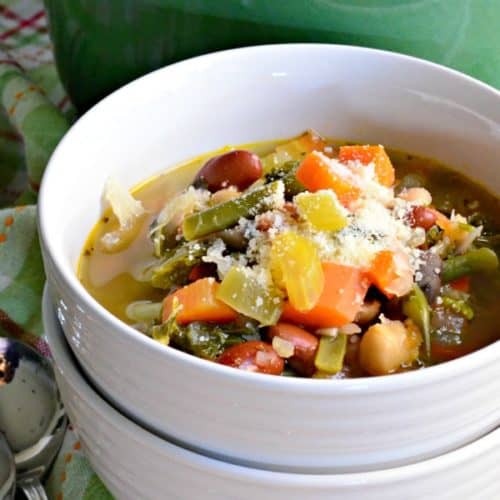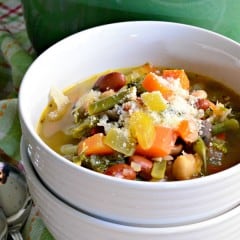 3 Bean Vegetable Soup
Make this hearty vegetable bean soup in less than an hour. It's packed with robust flavors and tastes like it's been simmering on the stove top for hours.
Print
Pin
Rate
Ingredients
1

tbsp

grape seed oil

4

carrots

diced

4

stalks of celery

diced

1

onion

diced

4

cups

of kale

chopped

2

cloves

garlic

chopped

1

cup

green beans

chopped into 1-inch pieces

1

cup

of shredded cabbage

3

plum tomatoes

roughly chopped

1

cup

white mushrooms

chopped

1

tsp

salt

½

tsp

black pepper

½

tsp

italian seasoning

8

cups

chicken stock

1 15.5

oz

can of kidney beans

rinsed and drained

1 15.5

oz

can of garbanzo beans

rinsed and drained

1 15.5

oz

can of cannelini beans

rinsed and drained
Instructions
Pour the grape seed oil in a large stock pot. Swirl around and place on high heat. Add in the carrots, celery, onion, kale and garlic. Mix well and then add in 1 cup of the chicken stock. Place a lid on the stock pot and cook on high for 10 minutes until vegetables begin to be tender. Mix a few times during the 10 minute cooking time. If the broth starts to absorb into the vegetables and the pot begins to become dry feel free to add in a little more chicken stock.

Next add in the chopped green beans, shredded cabbage, tomatoes, and mushrooms. Season with salt, black pepper and italian seasoning. Pour the chicken stock into the stock pot and mix well. Reduce heat to medium. Cook for 10 additional minutes.

Then add in kidney, garbanzo, and cannelini beans. Mix well and cook for an additional 10 minutes. Remove from heat, ladle into bowls, and enjoy.