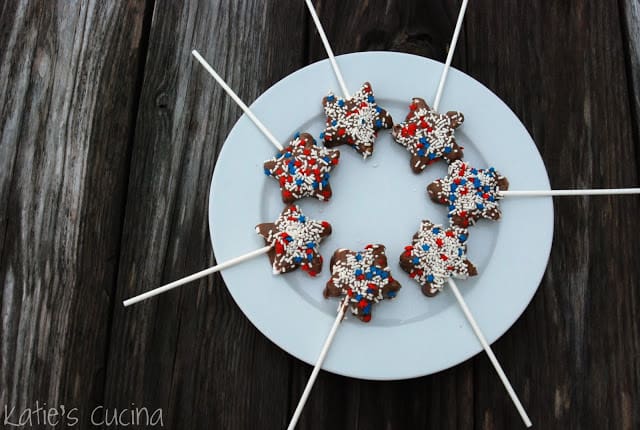 Happy 4th of July! The whole reason why I wanted to make homemade marshmallows was because I had seen a similar version on Pinterest. Melanie, from Whimsical Creations recently blogged about "Smores on a Stick"! That's when I knew that this would be the perfect opportunity to make my own homemade marshmallows, put them on a stick, and dip them in chocolate and sprinkles!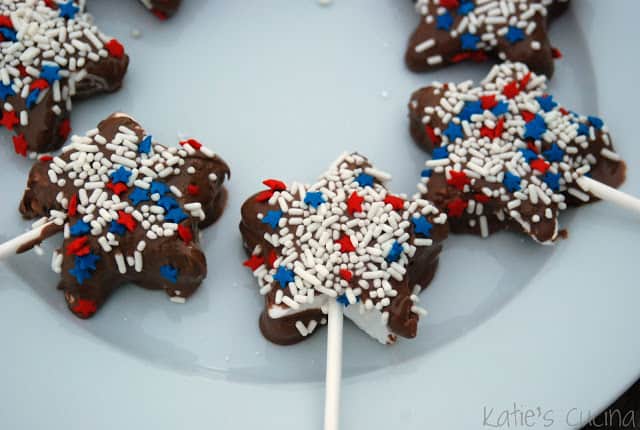 Well, I can definitely say it worked. However, I was in a rush and failed to put the chocolate dipped marshmallows on parchment paper to dry–so they dried directly on the plate. A big dummy move on my behalf, but that's how we live and learn. My husband was eventually able to get them off with a few seconds in the microwave and gently prying them off by using a fork! In any event–make sure you use parchment paper. These treats are delectable and you'll want to come back for more!
Source: Katie Original
Prep Time: 10 minutes
Cook Time: 1-2 minutes
Ingredients:
1 cup chocolate melting discs
1 batch of homemade marshmallows
Sprinkles
Lollipop sticks
Directions:
1. Line a baking tray with parchment paper.
2. Place a lollipop stick in each of the marshmallows.
3. Melt chocolate in a microwave safe bowl (in 30 second intervals). Once the chocolate is melted carefully dip the marshmallow on a stick into the chocolate. Then pour sprinkles over the chocolate covered marshmallows. *You will want to have a dish under where you will be pouring the sprinkles.
4. Let the lollipops cool in the refrigerator for at least an hour. Remove from the refrigerator and serve!