If you love a good toasty cheesy sandwich you'll love these 50 Grilled Cheese Sandwiches from savory to sweet and everything in between.
Today, I have my blogging friend in real life, Christine from Cook the Story sharing 50 Grilled Cheese Sandwiches. Christine is all about helping you spend less time in the kitchen and more time at the table with family and friends. To get her quick tips and recipe ideas, subscribe to her weekly newsletter here.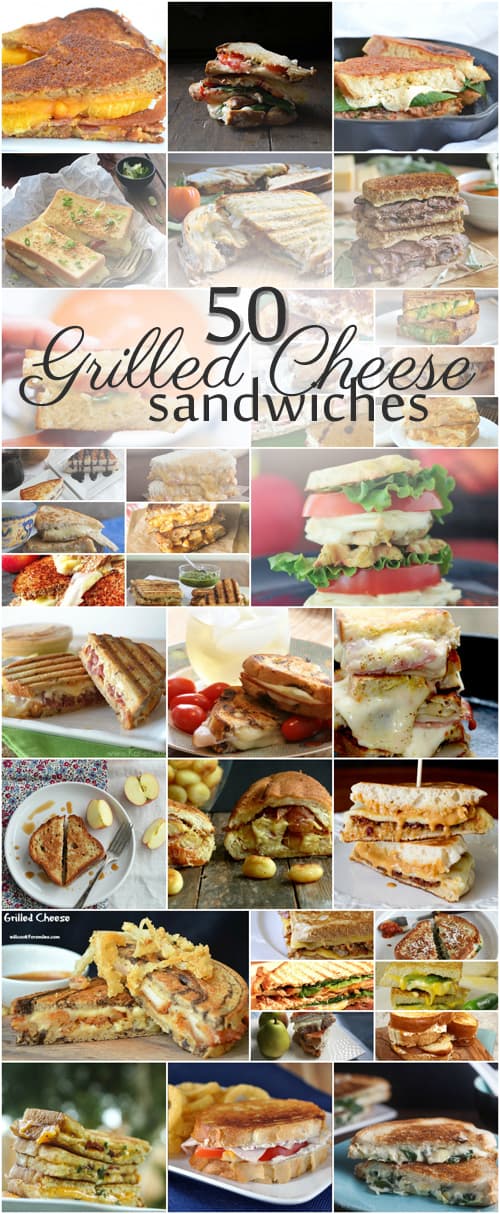 Today is the perfect day to be helping Katie out with her blogging maternity leave. Why? Because 6 years ago today, my first child was born. 6 years! The time has sure flown. He's a full-fledged kid now who loves Angry Birds, science, karate, Sophia the First and grilled cheese sandwiches.
Ahhh…grilled cheese sandwiches. There are very few things as comforting as gooey cheese between butter-crisped bread.
Last year I made it my mission to find a way to get the ultimate crunch on the outside of a grilled cheese sandwich without destroying the inner fluffier part of the bread. I figured it out.
The key to that outer crunch is to add something to the butter. Something that gets crunchy when heated. I have two ingredients that do the trick.
The first is parmesan cheese. You mix finely shredded parm with softened butter and then smear it on the outside of the sandwich. Get all the details about this crunchy grilled cheese sandwich here.
The second ingredient is ideally suited for breakfast-style grilled cheeses or grilled cheese sandwiches with apple and cheddar. It's maple syrup. You mix the syrup with softened butter and slather it on. The heat of the pan caramelizes it into a sweet crunch. Get all the details about this breakfast grilled cheese here.
Once you've got the outer crust of your grilled cheese sandwich figured out, all that's left to make it perfect are the fillings. And have I ever got filling ideas for you! Here are more grilled cheese filling ideas than you could ever imagine!
BLT with Mozzarella and Sundried Tomato Panini from Katie's Cucina
Gnocchi-Bacon Grilled Cheese Sandwich from The Noble Pig
Bacon Pretzel Grilled Cheese from The Noble Pig
Pumpkin Grilled Cheese with Apples and Cheddar from Kitchen Tested
garden fresh grilled cheese from Spabettie
Grilled Cheese Wafflewich Sliders from Spabettie
Grilled Cheese with Apples and Farmer's Cheese from The Lemon Bowl
BBQ Chicken Grilled Cheese Sandwiches from The Little Kitchen
Jalapeno Popper Grilled Cheese from The Kitchen is My Playground
PB&J Grilled Cheese from Poet in the Pantry
Spinach, Tomato and Gouda Panini with Apple Butternut Squash Spread from Big Bear's Wife
Habanero Jack Grilled Cheese with Pear and Prosciutto from Cooking with Books
Roast Beef and Smoked Gouda Grilled Cheese from Running to the Kitchen
Spinach Artichoke Grilled Cheese from Healthy. Delicious.
Gourmet Grilled Cheese with Jalapeno Jelly from Healthy. Delicious.
Sloppy Burger Grilled Cheese from Snappy Gourmet
Buffalo Shrimp Grilled Cheese from Snappy Gourmet
Pesto Pizza Grilled Cheese from Weary Chef
Pepperoni Pizza Grilled Cheese from Ask Chef Dennis
Sweet Honey Pomegranate Grilled Cheese from An Edible Mosaic
Spinach Mozzarella Grilled Cheese from An Edible Mosaic
Sattay-Inspired Turkey Grilled Cheese from An Edible Mosaic
Pimiento Grilled Cheese from Taste and Tell Blog
Grown Up BBQ Chicken Grilled Cheese from Will Cook for Smiles
Ultimate Grilled Cheese from Julie's Eats and Treats
Bacon Chipotle Pimento Grilled Cheese from Growing Up Gabel
Spinach Artichoke Grilled Cheese from Taste and Tell Blog
World's Best Grilled Cheese (on cinnamon raising bread!) from Shockingly Delicious
Spicy Mushroom Torta with Queso Quesadilla from Muy Bueno Cookbook
Brie, Tomato and Basil Grilled Cheese from Foodologie
Wine Poached Pear Grilled Cheese from Dieters Downfall
Basil, Balsamic Strawberries and Whipped Feta Grilled Cheese from Cupcakes and Kale Chips
Caprese Grilled Cheese from Diiethood
Strawberry Brie Grilled Cheese from Food Babbles
Reuben Panini from Katie's Cucina
Grilled Vegetable and Pesto Panini from Overtime Cook
Grilled Muenster with Turkey, Tomato and Thyme Spread from Very Culinary
Loaded Baked Potato Grilled Cheese Sandwich from Southern Fairytale
Grilled Nutella Cheesecake Sandwich from Chocolate Moosey
Brie, Pear and Walnut Grilled Cheese from Jane's Adventures in Dinner
Grown Up Grilled Cheese Sandwich from Aggie's Kitchen
Lemon Basil Grilled Cheese Panini from The Lemon Bowl
Grilled Cheese with Apple, Rosemary and Walnut Butter from Bran Appetit
Philly Cheesesteak Grilled Cheese from Nutmeg Nanny
Grilled Triple Cheese Sandwiches from Around My Family Table
Red, White and Blue Grilled Cheese from Ari's Menu
Strawberry Bruschetta Grilled Cheese from Foodie Crush
Italian Grilled Cheese from A Night Owl
French Onion Soup Grilled Cheese from Tenacity Solution