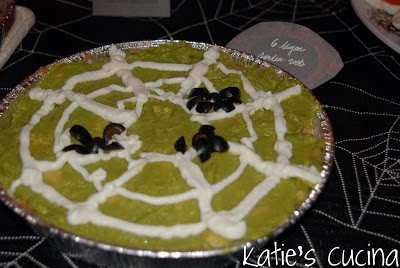 I love 7 layer dip–always have, and I'm guessing always will! This is my third year making my 6 layer spider web, and I felt the need to share this super easy recipe. It's 6 layers and not 7 layers because I do not add the lettuce that I would normally add in a 7 layer dip!
1 container of Wholly Guacamole

¼ cup of sour cream

zip lock baggy

sliced olives

½ cup salsa

1 can vegetarian refried beans

¼ cup shredded mexican blend cheese
1. In a round dish place the vegetarian refried beans at the bottom, followed by salsa, and cheese.
2. Then spread the guacamole on top. Place the sour cream in a zip lock baggy and cut a very small portion of one of the corners off. Pipe sour cream over guacamole as if it were a spider web!
3, Lastly, take sliced olives and cut them in half creating "spiders" on the web. Enjoy with tortilla chips.
This dip needs to be made right before your serving it since the guacamole will discolor over time.