Apple Dump Cake
cobblerThe easiest way to make any cake is to dump everything in the pan and bake it! This Apple Dump Cake is loaded with fresh apples and easy to make.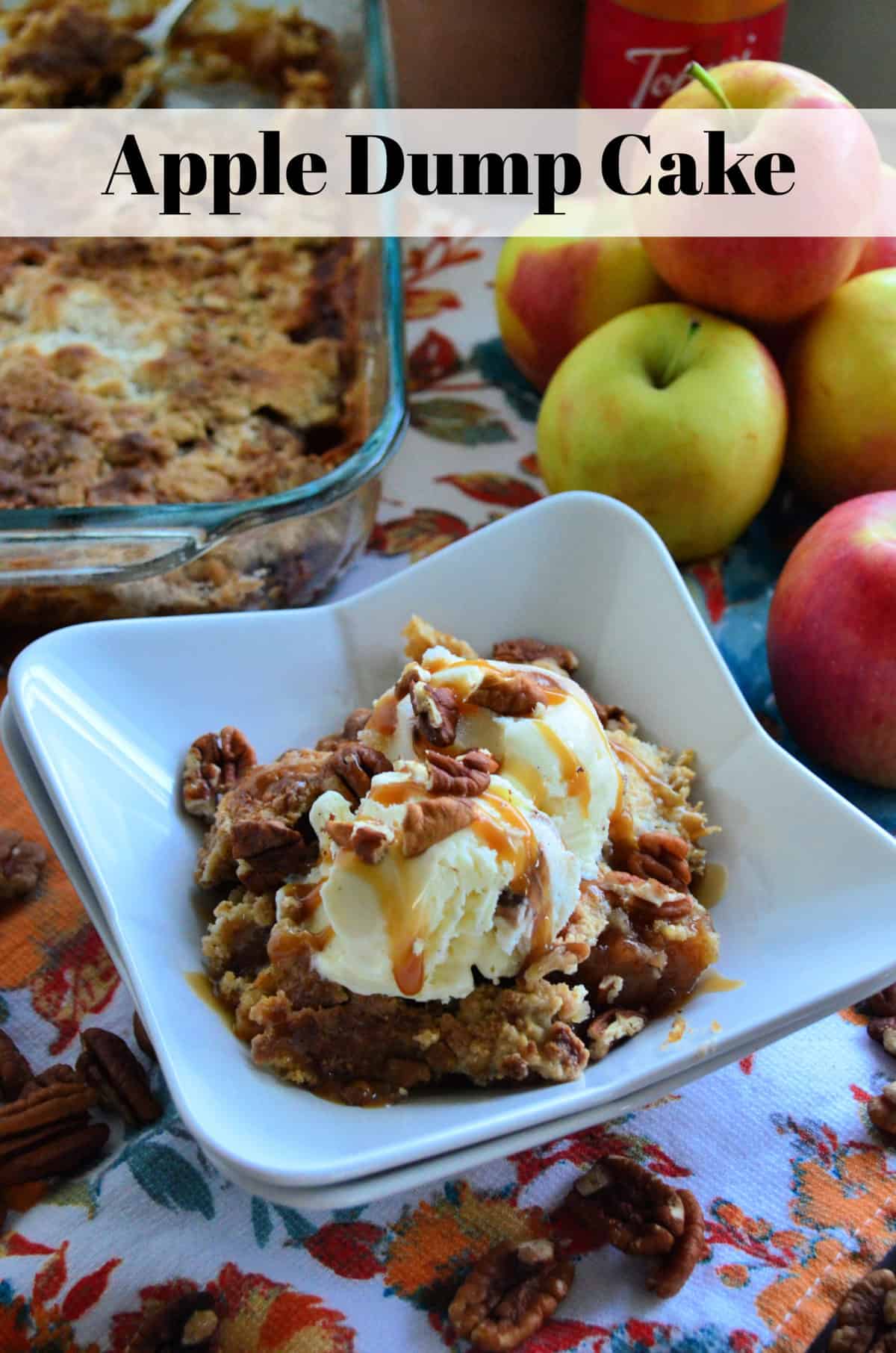 When I was in middle school I have fond memories of my friend Lauren's mom making a dump cake. She made them almost every time I was over. As a teenager when we heard the word "dump" it instantly ensued giggles. I will be honest. I was apprehensive to try it at first, but once I had a bite. I was hooked.
Recently, I started brainstorming new recipes to share with my readers and I kept going back to my friends mom who would make the "dump cakes". I have made them before in the past in my own house, but never shared them on the blog. If your looking for an easy fall dessert recipe I hope you'll give this Apple Dump Cake recipe a try.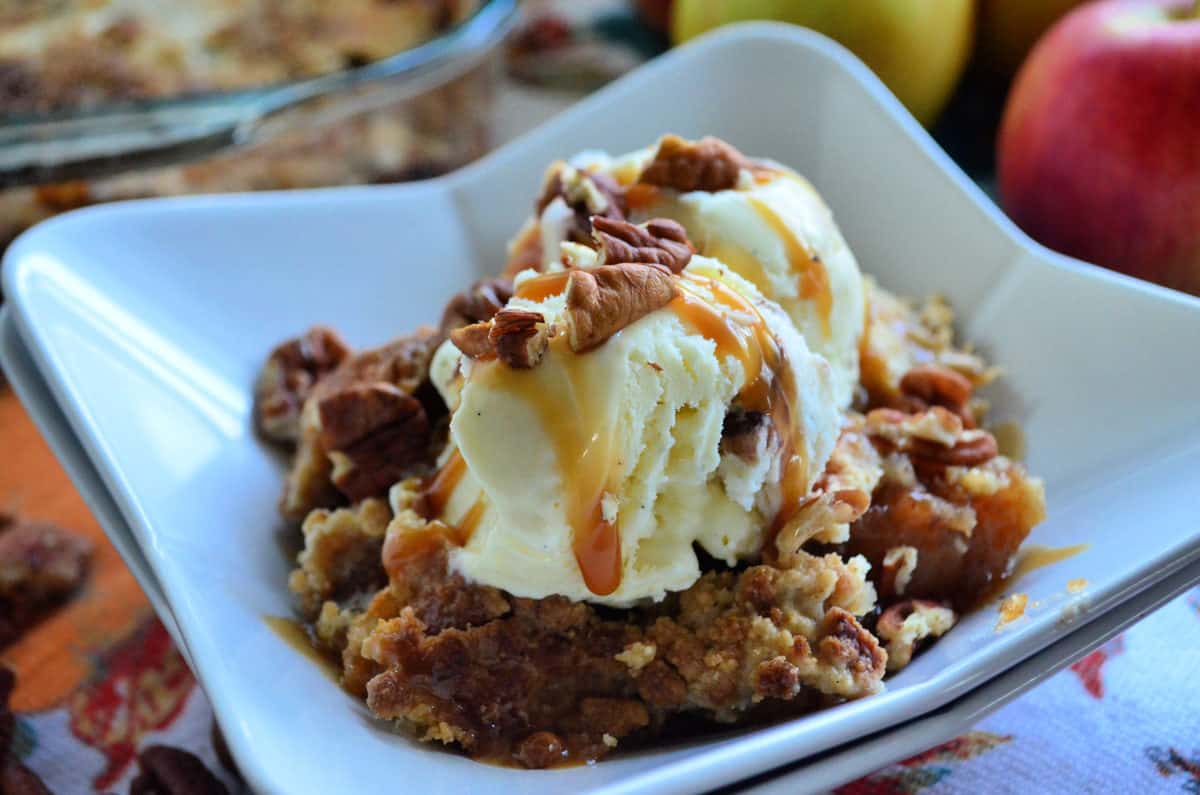 What is a dump cake?
According to Wikipedia: "A cake similar to a cobbler, made by dumping fruit or other filling into a pan and then dumping cake mix on top." That's the best way to explain what a dump cake is. Definitely gives the cobbler taste, texture, and feel.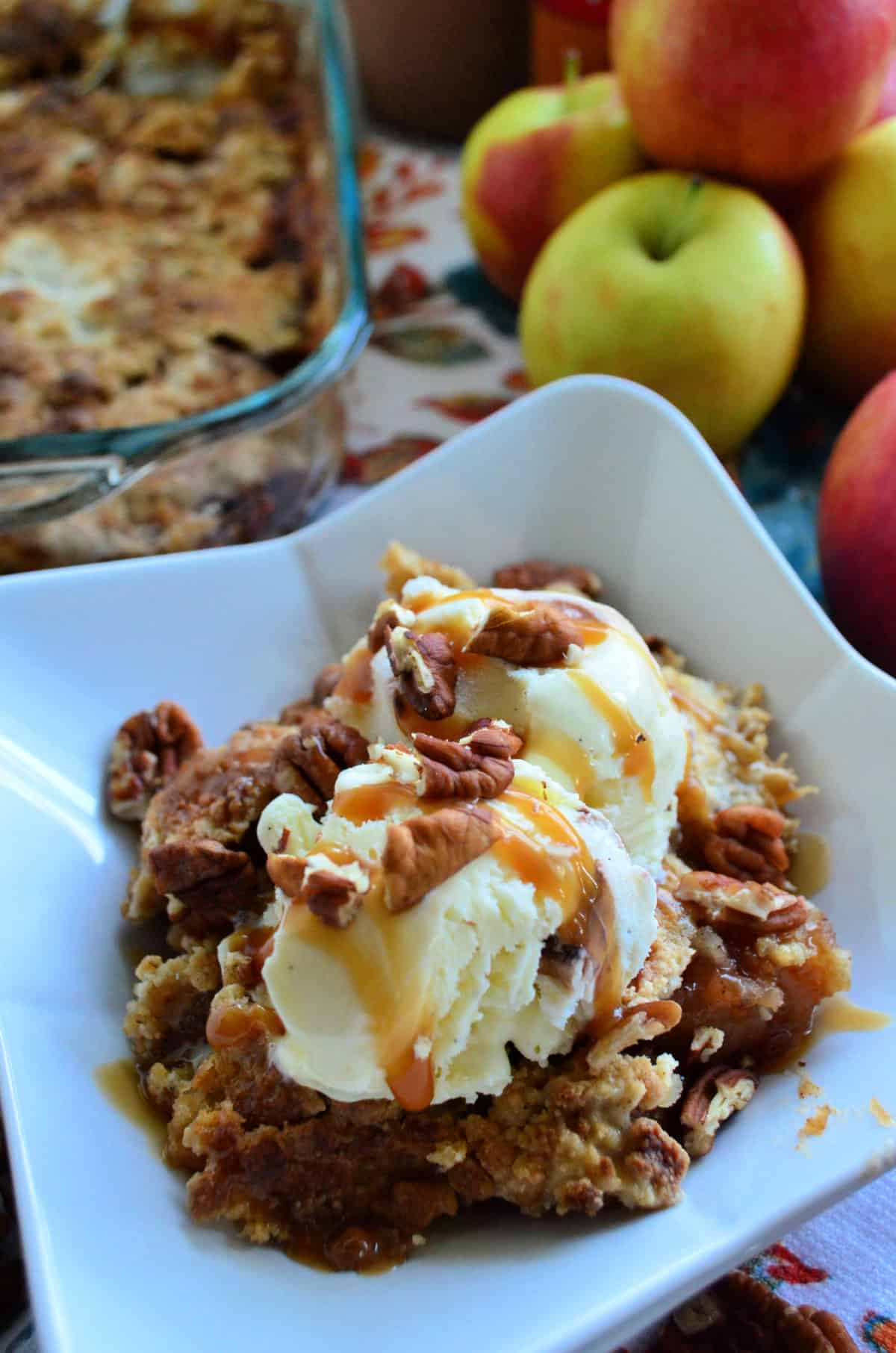 Do you refrigerate dump cakes?
Yes, like mostly everything it's always best to refrigerate baked goods. This allows them to keep for 5-7 days opposed to 2 days on the counter. Always, keep your food in a sealed container to retain the utmost freshness!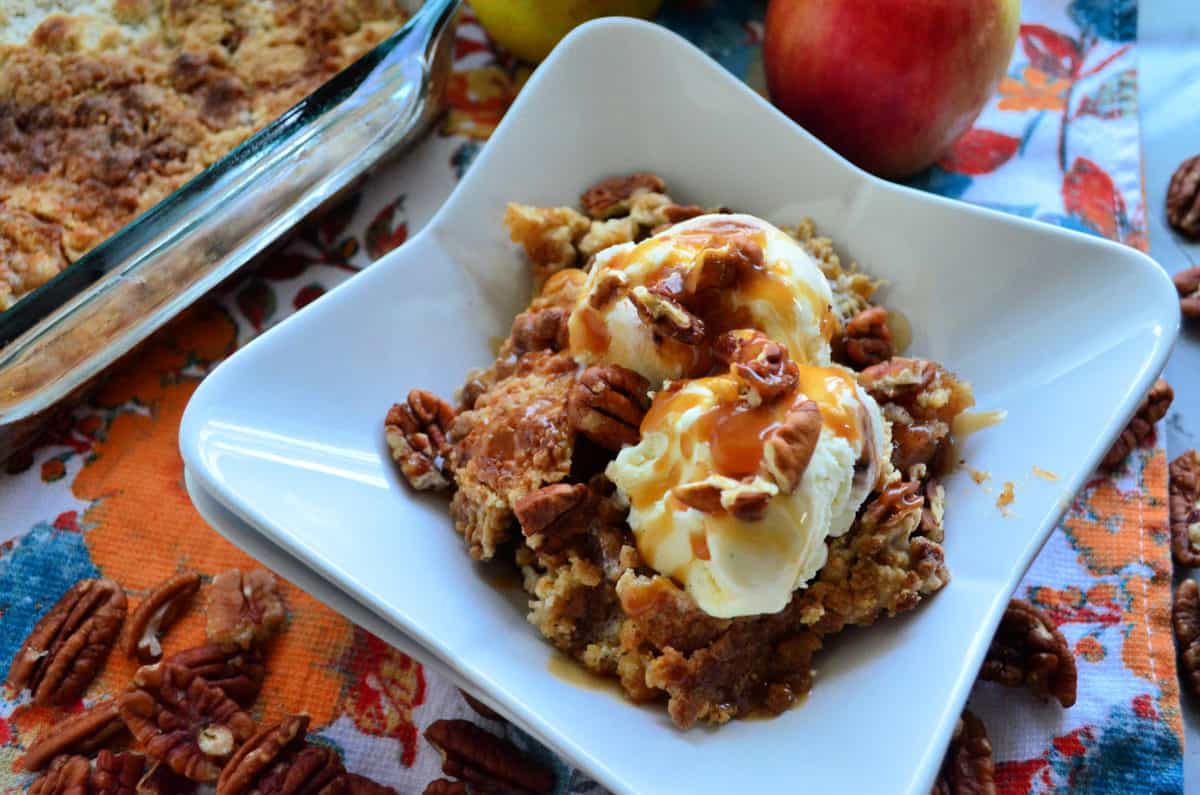 How do you reheat dump cake?
There are two methods on ways to reheat a dump cake. I like to use the microwave. I'll scoop the cake into bowls and reheat for 30 seconds until warmed through.
The second option for reheating is by placing the entire cake back into the oven at 325 degrees for 10-20 minutes.
I like to place aluminum foil on top to help keep the heat in. It's best to take the cake out at least a half hour before reheating to allow it to get to room temperature. If you pull the cake out at room temperature you should only need to reheat for about 10 minutes until warm.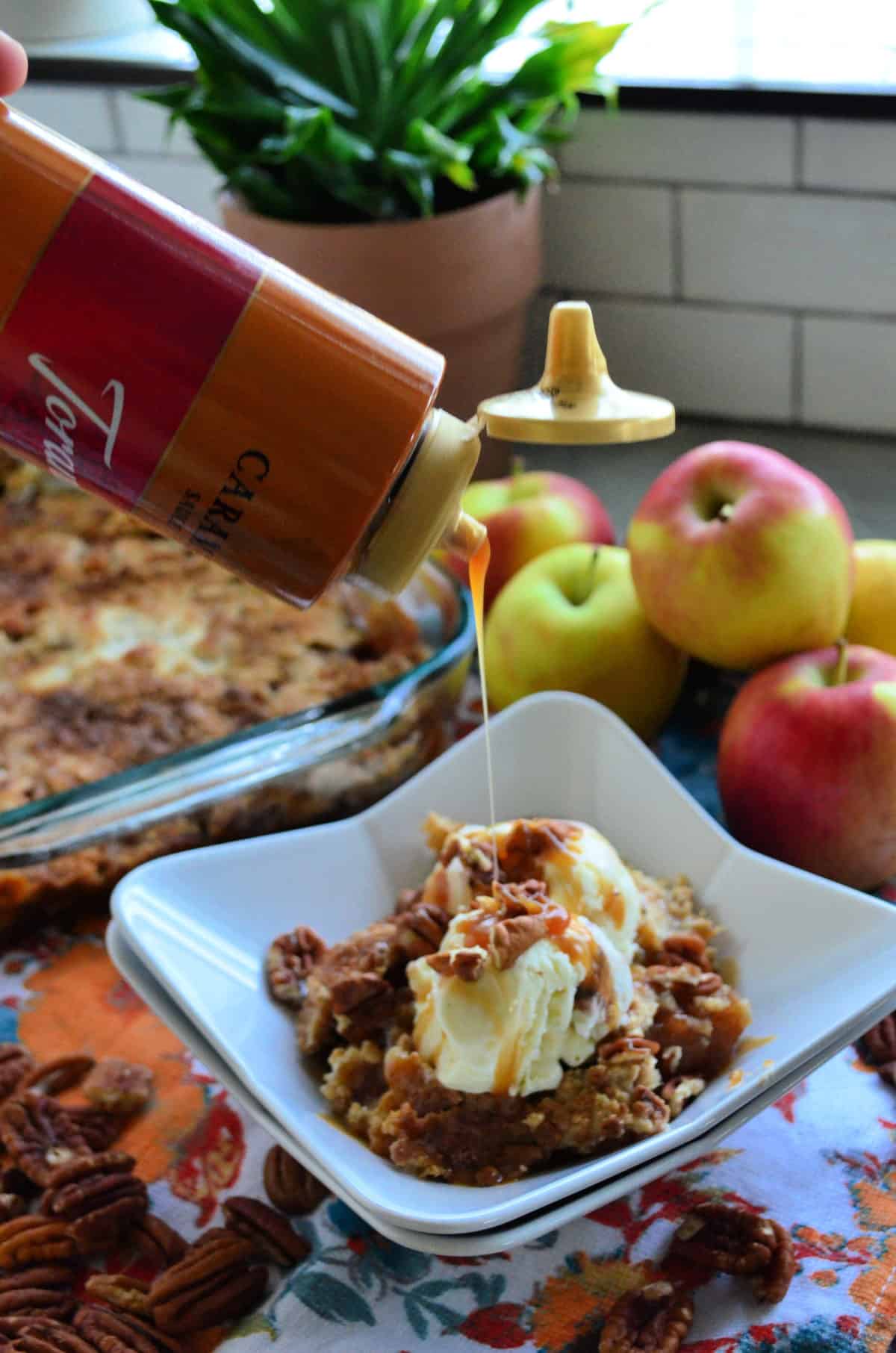 How do you make a box cake taste homemade?
Making a dump cake is one way to make a box cake mix taste homemade. By adding additional ingredients it tastes homemade and oh-so delicious!
If your looking to make an easy fall dessert I hope you'll give this recipe for Apple Dump Cake.

Apple Dump Cake
Yield: 12
Prep Time: 10 minutes
Cook Time: 50 minutes
Total Time: 60 minutes
Ingredients:
5 apples, peeled, cored, and sliced
1/2 cup brown sugar
1 teaspoon apple pie spice
1/2 teaspoon kosher salt
1 box vanilla cake mix
1 stick unsalted butter, melted
Caramel sauce, pecans, and ice cream for serving
Directions:
Preheat the oven to 350 degrees Fahrenheit.
Spray a 9x13 inch baking dish with cooking spray. Then toss the apples, brown sugar, apple pie spice, and salt together. Pour the cake mix on top of the apple mixture. Then pour the melted butter over the top of the cake mix.
Bake until the top of the cake is golden brown (about 50 minutes).
Serve warm and top with caramel sauce, pecans, and vanilla ice cream.