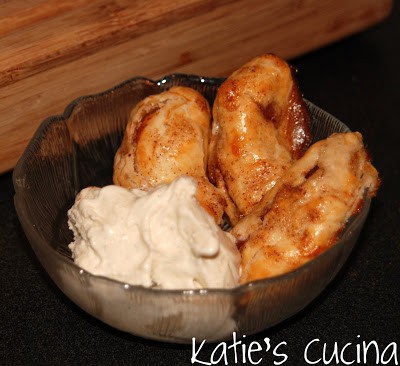 Ok, here is another way to use leftovers. After I made the amazing Individual Taco Pie's I saw that I had a egg wash and some pie crust scraps, leftover. Me being the savvy person, I could not bare to throw either of the items away, so I started thinking about what I could make for dessert. I decided to throw some apple slices in a cinnamon-sugar mixture and then coat the apple slices with the pie crust, and roll again! I served them with a vanilla bean ice cream and it was delicious! Mini apple pies or as I would like to call them apple fingers!
Leftover pie dough

Leftover egg wash

1 apple (6 slices, peeled)

1/4 cup sugar

1 tablespoon cinnamon

Vanilla ice cream
1.
Pre-heat the oven to 350 degree's.
2. In a shallow bowl add cinnamon and sugar and mix well. Toss apple slices in mixture, then start wrapping the apples in the leftover pieces of pie crust.
3. Roll apple's stuffed in pie crust in the left over cinnamon-sugar mixture, then brush egg wash on top.
4. Bake for 20 minutes or until the "fingers" are golden brown. Serve with vanilla ice cream.