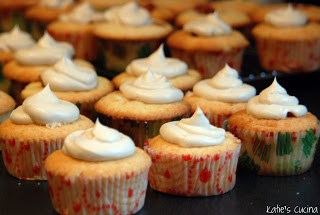 Once again I've found another amazing cupcake recipe from the lovely Annie Eats. This cupcake is awesome; the cake batter is rich and creamy; a nice treat of cinnamon apples in the middle, and the icing, well… it's as decadent as it sounds! These cupcakes make for a great sweet treat any time of the year, and made me feel like fall was just around the corner (even though we really don't get "fall" like weather in Florida). *Excuse the Valentine's and Christmas cupcake wrappers… that's all I had on hand when I made these!
Featured on: Blue Cricket Design

Prep:

15

minutes
Cook

:

22 minutes
Serves:

24 cupcakes
Ingredients:
3 cups sifted cake flour

1 tbsp. baking powder

½ tsp. salt

1 cup butter, at room temperature

2 cups sugar

4 eggs

1 ½ tsp. vanilla extract

1 cup milk
2 tbsp. butter

2 tsp. cinnamon

2-3 tbsp. sugar

3 large Granny Smith apples, peeled, cored and diced
Easy Vanilla Buttercream:




2 ½ sticks unsalted butter, softened

2 ½ cups confectioners' sugar, sifted

1/8 tsp. salt

2 tsp. vanilla extract

2 tbsp. heavy cream
Directions:
1. To make the cupcakes, preheat the oven to 350°.
Line two cupcake pans with paper liners.
2. In a medium bowl, sift together the cake flour, baking powder and salt.
In the bowl of an electric mixer, cream the butter and sugar together on medium-high speed until light and fluffy, about 2 minutes.
Beat in the eggs one at a time, mixing well and scraping down the sides of the bowl after each addition.
Add the vanilla extract and mix well to combine.
Add in the dry ingredients alternately with the milk, beginning and ending with the dry ingredients.
Stir until just combined.
3. Divide the batter evenly among the cupcake liners, filling them about 2/3-3/4 full.
Bake until golden and a toothpick inserted in the center comes out clean, about 18 to 22 minutes.
Remove from the oven and allow to cool for 5 minutes in the pans.
Transfer to wire racks to cool completely.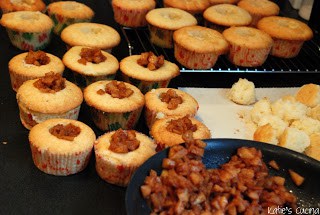 4. To make the apple filling, heat the butter a medium skillet over medium-high heat.
Add the cinnamon and sugar and cook for a minute, until the mixture begins to bubble.
Lower the heat to medium and stir in the apples.
Mix well.
Cook until the apples are somewhat tender, about 10 minutes.
Remove from heat and let cool.
5. While the apple mixture is cooling, use the cone method to remove a chunk from the center of each cupcake, making sure to leave a rim around the top of the cupcake.
Fill the holes with the cooled apple mixture.
6. Directions for icing:
In a stand mixer fitted with the whisk attachment, beat butter at medium-high speed until smooth, about 20 seconds.
Add confectioners' sugar and salt; beat at medium-low speed until most of the sugar is moistened, about 45 seconds.
Scrape down the bowl and beat at medium speed until mixture is fully combined, about 15 seconds.
Scrape bowl, add vanilla and heavy cream, and beat at medium speed until incorporated, about 10 seconds.
Then increase the speed to medium-high and beat until light and fluffy, about 4 minutes, scraping down bowl once or twice.
To decorate, top each cupcake with a swirl of vanilla buttercream.