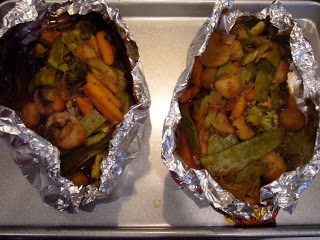 This was such an easy meal to make during a busy work week, and yet very unique. This recipe comes from the amazing Super Suppers cookbook. Unfortunately, the picture does not do this meal justice!
Cook: 30 minutes
Serves: 4
INGREDIENTS:
4 chicken breast
3/4 cup of hoisin sauce
1 tsp grated fresh ginger
1 tsp minced garlic
2 cups of fresh broccoli florets
2 cups fresh snow peas, trimmed
2 cups of celery, sliced
1 cup baby carrots
1 cup sliced mushrooms
1 small can of water chestnuts
1/4 cup sliced green onions
4, 12-inch squares of foil
DIRECTIONS:
Preheat oven to 375°F.
In a large bowl combine hoisin sauce, ginger, and garlic. Add broccoli, snow peas, celery, carrots, mushrooms, water chestnuts, and green onion; toss to coat.
Place one square of foil on the counter; place one chicken breast half in the center. Top chicken with 1-1/2 cups of vegetable mixtures. Bring up two opposite sides of foil; seal with a double fold. Double-fold the remaining ends to seal packet. Repeat with remaining squares of foil, chicken, and vegetable mixture.
Place packets on a large baking sheet. Bake about 30 minutes or until chicken is no longer pink. Let packets rest a few minutes before opening to avoid the hot steam.
Side Suggestions: white rice