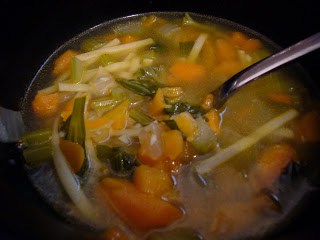 I love to make this vegetarian style soup on a cold day (or a warm one for that matter)! The flavors all blend so well together! You can add pre-cooked diced chicken, pork, or beef to this soup if you'd like. I, however, love it the way it is!
Prep: 10 minutes
Total: 40 minutes
Serves: 4
Ingredients:
1 onion diced

1 celery stalk, diced

2 carrots, diced

2 stalks of green onion, diced

1/2 of jalapeno, diced

2 tbsp chicken base (or if you want to make it pure vegetarian, vegetable base)

2 tbsp minced garlic

2 tsp minced ginger

(keep minced ginger in the freezer and break off pieces as needed–it can last in the freezer for a few months)

1 tbsp sesame oil

1 tsp fennel seeds

1/4 teaspoon ground cinnamon

1 small handful of thin spaghetti

4 cups water (or more if needed)
Directions:
1. Clean and dice all vegetables required for recipe.
2. In a soup pot add the sesame oil, garlic, ginger, onions, celery, carrots, and jalapeno. Cook for 5-10 minutes until tender.
3. Add chicken/vegetable base, fennel seeds, ground cinnamon, and 4 cups of water. Bring to a boil.
4. Break spaghetti with hands into bite size pieces. Add into soup, and cook until done.
5. Enjoy!!!
Side Suggestions: Asian Salad, Spring Rolls, Summer Rolls, Sushi