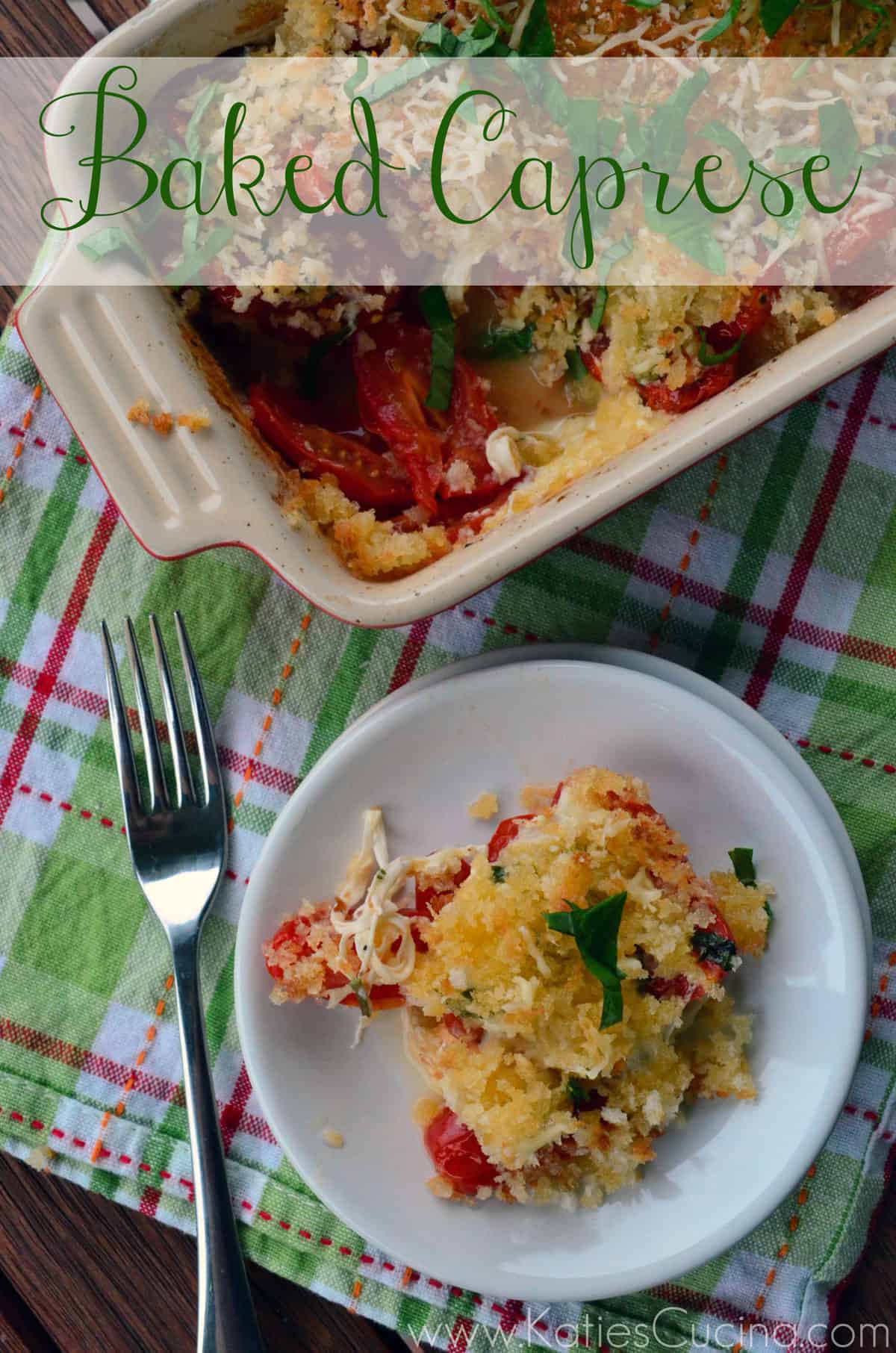 If there is one thing in life I love (other than my husband) it's a good caprese salad. Fresh mozzarella, plump tomatoes, aromatic basil, and a drizzle of extra virgin olive oil. Mmmm I'm drooling just thinking about the coveted fresh salad. While flipping through my digital magazines I saw a tomato basil bake… I thought why not make a baked caprese salad? To me, it was a no brainer! I mean I love cold caprese salad and I love the idea of a crunchy panko bread crumb topping on just about anything!
This baked caprese works as side dish or a main dish. I made this one night last week before I left for the annual BlogHer Food conference (which by the way was amazing and I can't wait to share a few things from my trip later this week). The night I made this dish I happened to eat it as main course amongst other appetizer like recipes.
This casserole is perfect as a main dish for two or a side dish for four. Although, everyone will love the baked caprese so much you might just need to make a double batch! I'm still trying to figure out what to make for Father's day dinner this weekend for my dad. I have a strange feeling he is going to ask for fresh spaghetti with bolognese sauce and if he does I think I'll be making the baked caprese to accompany our meal. Whether you're entertaining or it's a simple meal in you must give this baked caprese recipe a try!
Inspired by Rachael Ray Magazine, June 2013
Ingredients
10

oz.

Mini San Marzano Tomatoes

halved

2

tbsp

olive oil

2

cloves

garlic

minced

salt and pepper

8

mini fresh mozzarella balls

quartered (1/2 cup)

10

basil leaves

thinly sliced and divided

1

tbsp

melted butter

1

tbsp

olive oil

1/3

cup

panko bread crumbs

1

tbsp

parmesan cheese

shredded
Instructions
Preheat broiler.

While the broiler is preheat, slice the mini san marzano tomatoes in half. Toss with olive oil, garlic, salt, and pepper. Add to an oven safe casserole dish. Broil for 10 minutes.

Remove the broiled tomatoes from the oven, mix tomatoes, then add in the 1/2 cup of fresh mozzarella. Broil for 2 minutes.

While tomato/mozzarella mixture is under the broiler mix 1 tablespoon melted butter with 1 tablespoon of olive oil. Add panko bread crumbs and set to the side.

Remove tomato/mozzarella mixture from the oven, add half the fresh basil to the dish, then top with panko bread crumbs. Top with 1 tablespoon shredded parmesan cheese. Broil an additional 1-2 minutes until panko topping is golden brown. Before serving, sprinkle the remaining basil on top of the casserole.