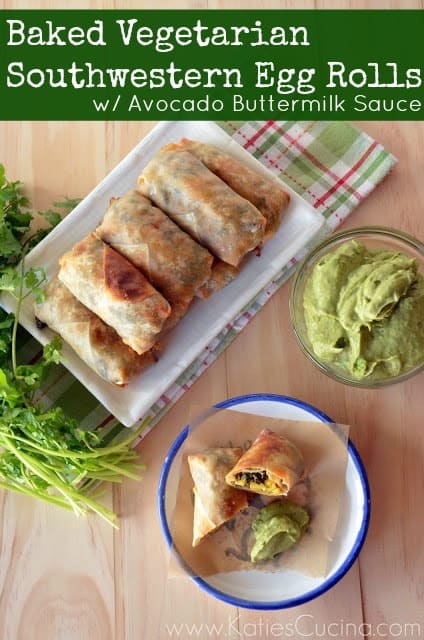 The Super Bowl is just about a week away and the internet is all of a sudden beaming with finger-foods and fatty dips. Yesterday, I shared my video on Entertaining during the "Big Game". So for the next week, I'll be helping those out who are hosting a Super Bowl Party. I am trying to keep it low-calorie and full of flavor this year. I'll have you know that I only host a party when my team is in the Super Bowl… this year they aren't so I'll be joining a few friends at their home as we eat and watch the big game. I made these Baked Vegetarian Southwestern Eggrolls a few weeks ago for friends, and everyone adored them. So I definitely plan to make and bring these over to our friends house. Knowing that most of our friends have already approved of them gives me satisfaction that these will be a sure hit at this years Super Bowl Party.
Before this recipe, I have never rolled an eggroll in my life. So please know that anyone can make this recipe. The best way to describe rolling an egg roll is to look at how an envelope is constructed. That is what rolling an egg roll reminds me of. So if your crafty this is an added easy task! I am thinking I'll have to make a video sometime soon and show the world how to roll an egg roll. I also like the fact that these are baked keeping them healthier (although I'm sure they are even better fried). These eggrolls are chocked full of veggies and two different styles of cheese.
Oh and lets not forget the dipping sauce. The avocado buttermilk dipping sauce is out of this world good. It's light and airy and well I probably could bathe in it… its that good. Super easy to make with just a few ingredients. Let it all go for a whirl in your food processor (or blender) and voila… it's done and ready to be consumed by hungry football connoisseurs.
Southwestern Eggrolls slightly adapted by Annie's Eats
Avocado Buttermilk Sauce is a Katie Original Recipe
Ingredients
For the Egg Rolls:
10

oz.

package of frozen chopped spinach

1

roasted poblano pepper

3

ears of corn

grilled, and kernels removed from cob

1 15 oz can of black beans, rinsed and drained

2

cups

shredded Mexican cheese

1

cup

queso fresco

crumbled

4

green onions

chopped

1

tsp

cumin powder

1

tsp

chili powder

1-1/2

tsp

salt

1/2

tsp

pepper

1/4

tsp

cayenne pepper

1

package of egg roll wrappers

Small bowl of water

1

egg white

for egg wash
For the Avocado Buttermilk Sauce:
2

Haas Avocados

1/2

tsp

salt

2

tbsp

cilantro

1/3

cup

buttermilk

2

tbsp

green onion

1/2

lime

juiced
Instructions
For the Egg Rolls:
Prep your vegetables: thaw spinach, squeeze excess water, and set aside. On the grill, grill corn until grill marks appear on each ear and poblano pepper until charred. Remove from the heat, let cool, and chop poblano pepper (removing seeds before chopping) and cut kernels off of each cob.

Preheat the oven to 425 degrees.

In a large mixing bowl combine the spinach, poblano pepper, black beans, corn, cheeses, green onions and spices. Mix well until everything is well combined.

On a clean work surface, lay out one egg roll wrapper (should look like a diamond shape to your body). Using your fingers, dip them in water and rub around the perimeter of the wrapper. Place about 1/4 cup of the filling in the middle of the wrapper. Take the point closest to you and fold over the filling (away from you). Carefully tighten the closed side then take each of the ends (right and left of you) and bring them in so that there ends almost touch. Tuck in any excess wrapper that may be sticking out, and then roll the egg roll away from you so that the egg roll is sealed and tight. Repeat until you have used all the filling about 20 egg rolls. Coat each top of the egg rolls with a little egg white wash. Then bake for 15 minutes or until tops are golden brown.
For the Avocado Buttermilk Sauce
In a food processor put 2 sliced avocados (pitted and skin removed), salt, cilantro, buttermilk, green onions, and lime juice. Puree until all the ingredients are well blended. The avocado buttermilk sauce will look like it has been whipped. This sauce is light and fluffy and full of air. Serve immediately and if you have leftover sauce refrigerator for up to 1 day.
Notes
*The trick to minimizing your avocado sauce to brown is to place plastic wrap on top of the sauce ensuring that no air can touch it.