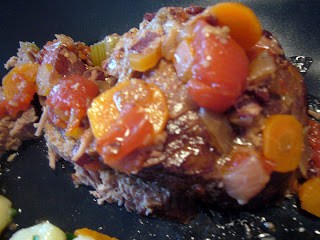 Get ready for one amazing Italian style roast! Here is another amazing recipe that I cooked from the cookbook "The Italian Slow Cooker". As quoted in the book "The sauce is enhanced with vegetables and a hint of ground cloves."
I made this the other weekend for my in-laws for dinner, and everyone loved it! Even though this recipe is quite labor intensive for a crock pot recipe it's well worth ever extra minute spent preparing it! I used canned tomatoes since peeling them was a bit out of my ball-park! Oh, and the real recipe title is called "Beef in Barolo". Barolo is a type of wine, but since I didn't have it I used merlot, and felt that it was most appropriate to change the title of the recipe to merlot.
Prep: 30 minutes
Cook: 8 hours
Ingredients:
1/3 cup of all-purpose flour
salt & freshly ground pepper
1 3lb boneless beef chuck or bottom round roast
3 tbsp olive oil
2 oz. pancetta, chopped
1 medium onion, chopped
1 cup dry read wine, such as merlot
2 cups peeled, seeded, and chopped fresh or canned tomatoes
1 cup beef brother
2 medium carrots, sliced
1 medium celery rib, sliced
1 bay leaf
pinch of ground cloves
Directions:
1.
Combine the flour with salt and pepper to taste. Spread the mixture on a piece of wax paper and roll the meat in the flour.
2. In a large skillet, heat the oil over medium-high heat. Add the beef and brown it on all sides, about 15 minutes. Place the meat in a large slow cooker. Add the pancetta and onion to the skillet. Reduce the heat to medium and cook for 10 minutes, stirring occasionally, until the onion is tender. Stir in the garlic. Add the wine and bring it to a simmer, scraping the bottom of the pan.


3. Pour the mixture over the beef. Add the tomatoes and broth. Scatter the carrots, celery, bay leaf, and ground cloves around the meat. Cover and cook on low for 6 hours, or until the meat is tender when pierced with a fork.


4. Transfer the meat to a platter. Remove the bay leaf from the sauce. Slice the meat and spoon on the sauce. Enjoy!

Side Suggestions: Gnocchi, Steamed Garlic Green Beans, and a salad