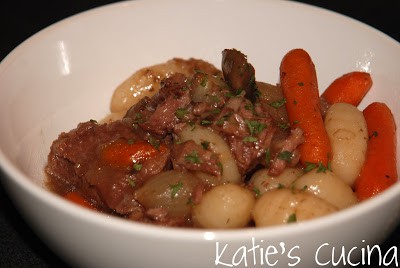 While working on cleaning and organizing after the holidays my husband made me go through 3 massive stacks of cooking magazines that I had collected throughout the year. I can't tell you how many magazines I browsed through, and then of course started tearing out recipes from! This just so happens to be one of the recipes I ripped out of a magazine!
Source:
Family Circle, November 2010
1 lb chuck steak, trimmed and cut into 1-inch pieces

3 tablespoon flour

½ teaspoon salt

¼ teaspoon black pepper

3 medium-sized carrots, cut into¼ thick coins OR 1 cup baby carrots

1 pkg (10 oz) cremini mushrooms, cleaned and quartered

2 cloves garlic, minced

1 pkg (1lb) frozen pearl onions

1-½ cups low-sodium beef broth

¾ cup dry red wine

¾ teaspoon dried thyme

1 pkg gnocchi
1.
In a large bowl, toss together steak, flour and ¼ teaspoon each salt and black pepper. Place steak in slow cooker with carrots, mushroms, garlic, onions, broth, red wine and ½ teaspoon thyme. Cover and cook on low for 7 hours.
2. Remove lid and stir in the remaining ¼ teaspoon each salt and dried thyme and the gnocchi. Cover and cook an additional 30 minutes or until gnocchi is tender.