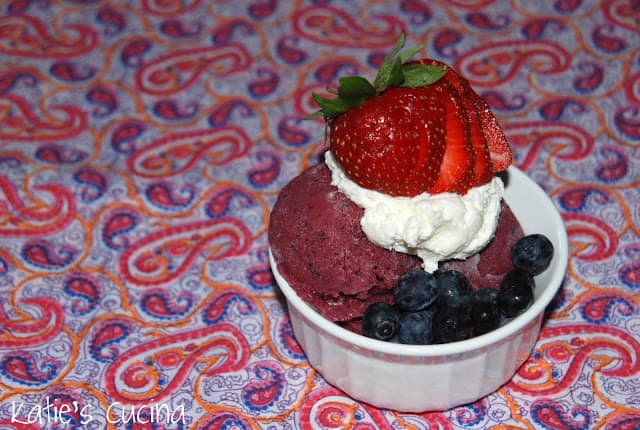 I love sherbet! It's the perfect ending to a hot's summers day, and although it's technically not summer yet the summer weather is in full swing here in Florida! Last year I made a Tripple Berry Buttermilk Sherbet that had cardamom in it. I loved it but unfortunately my husband did not. Since berries of all kind are in season right now I wanted to make a berry sherbet that he could enjoy as well. I remember that making sherbet really didn't require you to be a rocket scientist to create on your own. I pureed berries, mulled berries, and in a large bowl mixed the berries, buttermilk, and sugar in a large bowl. I poured it into the ice cream attachment and let it do its job! Mulling is the key when you're making anything to do with berries. You do not want a mouth full of seeds. Trust me–it's not tasty *unless that's you're thing. I estimate you'll spend at least an hour mulling, but it's totally worth it!
Source: Katie Original
| | | |
| --- | --- | --- |
| Berry Berry Buttermilk Sherbet | | |
Author:
Prep time:
1 hour 30 mins
Total time:
1 hour 30 mins
Ingredients
1 cup each; blueberries, blackberries, raspberries, strawberries
1 cup buttermilk
½ cup sugar
Instructions
Puree berries in a food processor. Using a fine mesh strainer run the puree through the strainer and allow juice to pour into a medium bow. This will allow you to discard all the seeds from the various fruits. *This process will take at minimum a half hour.
Once you have all of the berry liquid stir in the buttermilk and sugar.
Freeze mixture in an ice cream maker according to the manufacturer's directions.
Transfer to an airtight container and freeze until firm (at least 4-6 hours). Store up to 2 weeks.