BLT Crostinis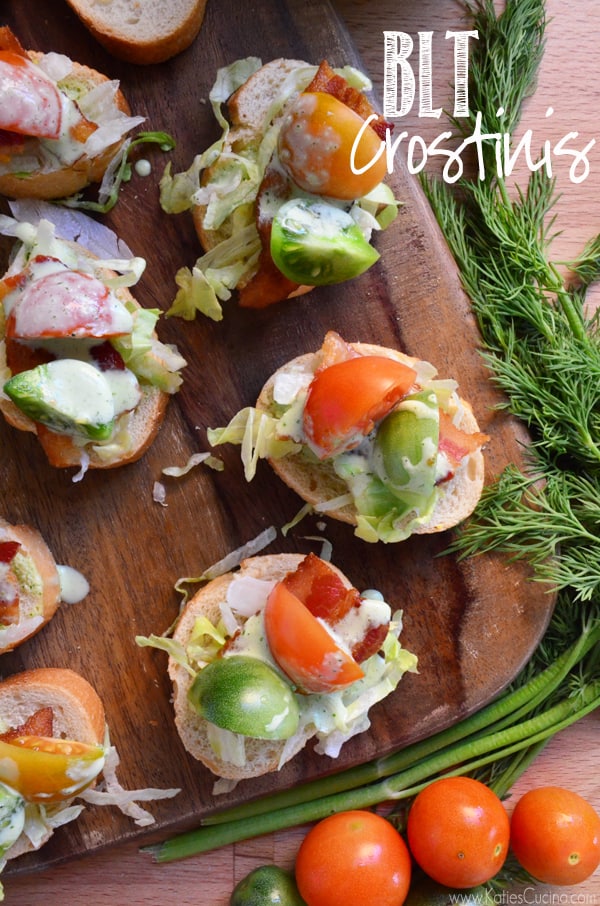 The other weekend our friends invited my husband and I over for a barbecue. We get together with them 1-2 times a month. It's always very impromptu and spur of the moment. They had a baby last May, so our sporadicalness has started to become a little more well planned, although there are still days where its Friday at 3 and we are all messaging back and forth about dinner that night. As my due date approaches each time we hang out, we all kid and say this could be the last time before baby. They told us we didn't need to bring anything to dinner, but of course I can't come empty handed.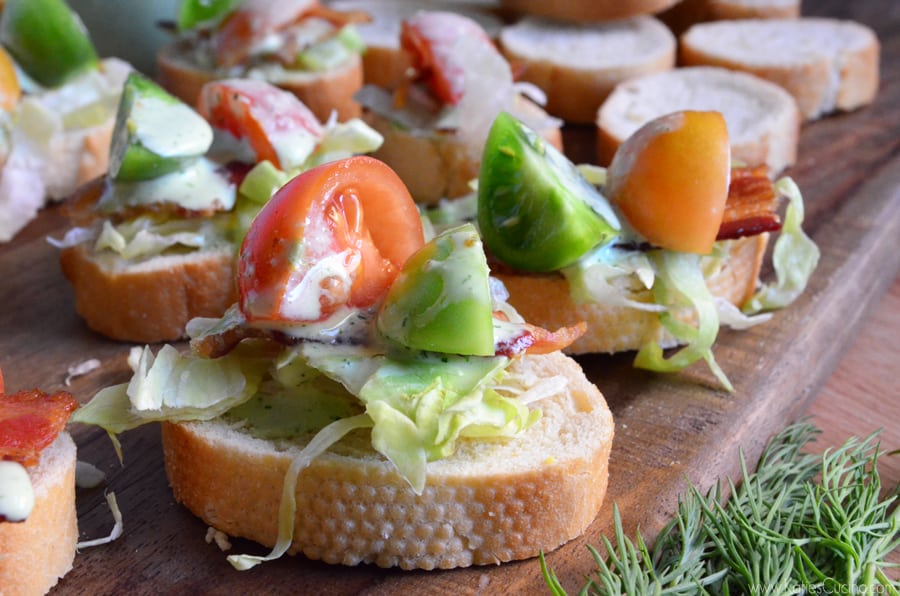 The thought of BLT crostini's had ran across my mind a few times over the past month. In my head it was going to be a quick and easy appetizer, a little on the fancy side, and hopefully satisfying. Oh and que in the messy part. That part I didn't really think through until we were eating the bite-size BLT appetizer. Because I was tired and had been working on nursery projects that day I decided to go a short-cut route and serve it up with ranch dressing, although later I tested it with the Dill Buttermilk Salad Dressing and found it to be much more enjoyable. It's all about preference. The day I made this recipe in my kitchen, I picked the cherry tomatoes from my garden. The only surviving tomatoes from our harsh Florida winter. I love green tomatoes, so I chose to cut up some of the unripe tomatoes from the vine.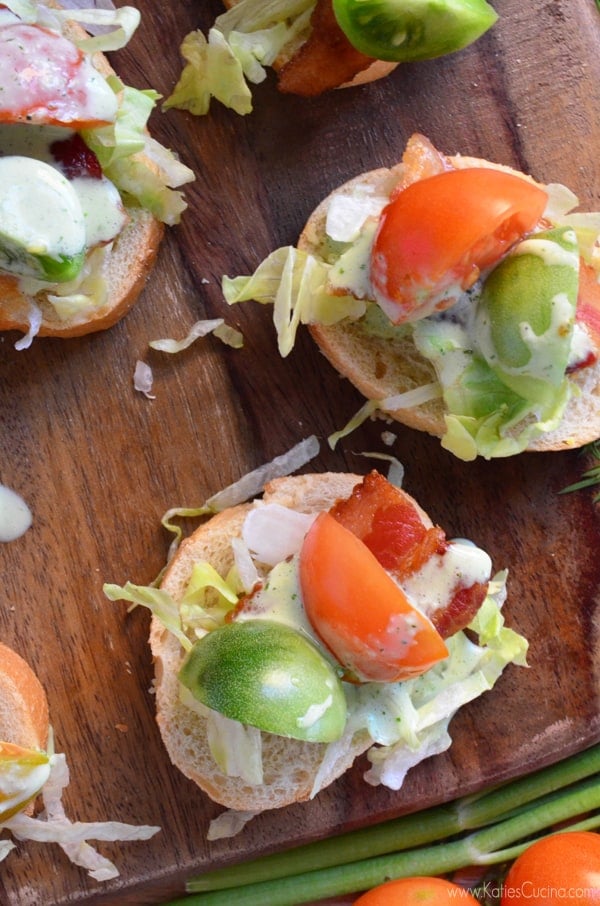 So, let's rewind back to my friends barbecue. When I showed up with my individual containers everyone was intrigued. We had one person who despises tomatoes so her's was just lettuce, bacon, ranch, and crostini, and then we have my husband and my other friend who don't like bacon, so theirs had everything but bacon. This is really a versatile appetizer. And as you can tell even perfect for the pickiest of eaters!
Katie Original Recipe
Ingredients
1 french baguette, cut into 1/2 inch pieces
12 strips bacon, cooked
1/2 cup cherry tomatoes, sliced in quarters
2 tsp olive oil
salt and pepper to taste
1/2 cup shredded lettuce
1/4 cup Dill Buttermilk Salad Dressing or Ranch Dressing
Fresh cracked pepper, optional
Directions
Cook bacon according to package. Place cooked bacon on paper towels to drain excess grease. Cut into 1-inch pieces.
In a bowl, combine sliced cherry tomatoes with olive oil and salt and pepper to taste. Give it a good toss and set to the side.
Toast sliced baguettes for 2-3 minute or until golden brown.
Place a drizzle of dressing on each of the baguettes followed by a slice of bacon, shredded lettuce, and tomato mixture. Drizzle with additional dressing and cracked black pepper if desired. Serve and eat immediately.
Notes
You can prepare the crostini's yourself or have a few prepared with all the ingredients surrounding it--allowing your guest to create their own BLT crostinis.
To bump up the bacon flavor, rub a little bacon fat on both sides of the baguette before toasting. It will intensify the flavor.
I have made this recipe with traditional red cherry tomatoes and a mix of red, orange, and green cherry tomatoes from my garden. Both yield a delicious BLT crostini and are all up to preference and availability.
https://www.katiescucina.com/blt-crostinis/
This recipe is brought to you by Katie Jasiewicz of Katies Cucina
Warning
: Use of undefined constant rand - assumed 'rand' (this will throw an Error in a future version of PHP) in
/home/kjasiewicz21/webapps/katiescucina/wp-content/themes/katiescucina/single.php
on line
74
5 Responses to "BLT Crostinis"
Trackbacks/Pingbacks

Leave a Comment