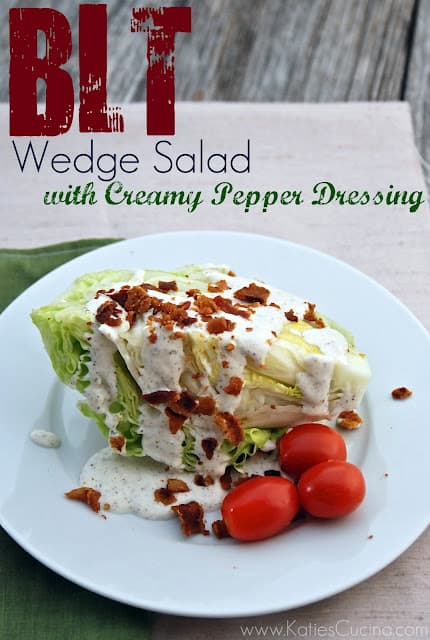 Last month when I read my friend Julie's post about Spring Pin-spiration with McCormick I was instantly intrigued. I browsed through the McCormick.com Look Book and started my own "McCormick Pin-spiration" board on Pinterest. One of the first recipes I pinned was this Creamy Pepper Dressing. I've been making an effort to make more homemade salad dressings this year and buy less processed. I've made this creamy pepper dressing 3 times now! I love this creamy dressing and now I have no need to ever buy a bottle of ranch dressing again. This recipe suffices the processed dressings by far, and it's so incredibly easy to make. No one has excuses. Stop buying processed dressings and make your own people!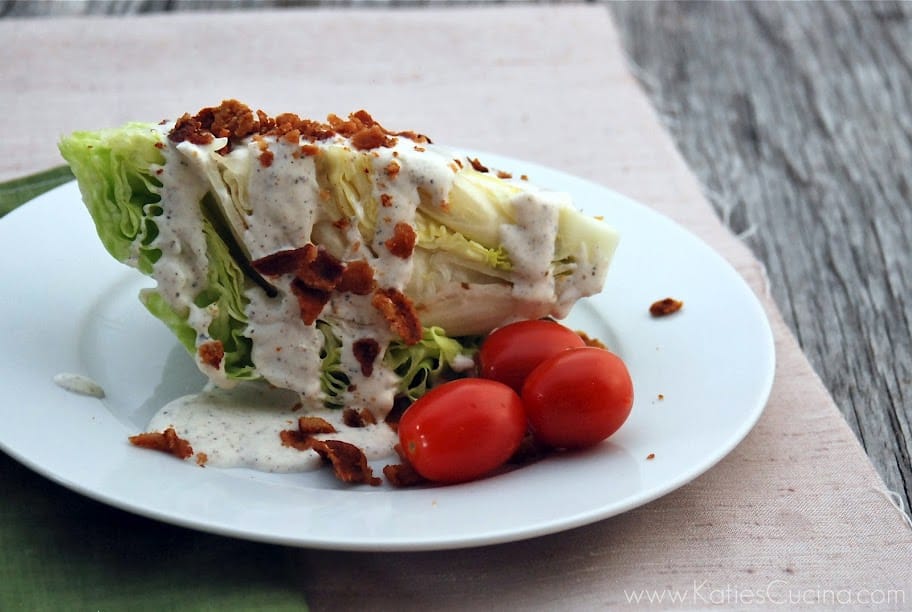 The first time I made the Creamy Pepper Dressing I knew it would be great on a wedge salad. I hadn't made a wedge salad in years. Frankly, because I never buy iceberg lettuce. I grew up on iceberg and when I moved out of my parents house I stopped buying and for the most part consuming iceberg lettuce. I branched out and started using a wide variety of leafy greens–not just iceberg! While I was shopping yesterday at my local produce market I decided to buy a head of iceberg lettuce. I knew I wanted to make a wedge salad. I figured it would make for a nice dinner salad; however, by the time I got home it was later in the afternoon and both my husband and I were starving. So I whipped up this wedge salad and dressing for a late-lunch. I loved the flavors of this salad. It instantly reminded me of a BLT (without the bread). To my surprise, my husband had never heard of a wedge salad before!??! What? I was in shock and glad I could introduce him to the world of wedge salads. He does love his veggies, but his comment to me was "I feel like a cow eating in a field of grass". Apparently, the wedge was too much lettuce for him. I think he has come accustomed to my typical salads I make that have 10+ veggies in it. Although, he did say it reminded him of a BLT, too!
Dressing recipe adapted from: McCormick
| | | |
| --- | --- | --- |
| BLT Wedge Salad with Creamy Pepper Dressing | | |
Author:
Instructions
Using a frying pan, fry the four slices of bacon until golden brown and crispy. Place on a paper towel, and set to side to cool.
In a medium bowl mix mayonnaise, sour cream, milk, cider vinegar, McCormick® Black Pepper, McCormick® Garlic Powder, and McCormick® Onion Salt until well blended. Set aside in the refrigerator until your ready to use the dressing.