I have been on a granola kick lately. Ever since I got a few bags of granola from the Southeast Produce Conference I've been eating it like crazy in my yogurt. Which is another thing I don't eat often. It typically doesn't bode well with my stomach; however, for the past few months I've been feeling great–so I'll keep on eating the yogurt until my body tells me otherwise (TMI?).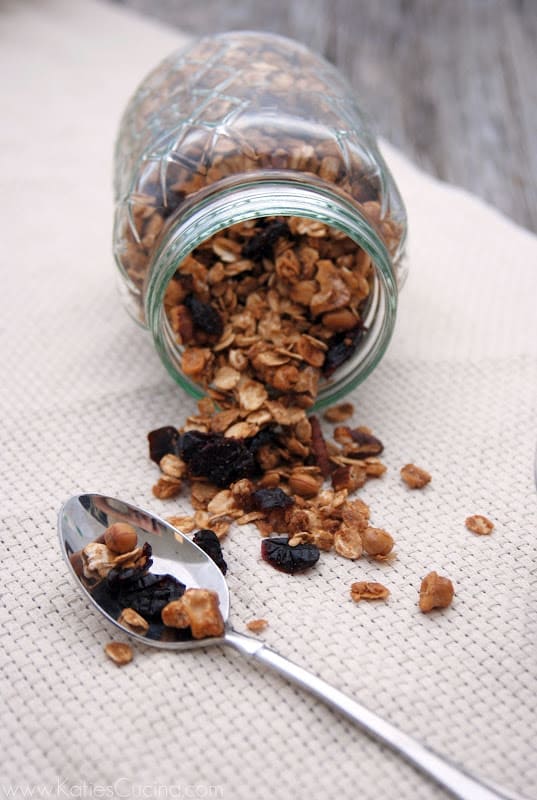 Because of the recent great granola kick of 2012 I've even added a board on Pinterest dedicated to all things granola. So if your a granola lover… I suggest you follow it. I probably pin at least one new granola recipe a day! That is how I found this recipe–although I'll tell you there are few granola recipes that have really stuck out to me; hence why I was inspired to use the base of this recipe and add and subtract ingredients out.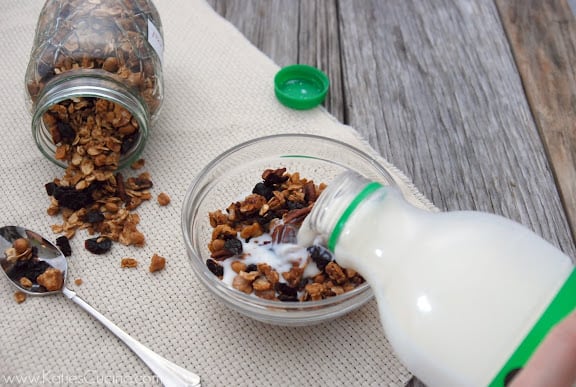 I will note that I was happy with the flavor combo and when I mixed in the dried blueberries into the batch of hot granola my house instantly smelt like a blueberry pie! Make sure you break apart the blueberries or else they will clump together. This was not a clumped together type of granola it was definitely in separate pieces. Which I was perfectly ok with because I planed on eating this in yogurt.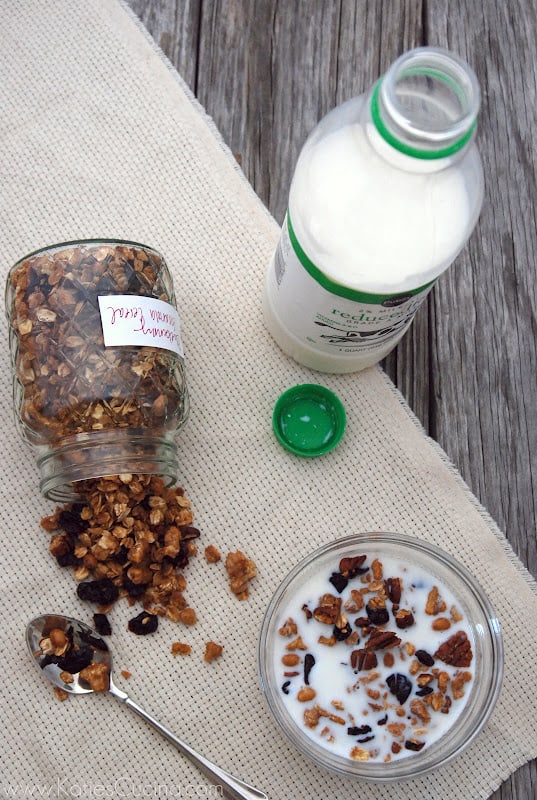 As always, make sure you store the granola in an air tight container like a mason jar as pictured. This big batch of granola lasted me two weeks. Some may argue and say that's too long but it still tasted fine to me (and I'm alive and writing about it). Always store at your own risk, and remember that you can be creative with granola and make it your own!
Inspired by: bon appetit
Author:
Ingredients
3 cups old-fashioned oats
¾ cup chopped pecans
¾ cup chopped California Walnuts
¼ cup soy nuts
2 tablespoon flax seeds
4 tablespoon brown sugar
2 tablespoon Canola oil
½ teaspoon ground cinnamon
¼ teaspoon salt
⅓ cup honey
1 cup dried blueberries
Instructions
Preheat the oven to 300 degrees. Using a rimmed baking sheet line it with parchment paper.
In a large bowl mix the old-fashioned oats, chopped pecans and walnuts, soy nuts, flax seeds, and brown sugar, and set to the side.
In a sauce pan add the canola oil, honey, cinnamon, and salt over medium-low heat until smooth.
Pour the honey mixture over the oat/nut mixture and toss. Spread the oat/nut mixture on the prepared sheet.
Bake until golden brown about 40 minutes; mixing every 10 minutes. Place the baking sheet on a rack and stir in the one cup of dried blueberries. Cool and store in an air tight container for up to 1 week.