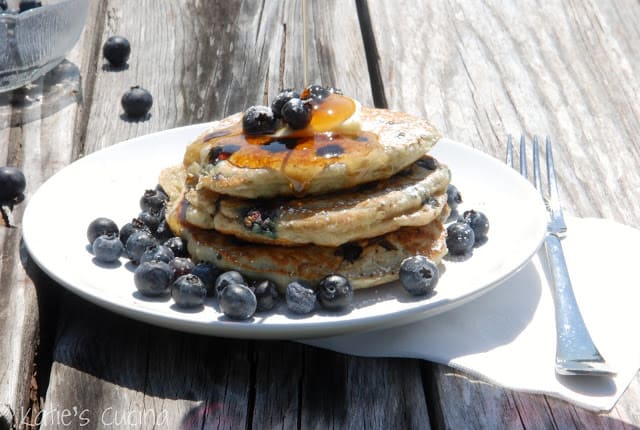 A few Sunday's ago I wanted to make blueberry pancakes, but did not have any buttermilk on hand. I started scouring the internet for recipes in hopes I would find a recipe that I could use with the basic ingredients I had on hand. Sure enough, I found this recipe from Saveur. It intrigued me because the ingredients contained seltzer water and yogurt. Two non-traditional pancake ingredients (well at least in my book)! I just so happened to have club soda and an individual sized container of blueberry yogurt on hand. I knew I was destined to make this recipe.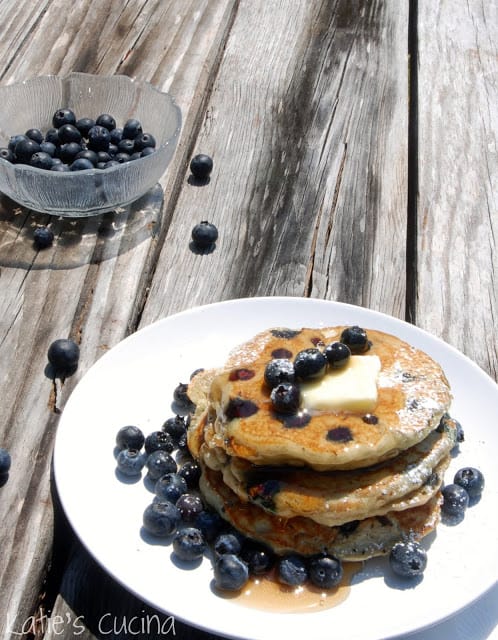 I was actually surprised at how good these pancakes came out. Now, let's keep in mind that these aren't fluffy buttermilk pancakes that melt in your mouth. These were a bit more lighter and almost spongey (but I hate to describe it as spongey since that doesn't sound appetizing)! The blueberry yogurt gave an additional layer of blueberry flavoring! In a buttermilk bind–I'd make these again!


Source: Saveur
Prep Time: 10 minutes
Cook Time: 5 minutes
Servings: 4 large servings


Ingredients:
2 cups flour
1-¼ teaspoon sugar
½ teaspoon fine salt
1 cup yogurt
2 teaspoon baking soda
½ cup seltzer water or club soda
2 eggs, lightly beaten
6 tablespoon unsalted butter, plus more to taste
3 cups fresh blueberries
confectioners' sugar
maple syrup


Directions:

1. Place a sieve over a large bowl and sift together the flour, sugar, and salt. In a large bowl, stir together the yogurt and baking soda; let sit for 10 minutes. Add the yogurt mixture, seltzer, and eggs to the flour mixture and whisk until just combined. Let batter rest for 10 minutes.
2. Heat 1 tablespoon butter in a 12″ nonstick skillet over medium heat. Working in 6 batches, spoon 2 portions of batter (about 1?4 cup each) into skillet, gently spreading out each portion of batter with the bottom of a spoon or a measuring cup to make disks about 4 1?2″ in diameter. Cook pancakes until bubbles begin to form around edges, about 2 minutes. Top each pancake with 1?4 cup blueberries, press down on them gently with a spoon, flip each pancake with a spatula, and cook until golden brown, about 2 minutes more. (Alternatively, for "silver dollar" pancakes, spoon 1 heaping tablespoon batter into the skillet for each pancake and top with 1 tablespoon blueberries.) Transfer pancakes to a paper towel–lined baking sheet and cover with a towel to keep warm. Wipe out skillet and repeat process with remaining butter, batter, and blueberries to make 12 pancakes in all. Dust with confectioners' sugar and serve with butter and maple syrup.