This is a sponsored post on behalf of Kettle Brand Potato Chips. As always all opinions are my own.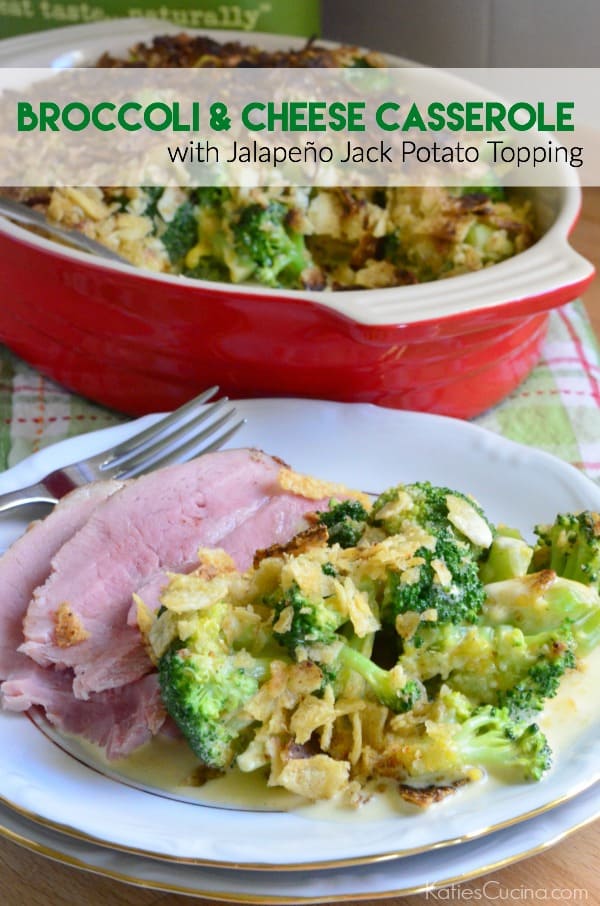 Today, I'm sharing with you a cheesy casserole recipe that will warm your body and soul and make your family want seconds and even thirds! We love Kettle Brand Potato Chips in my house, and when they came to me and asked me to add a fun twists to a traditional classic side dish I knew I was up for the challenge. We love broccoli cheese casserole, so I figured this would be the perfect time to reinvent this recipe. Instead of a buttery cracker topping I knew I wanted to sub that out for the Jalapeño Jack Kettle Brand Potato Chips. It still gives the nice crunchy topping and gives it a little kick! I also made a homemade cheese sauce verse using the block of store-bought unrefrigerated cheese. I think you know where I'm going with this!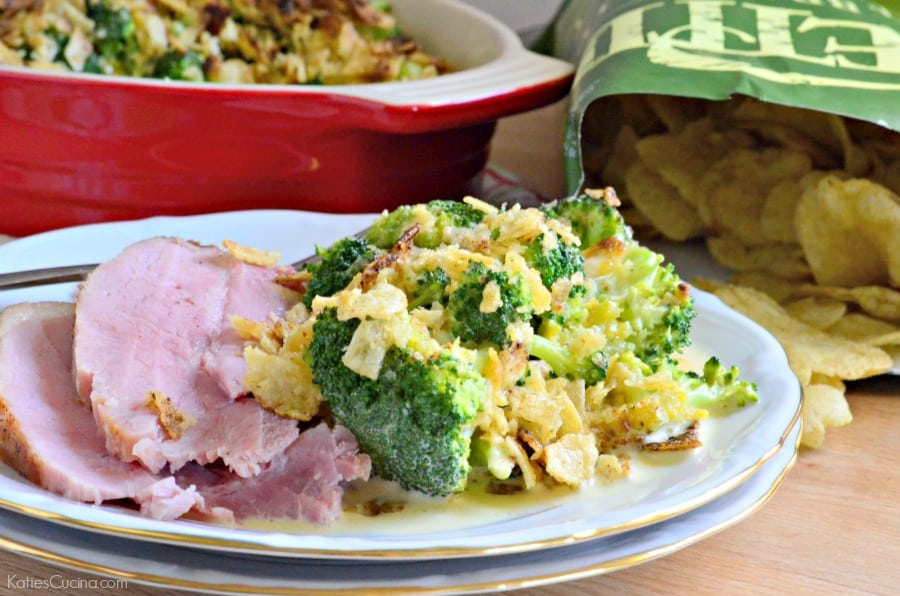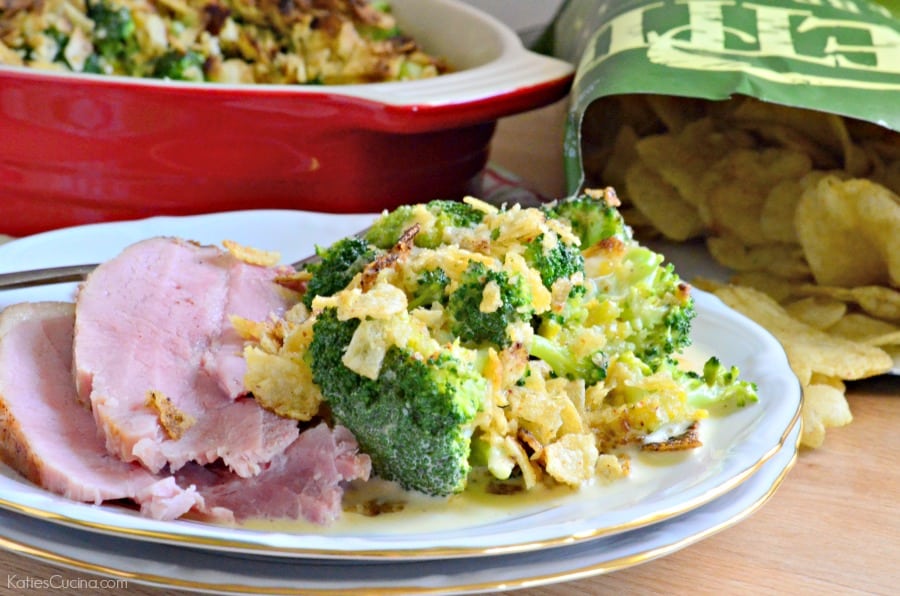 Late on Thanksgiving night, after the baby was finally to bed, my husband, cousin and I watched a documentary (and stayed up way past all of our bedtimes). We watched the documentary GMO OMG! Have you seen it? It's an eye-opener and makes you really think about what food your putting into your body. Since having my son, I've been even more diligent about reading labels and making sure I'm not giving him or myself pure junk or even worse harmful chemicals that our country has yet to ban. I buy even more organic foods than what I already bought and whenever I see the Non-GMO ingredients label on a package I snatch it up. I love that more and more companies are labeling their products.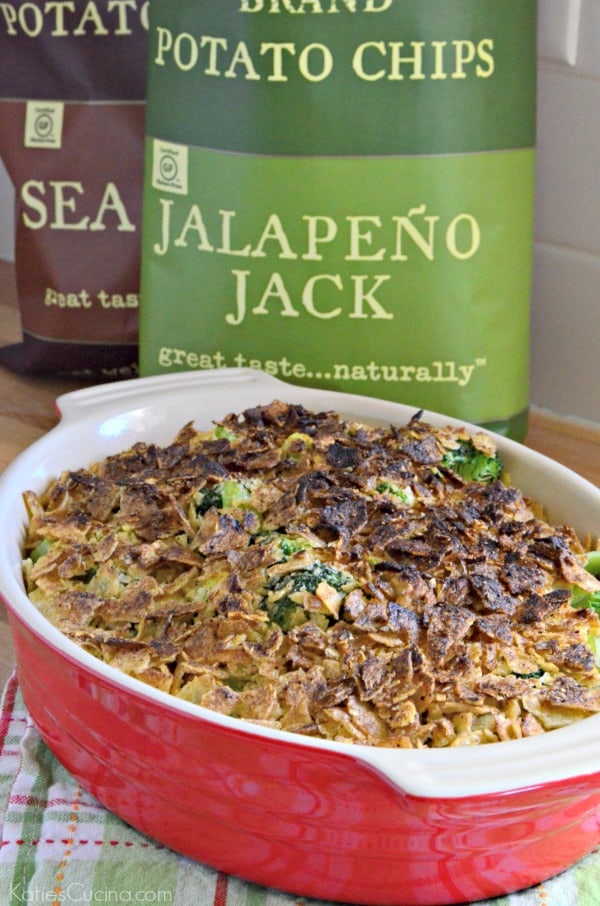 What I love about Kettle Brand Potato Chips is that the chips are made with natural ingredients! You'll never find MSG, preservatives, or GMO's in the chips. They are gluten free and even better have 0 grams of trans fat! They are real chips… chips that everyone should be snacking on. That is if your a chip lover. We always have chips in our home, because my husband is 100% a chip lover. I think I've mentioned it before, but he has to have chips with his lunch every day. He could be eating leftover spaghetti and yet he is munching on chips, too!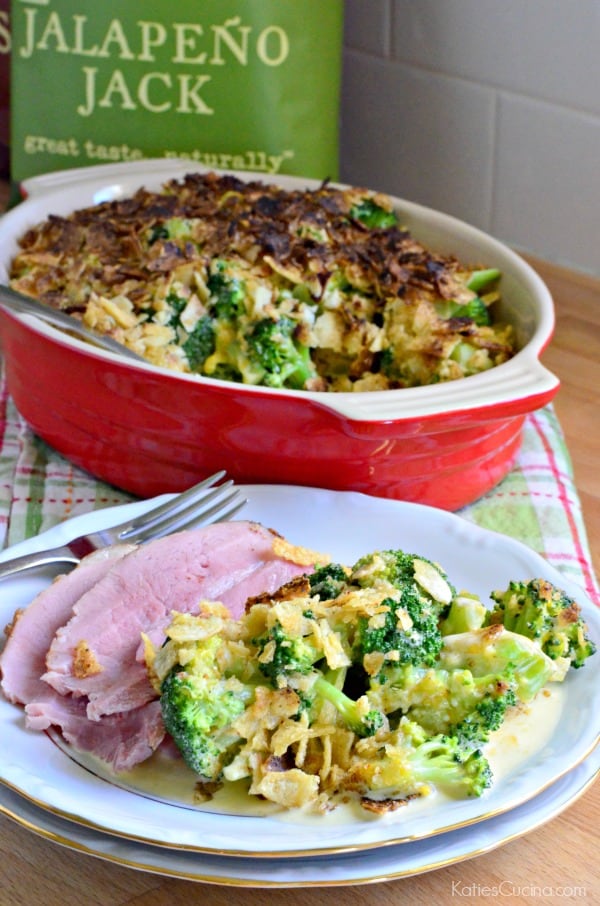 I don't feel guilty about buying potato chips for my husband knowing that they are made with all natural ingredients. And even better I don't feel guilty about serving up this Broccoli and Cheese Casserole with Jalapeño Jack Potato Topping to my friends and family. It's made with all natural ingredients and gives a great spin on a classic casserole dish!
Katie Original Recipe
Visit Kettle Brand's website or get social with them on Facebook and Twitter!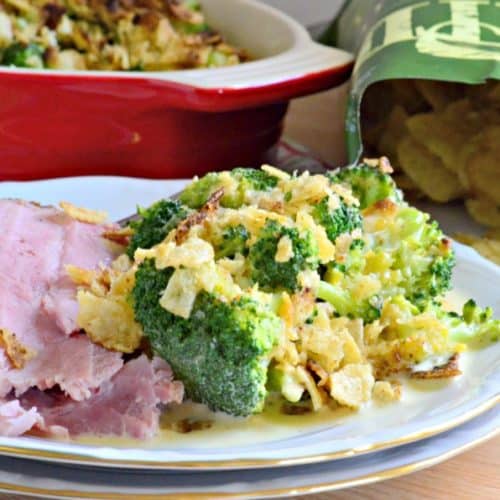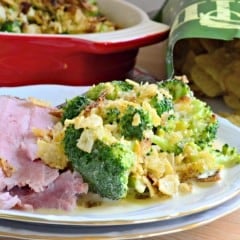 Broccoli and Cheese Casserole with Jalapeño Jack Potato Topping
Try my re-invented Broccoli and Cheese Casserole with Jalapeño Jack Potato Kettle Brand Chips. It has the same flavors but way different taste than the classic casserole recipe.
Print
Pin
Rate
Ingredients
8

cups

Fresh Broccoli

2

cups

Shredded Cheddar Cheese

1

cups

Heavy Cream

1

teaspoon

Salt

½

teaspoon

Black Pepper

4

Cups

Jalapeño Jack Kettle Brand Potato Chips

crushed
Instructions
Preheat the broiler on low.

Boil broccoli in large stock pot with enough water just covering it. Cook on high for 15 minutes or until soft. Drain and put to the side.

In the same pot, make the cheese sauce. On low heat, heat the heavy cream until warm but not boiling (about 5 minutes). Remove the cream from the heat and mix in the salt, black pepper, and shredded cheddar cheese. Mix until melted and set to the side.

Spray an oven-safe dish with cooking spray. Place steamed broccoli in the dish. Pour cheese sauce on top. Place 4 cups of Jalapeño Jack Kettle Brand Potato Chips in a large gallon bag, and crush. Pour crushed potato chips on top of casserole. Broil on low for 1-2 minutes until the top is golden brown (watch to make sure the topping doesn't burn). Serve immediately.
Nutrition
Calories:
478
kcal
|
Carbohydrates:
29
g
|
Protein:
13
g
|
Fat:
36
g
|
Saturated Fat:
15
g
|
Cholesterol:
70
mg
|
Sodium:
711
mg
|
Potassium:
1035
mg
|
Fiber:
4
g
|
Sugar:
2
g
|
Vitamin A:
1287
IU
|
Vitamin C:
89
mg
|
Calcium:
276
mg
|
Iron:
2
mg