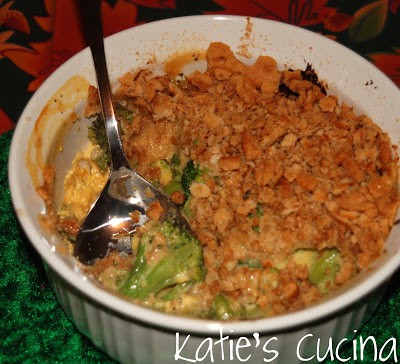 This will honestly be one of the easiest casserole recipes I think you will ever make! I received this recipe from a very good friend of mine, Christy. I've been making this casserole for quite a few years now and everyone expects I make it during the holidays! Her original recipe called for a few sticks of butter. I've lighted it up with only needing half a stick, and it still taste just as good!
Source:
My Friend Christy B!
2

bags chopped frozen broccoli

1 small

block Velveeta cheese

2 rows of Ritz crackers, crushed into crumbs

½ stick butter (divided)

2 tablespoon water
1
. Pre-heat oven to 350 degrees.
1. Cook broccoli according to package instructions, remove any and all water, and set aside.
2. In medium saucepan melt ¼ stick butter with the block of Velveeta cheese until creamy, add broccoli and mix well. Place the broccoli mixture into a casserole dish.
3. In small bowl (using the microwave), melt ¼ stick butter, add water, and mix into cracker crumbs with fork. Sprinkle cracker crumb mixture over the broccoli & cheese.
4. Bake at 350 degrees for about 20 minutes or until crumbs are golden brown.