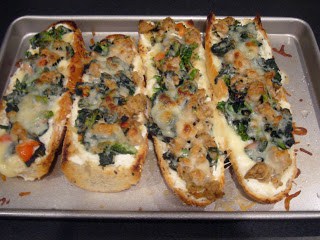 I found this recipe on a whim one afternoon, and knew I needed to try it. These were just as easy as the instructions read and tasted great! It was a nice and inexpensive alternative to ordering in pizza. The only thing I added to this recipe was a little onion and red bell pepper! We ate these along with a salad and watched the movie Up In the Air with George Clooney! It was a perfect stay-at-home date night!
Prep: 5 minutes
Cook: 15 minutes
Serves: 4
Ingredients:
Salt
1 large bundle broccoli rabe, trimmed, washed and dried, coarsely chopped
1 large loaf of Italian Five Grain

(or any other soft bread loaf for that matter)

EVOO – Extra Virgin Olive Oil, for drizzling, plus 2 tablespoons
1 pound bulk Italian sweet sausage
½ cup red bell pepper, diced
½ cup onion, diced
4 cloves garlic, finely chopped or grated
Black pepper
½ teaspoon crushed red pepper flakes
Freshly grated nutmeg, to taste
1 cup fresh ricotta cheese
⅓ cup whole milk
2 tablespoons fresh thyme, chopped
2 cups provolone cheese, shredded
Directions:
1. Preheat broiler and position rack 1 rung from top of oven.
2. Bring a few inches of water to a boil in a covered deep skillet. Remove cover and season water with salt and boil the rabe 3-4 minutes to cook out their bitterness, drain well.
3. Place bread on a cooling rack placed over a baking sheet so heat can circulate and the bottom of the bread can remain crisp. Lightly toast bread under broiler, 2-3 minutes. Remove from oven.
4. Meanwhile, heat a drizzle of EVOO in a skillet over medium-high heat. Add sausage and brown and crumble, remove to plate and return pan to stove. Then reduce heat to medium and add EVOO, a couple turns of the pan. Add garlic, onion, and red bell pepper and stir 2 minutes. Add red pepper flakes and stir, then add broccoli rabe and toss to combine. Season with salt and pepper and a little nutmeg. Turn off heat.
5. While sausage browns, combine ricotta with milk, salt, pepper, thyme and a drizzle of EVOO. Slather or dollop the ricotta cheese on to the bread. Top the bread with even layers of sausage and broccoli rabe and provolone cheese. Return bread pizzas to the oven for 3 minutes or until brown and bubbly on top.
Side Suggestions: salad