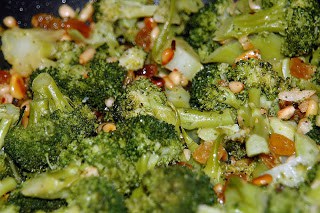 I was browsing through my
Super Suppers cookbook
like I normally do, and found this delectable side dish. I think I was mainly intrigued by the use of raisins with cooked broccoli. I immediately flagged the page and within a day I was cooking up this side dish. It complimented our meal so well, and my husband could not get enough of it!!!
Ingredients:

2 crowns of broccoli, florets separated and stems chopped into ¾-inch slices

½ cup golden raisins

½ cup pine nuts

1 clove garlic, minced

¼ teaspoon red pepper flakes

1 ½ tablespoons cider vinegar

2 Tbsp. olive oil

salt and pepper to taste



Directions:
In a small frying pan toast pine nuts until they are golden brown (about 5 minutes).

Steam broccoli in a large pot. and cook until broccoli is softened but still firm and green, about 10 minutes (maybe less).

In a large pan; heat the olive oil on medium heat, add the garlic and cook until it has turned golden (try not to let it burn). Add golden raisins, cider vinegar, and red pepper flakes. Mix well and then add pine nuts and cooked broccoli. Toss until everything has been incorporated. Add salt & pepper to taste and plate!