Happy November! I seriously can't believe its already November. I also can believe that Katie's Cucina turns 3 this month!??! Wow–has time flown by. I remember writing my first official post and not thinking anything of it. I started Katie's Cucina as an outlet to share recipes with friends and family members around the United States. If you would have told me 3 years ago, that I was going to make this recipe blog into a part-time business I would have laughed at you. That was never my intentions. Nor did I ever think I would be doing recipe development projects for companies. And of course… food photography. The photos I took during my first year and a half of food blogging are horrid. Mortifying if you ask me. So incredibly embarrassing, yet it reminds me of where I started from. With very little no knowledge of food photography. Boy, have I grown and transformed Katie's Cucina into a household name.
I have all sorts of fun giveaways planned for the month of November to celebrate the 3rd anniversary of Katie's Cucina. So we are kicking off the month with a giveaway from Bonne Marman Fruit Preserves. Last month, after returning home from Europe I quickly got back in the kitchen to develop this recipe for Bonne Marman. They have a brand new preserve flavor coming out this month and selected a few very talented food bloggers to develop recipes for them. From now until November 15, 2012 you can vote on your favorite recipe on Pinterest by "liking" the photo.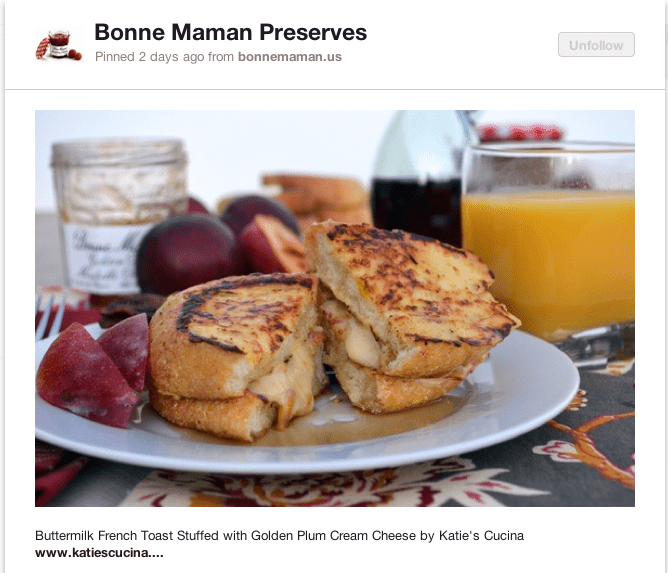 So, if you like reading Katie's Cucina you might want to head over to pinterest and like the above photo! Of course repinning it won't hurt either!
Without further ado… lets talk about the giveaway! One lucky reader will win a set of 3 Bonne Maman Preserves. Please wait for the rafflecopter widget to load below. (if you don't see your comment appear right away its because I have to approve it. No need to leave multiple comments).

Source: Katie Original recipe developed for Bonne Marman Fruit Preserves.
Buttermilk French Toast Stuffed with Cream Cheese Golden Plum Mirabelle Preserves + Giveaway
Print
Rate
Ingredients
Ingredients for the Cream Cheese Golden Plum Mirabelle Preserves:
1 8

oz.

package of cream cheese

room temperature

1/2

cup

Golden Plum Mirabelle Preserves
Ingredients for the Buttermilk French Toast:
1

loaf French bread

3

eggs

2

cups

buttermilk

2

tbsp

Golden Plum Mirabelle Preserves

1/2

tsp

cinnamon

1/2

tsp

vanilla

4

tbsp

salted butter
Instructions
Directions for the Cream Cheese Golden Plum Mirabelle Preserves:
Place the room temperature cream cheese in a large bowl. Using a hand mixer blend the cream cheese for 1 minute. Then add 1/2 cup Golden Plum Mirabelle Preserves, and blend for 2 minutes until the cream cheese and preserves are well incorporated. Set aside until the french toast is ready to be stuffed.
Directions for the Buttermilk French Toast:
Cut French bread 1-inch thick (should yield about 12 slices).

In a shallow dish, beat 3 eggs then add 2 tablespoons Golden Plum Mirabelle Preserves and mix until incorporated. Then add 2 cups buttermilk, 1/2 tsp cinnamon, and 1/2 teaspoon vanilla. Mix until well incorporated.

Preheat a skillet to medium-high heat and add 2 tablespoons butter. Once the skillet is hot and the butter has melted quickly dip one piece of french bread into the egg mixture (on both sides) and place on the skillet. Repeat until your skillet is full (make sure you don't over-crowd your skillet). Cook for 5 minutes (or until golden brown) and then flip the french bread and finish cooking for another 5 minutes.

While the other side of the bread is cooking, spoon 1-2 tablespoons of cream cheese Golden Plum Mirabelle Preserves mixture on to half of the tops of the cooked french toast. Once the french toast is finished cooking, stack one of the pieces of toast that does not have the cream cheese mixture on to the top of one of the cream cheese mixtures. Repeat steps 3 and 4 if your skillet is not large enough to accommodate all 12 pieces of french bread.

Serve with warm maple syrup and enjoy!
Notes
This recipe was developed for Bonne Marman Fruit Preserves.
Disclaimer: I was compensated for this post and provided product. One lucky winner will receive 3 preserves from Bonne Maman. All opinions are my own.