Warm your soul and your kitchen with a big pot of Butternut Squash Chicken Chili.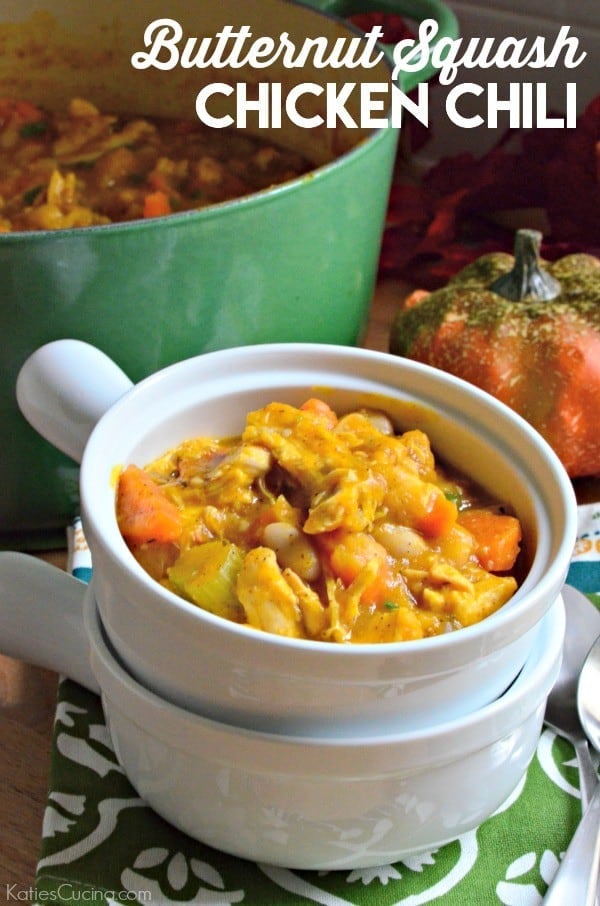 Hello winter (and arctic freeze)! I stated typing this post last week as I was cozied up in bed and layered with clothing, on a cold winter morning in Florida. It was the start of my cold last week, and as the day progressed I found myself napping while Ryder napped because I was feeling sicker by the minute. I had all intentions of publishing this post last week, but then my cold hit me like a brick wall. So I put all work aside so I could take care of myself (and my family) for a few days.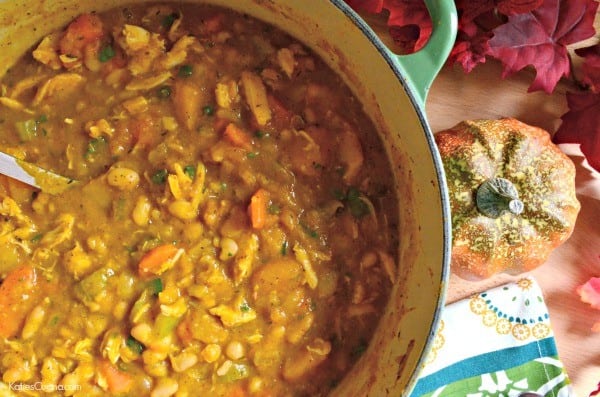 I know most of the country is laughing at my "cold" statement above… but when its in the 30's in Central Florida that is full on winter weather for us Floridians. Too darn cold for me and the high's for the past few days have only reached in the 50's. In preparation for the cold weather, I've been dressing Ryder in one of the two pairs of fleece pajamas he has, and broke down and turned the heat on over the past few days. I dread to see my power bill next month. Thank goodness this blog helps pay that for my family. Thankfully, it will be back in the 70's by Sunday, but with that being said–this is how we all get sick with the wacky Florida winter weather. Hence, my crazy cold that I'm slowly recuperating from last week.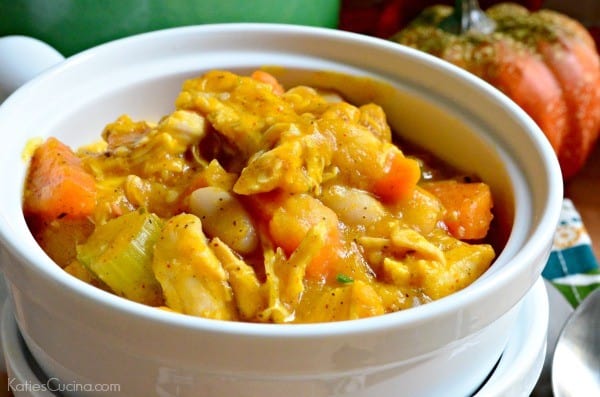 What better way to stay warm in your home than to fire up the stove and make a big batch of my Butternut Squash Chicken Chili. I love making chili's, stews, and soups during the winter months and this one is perfect for a cold winter's day. This is a hearty-earthy stew and I love everything about it. Like I mentioned it's "earthy" thanks to the non-traditional chili seasonings like sage. I love it, my husband loved it more the next day, and I think this recipe through my parents totally off when they had a bowl. They liked it but didn't love it. So I'm warning you now–it's earthy. You have to like the flavors of sage to like this recipe.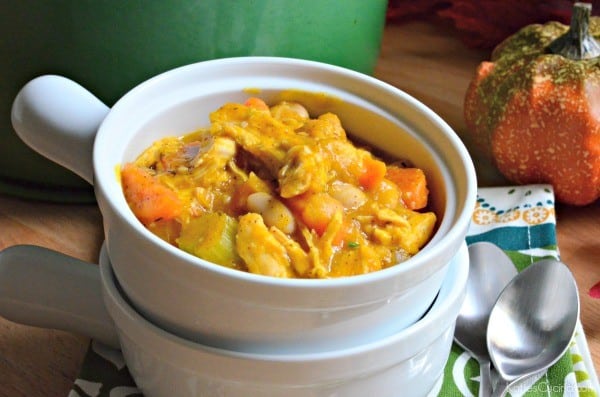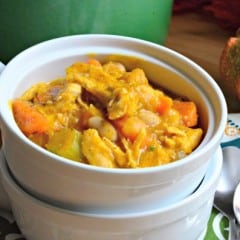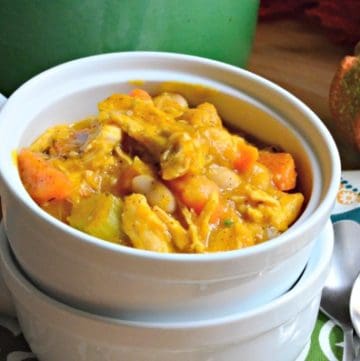 Butternut Squash Chicken Chili
Warm your soul and your kitchen with a big pot of Butternut Squash Chicken Chili.
Print
Pin
Rate
Ingredients
2

tablespoon

chicken fat

or vegetable oil

2

extra-large carrots

peeled and sliced moon shape

3

celery stalks

diced

1

medium onion

diced

4

cups

fresh butternut squash

cubed

12

oz

frozen

and then thawed cooked squash puree

1

tablespoon

ground sage

1

tablespoon

chili powder

1

teaspoon

thyme leaves

¼

teaspoon

crushed rosemary

¼

teaspoon

garlic powder

salt and pepper to taste

½

cup

chicken stock

2 15.8

oz

can of Reduced Sodium Great Northern Beans with juice

2

cups

cooked shredded rotisserie chicken

Dash of Ground Nutmeg

1

tbsp

Fresh parsley

1

tablespoon

Green onions
Instructions
In a large stock pot heat chicken fat (or oil) on high. Add in the carrots, celery, onions, and butternut squash. Place lid on the pot and sweat out vegetables for 5 minutes. Mix and reduce heat to medium. Place the lid back on and sweat for an additional 5 minutes.

Next, add in the butternut squash puree, ground sage, chili powder, thyme leaves, crushed rosemary, garlic powder, and salt and pepper to taste. Mix well and add in the chicken stock.

Let cook for 10 minutes on low then mix in the great northern beans and shredded chicken. Let simmer on low for one hour. Just before serving mix in a dash of nutmeg, fresh parsley and sliced green onions