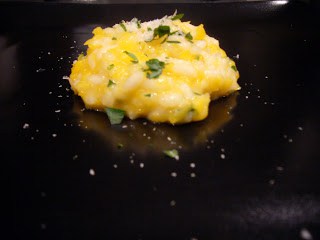 Now that I've finally taken the leap–I can't stop cooking this stuff! We love it, and although a labor of love–worth every ounce of stirring that it involves… Plus its a two for one–because you are working out your arms and making dinner! This recipe was recently added to Rachael Ray's website, and boy am I glad it was!!!
Cook: 40 minutes
Serves: 4
INGREDIENTS:
2 1/2 cups low-sodium chicken broth
4 tablespoons butter
1 1/2 cups grated butternut squash
1 onion, finely chopped
1 1/2 cups arborio rice
1/2 cup dry white wine
3/4 cup grated Parmesan cheese
1/4 cup finely chopped parsley
Salt and pepper
DIRECTIONS
In a saucepan, bring the chicken broth and 2 1/2 cups water to a boil; cover and keep at a simmer.
Meanwhile, in a large saucepan, melt 1 tablespoon butter over medium heat. Add the squash and cook, stirring frequently, until soft, about 5 minutes; transfer to a bowl. Add 2 tablespoons butter and the onion to the saucepan and cook, stirring, over medium heat until the onion is softened, about 8 minutes. Add the rice and stir until lightly toasted, about 2 minutes. Add the wine and cook, stirring constantly, until evaporated, about 2 minutes.
Stir in 1/2 cup of the hot broth mixture, bring to a simmer and cook, stirring and adjusting the heat as necessary to maintain a low simmer, until the liquid is absorbed, about 2 minutes. Repeat, adding 1/2 cup of the remaining broth mixture at a time and allowing the liquid to be absorbed, until the rice is tender, about 18 minutes.
Add the cooked squash and the remaining 1 tablespoon butter. Stir in 1/2 cup Parmesan and the parsley; season with salt and pepper. Serve immediately, passing the remaining 1/4 cup Parmesan at the table.