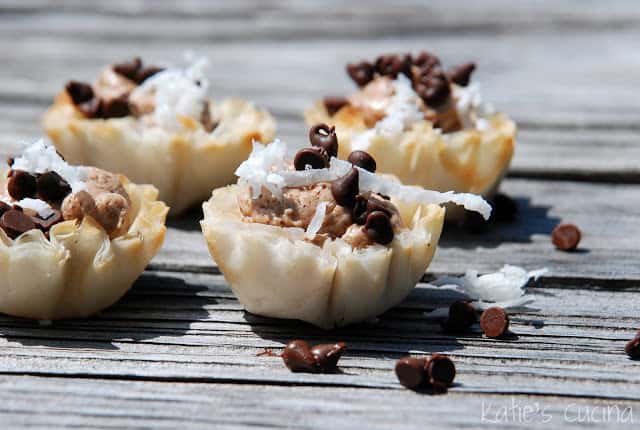 After making the amazing
White Chocolate Raspberry Mousse
fillo cups I decided to try another dessert recipe based around the mini fillo cup. I was hosting a Singer Sewing Party and wanted simple bite sized desserts to serve. I instantly went to the internet and found this awesome café mocha recipe. The coffee flavors were spot on, and the mousse was as rich and smooth as I had last remembered it to be! As suggested I topped these bite sized beauties with shredded coconut, and for good measure; mini chocolate chips. They were pure perfection (to say the least), and very easy to make. Even if you aren't a "cook" or "baker" you can make these mini mousse cups, (and impress all of your friends and family)!
I think I should be the new spokes person for mini fillo cups! What do you think?
Prep Time: 2 hours (chill time)
Servings: 15 individual cups
⅓ cup heavy whipping cream
1 tablespoon cold water
1 tablespoon Kahlua
½ teaspoon plain gelatin
3 tablespoons powdered sugar
¼ teaspoon instant coffee powder
2 tablespoons semisweet chocolate chips
15 mini fillo shells (1 box)
2 tablespoons shredded coconut, for garnish
1. In a small chilled bowl, whip heavy cream to full volume. Chill for 1 hour.
2. In a small pan, combine water, Kahlua and gelatin and let stand for 1 minute. Add powdered sugar, instant coffee and chocolate chips. Over low heat stir until chocolate chips are melted. Bring to room temperature.
3. Gently fold the chocolate mixture into the whipped cream. Chill for 1 hour.
4. Spoon or pipe 2 teaspoons of filling into each fillo Shell. Garnish with shredded coconut and mini chocolate chips. Serve immediately.