Cheesy Grape Tomato Basil Pasta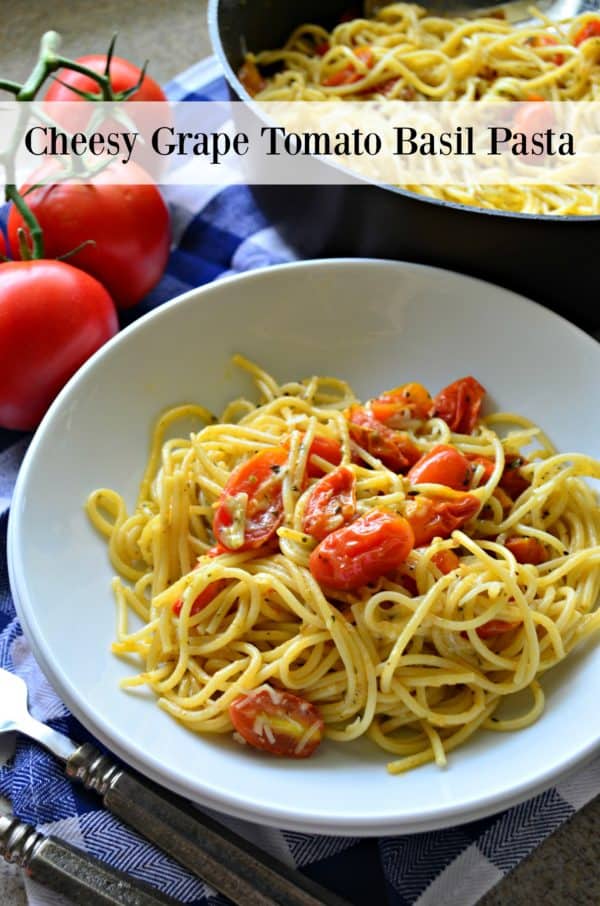 Some days I surprise myself and whip up something not only quick but delicious tasting for dinner. I've found that when I'm pregnant the last thing I want to do is cook. Kind of a bad thing to not want to do when that's how you make a living! So the key to surviving (both family life and business) is quick and easy! Last week, I shared with you my secret about Dorot frozen herbs. This week, I'm sharing an easy recipe for my quick cooking Cheesy Grape Tomato Basil Pasta that will be done from start to finish in 20 minutes.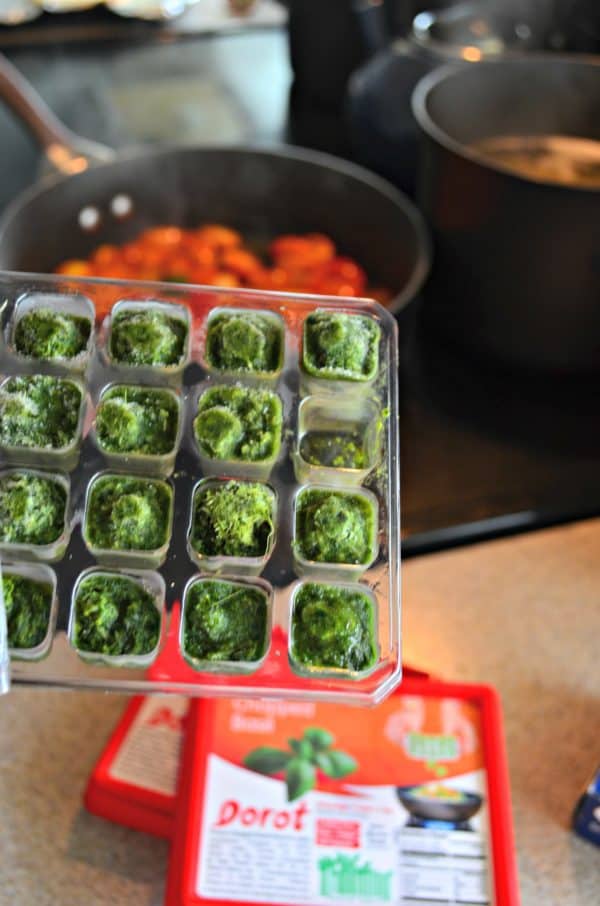 This pasta recipe could not be easier to put together. Without having to chop up the garlic and basil it saves a ton of time! I'm telling you–the Dorot frozen herbs are a life saver! I cooked pasta according to the package. Then, while the pasta was cooking I sauteed sliced grape tomatoes in olive oil with both crushed garlic and basil. The house smelled amazing. Before I strained the pasta, I reserved a cup of water.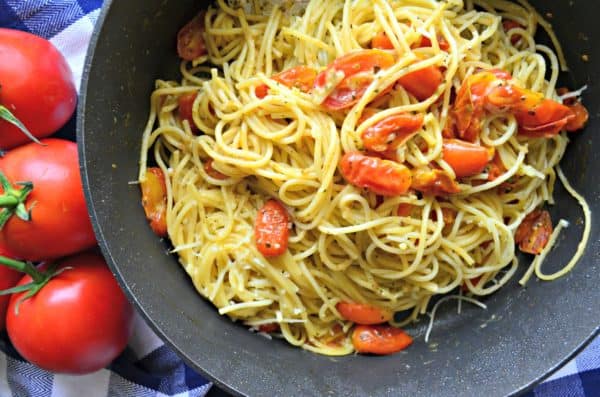 Cooking tip: I like to add the pasta water to my pasta sauce that I make to help naturally thicken the sauce. The starches that are in the water help to thicken the sauce.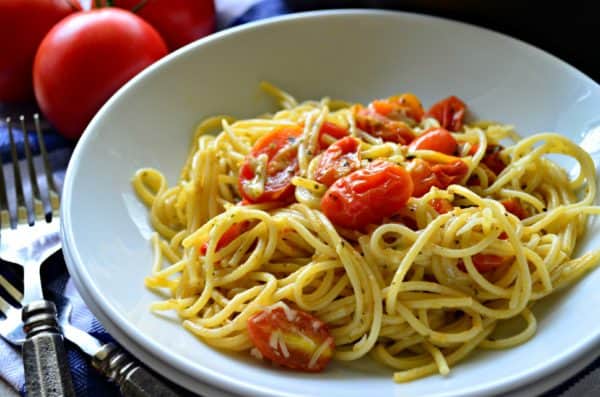 Then once the pasta is cooked and strained I add it into the skillet and toss with the sauteed tomatoes. I add in the starch water and mix in the grated Parmesan cheese. I let it cook for a few minutes longer just so it will absorb the flavors of the tomatoes, garlic, and basil. This recipe makes 4 large portions. The night I made this pasta I served it alongside eggplant Parmesan stacks I picked up from Whole Foods. I also made a spinach and kale salad and crusty garlic bread! Super simple dinner done in under 20 minutes! The way I like to cook these days! So if your looking to use fresh ingredients and make a quick dinner, my recipe for Cheesy Grape Tomato Basil Pasta is the ticket to just that!

Cheesy Grape Tomato Basil Pasta
Yield: 4
Prep Time: 5 minutes
Cook Time: 15 minutes
Total Time: 20 minutes
Ingredients:
4 oz. spaghetti
1 tablespoon olive oil
1 pint grape tomatoes, sliced in half
2 teaspoons crushed garlic ( 2 cubes if using Dorot)
1 tablespoon minced basil ( 4 cubes if using Dorot)
salt and pepper to taste
1/2 cup Parmesan Cheese + additional for garnish
Directions:
Cook pasta according to box directions. Reserve 1 cup of pasta water prior to draining pasta.
While pasta cooks preheat a skillet with olive oil. Add in the grape tomatoes, crushed garlic and basil. Cook for 5 minutes on medium heat until tomatoes start to caramelize.
Add cooked pasta to the pot as well as 1/2 cup of water. Mix well, season with salt and pepper to taste and mix in the 1/2 cup of Parmesan cheese. Cook for 5 minutes on medium-low heat. Divide evenly among 4 plates, and top with additional cheese.
Note: You can add more water to the skillet--just depends on your desired consistency!
Save
Save
Save
Save
Save
Save
Save
Warning
: Use of undefined constant rand - assumed 'rand' (this will throw an Error in a future version of PHP) in
/home/kjasiewicz21/webapps/katiescucina/wp-content/themes/katiescucina/single.php
on line
74
Leave a Comment