Wow, day 4 of brunch week. I hope you have been following along with all the amazing brunch week recipes! Today, I'm sharing a granola recipe. Not just any granola… This is my coconut cherry granola that made its debut at the Central Florida Food Blogger Bake Sale this past weekend.
Granola is a great make-ahead food. I love to make granola every other week. I typically mix it in with my morning greek yogurt and fruit. If you were entertaining for brunch I would suggest making one or two varieties of granola and creating a granola bar. Chopped fresh fruit, plain or vanilla greek yogurt, granola…. you get the idea. Let your guest build yogurt parfaits! You also won't have to stress over who likes to eat what… when you give your guest the option it takes the stress off the hostess-with-the-mostess… yah I totally just said that.
Like I mentioned above, I sold this coconut cherry granola at our annual food blogger bake sale. I happened to be the only granola recipes contributed this year. You know–I try to balance out all the unhealthy and fattening baked goods with a little healthy. A nice breakfast treat. While we are on the topic let's talk about the Central Florida Food Blogger Bake Sale for a minute. This was my second year co-organizing the bake-sale with my good friend Julie from The Little Kitchen (and third year particiapting). I'm always amazed by the generosity of our fellow food blogging community.
This year we were at The Winter Garden Harvest Festival. With that being said all participants needed to attend the entire day. No one complained… even though it was raining, we all just enjoyed the presence of one another. We talked about food, and baking, blogging, and our personal lives. Despite our rainy weather we all had a great time. I'm sad to say we didn't raise half the amount of money that we did last year (I know a big part was weather and the other part was that so many of us had pre-sales and other fundraisers outside of our one-day bake sale). However, even though we didn't raise as much as we wanted I know that all of the money is going to a great cause. We all are fighting to end childhood hunger in America. 1 out of 5 kids in America struggle with childhood hunger! That's over 16 million children! According to the No Kid Hungry site we helped feed 14 children for an entire year!
I must also give a big special shout-out to the amazing sponsors who donated to our raffle. Without them we wouldn't have raised half the amount that we did!
Katie Original Recipe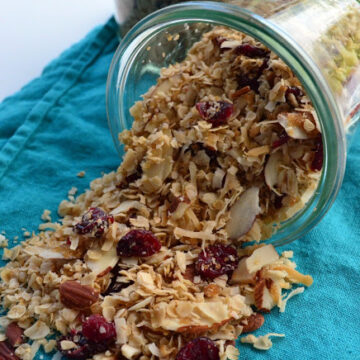 Ingredients
¼

cup

coconut oil

½

teaspoon

coconut extract

4

cups

quick cooking oats

½

cup

brown sugar

1-½

cups

sliced almonds

1-½

cups

coconut flakes

10

oz

dried cherries
Instructions
Preheat oven to 250 degrees Farenheit.

In a sauce pan on low heat, melt ¼ cup of coconut oil. Once the coconut oil is melted (do not let it boil) add the coconut extract. Mix well and set to the side.

In a large bowl add quick cooking oats, brown sugar, and sliced almonds. Mix well, then pour the coconut oil on top. Mix some more until well incorporated. Spread on a parchment lined baking sheet and bake for 30 minutes.

Remove the pan from the oven, carefully mix and add 1-½ cups coconut flakes. Mix well and then place the pan back in the oven for 30 additional minutes. Remove from the oven, mix, and bake 20 minutes longer. Pour the baked granola back into the large bowl and add dried cherries. Mix and let the granola cool. Package in sealed containers and store for up to one week.
Remember, the brunch recipes don't stop here. Please go check out the other amazing brunch week recipes:
Brunch Recipes with Eggs
Asparagus and Leek Frittata by Rachel Cooks
Baked Ham and Egg Cups by Culinary Adventures with Camilla
Deviled Egg Spread with Home Rolled Crackers by Vanilla Lemonade
Veggie Quiche Cups by Take A Bite Out of Boca
Asparagus and Eggs in Mornay Sauce by Noshing With The Nolands
Brunch Recipes with Potatoes
Traditional Home Fries by Sarcastic Cooking
Meat, Poultry and Fish Brunch Recipes
Chicken Pockets by Jane's Adventures in Dinner
Turkey Dill Crepes by Kokocooks
Breads, Grains, Cereals and Pancake-type
Brioche by poet in the pantry by poet in the pantry
Gold Goddess Steel Cut Oats by The Vintage Cook
Quick and Easy Early Morning Parfaits by Cravings of a Lunatic
Caramelized Onion & Bacon Croque Monsieur by The Kitchen Prep
Fruit and Vegetable Brunch Recipes
Warm Salad Three Ways by Cook the Story
Spreads for Brunch
Black & Blue Thyme Jam by Cooking In Stilettos
Brunch Dessert Recipes
Crumb-Top Blueberry Muffins by Love and Confections
Banana Walnut Scone (Gluten Free/Dairy Free) by Around My Family Table
Croissant & Chocolate Bread Pudding by White Lights on Wednesday
Honey Poached Pear "Sundae" by Amanda's Apron
Strawberries and Cream Muffins by The Domestic Mama & The Village Cook