Cherry Lemon Sangria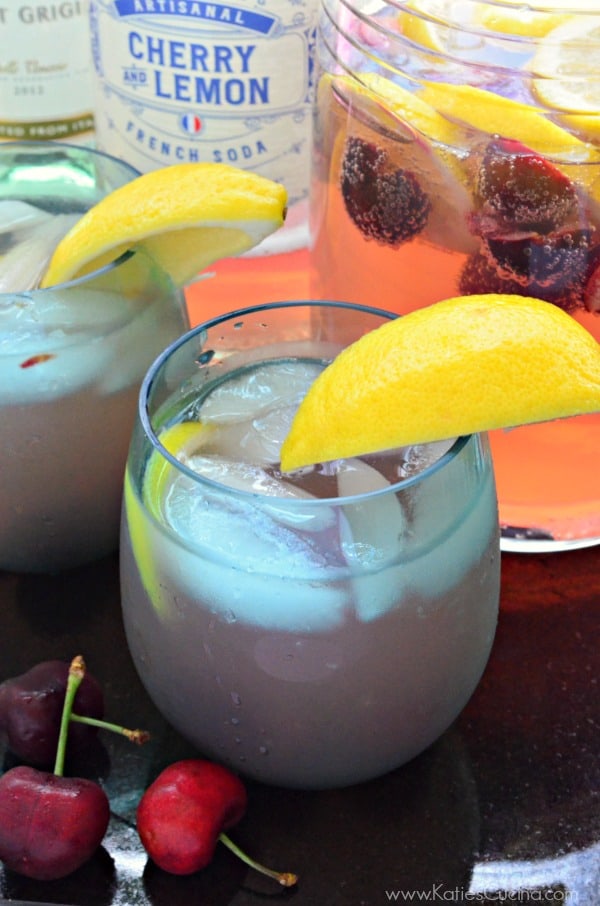 Oh how I missed sangria for 9+ months. Towards the end of my pregnancy I was dreaming about it (and guzzling a big old glass of cold bubbly beer). I promise I'm not an alcoholic. But there's something about craving stuff you can't have. While I was pregnant I was dreaming up all sorts of sangria recipes. This recipe for cherry lemon sangria just happened to be one of them.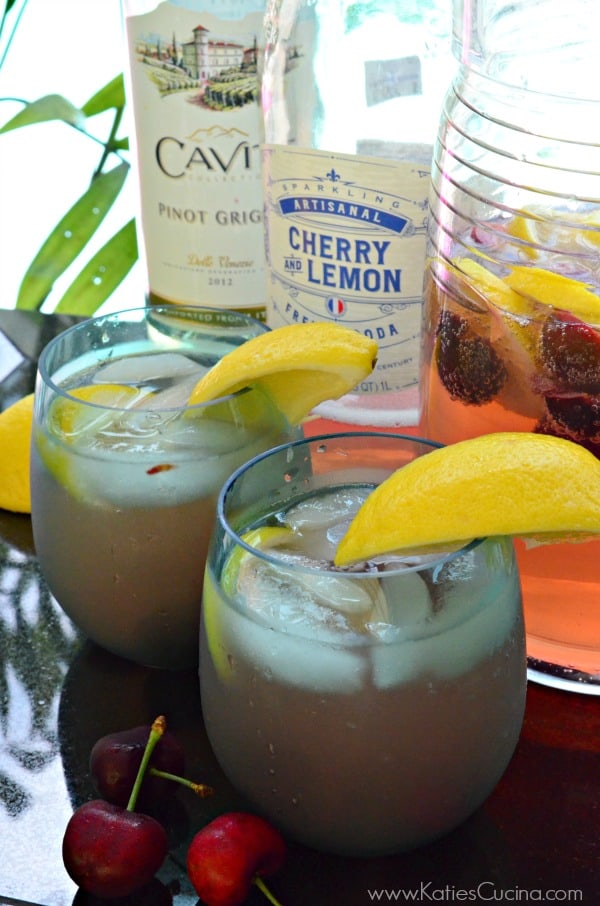 While browsing the aisles of World Market I found a bottle of Artisianal Cherry and Lemon French Soda. I knew that this was going to make the perfect base for the most delicious tasting and refreshing sangria around. I made it the same day I made my Thai Style BBQ Hot & Tangy Sriracha Grilled Wings. The sangria complimented the wings perfectly. Not to mention it was a scorching hot day out and we were spending it poolside at my in-laws house. Thankfully, Mr. Ryder decided to take a longer than normal nap so not only did momma get to take a dip in the pool but she also got to enjoy a glass of this Cherry Lemon Sangria without any crying to be heard.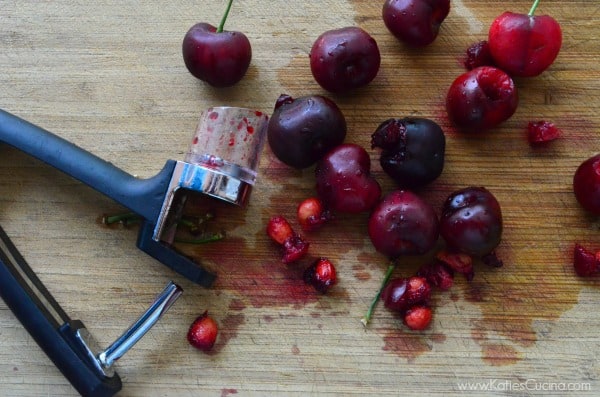 In case your wondering about the cherries. I did not keep the pits in them. That's no fun and gives the consumer way too much work to do. Instead, I used my favorite OXO Cherry Pitter. I can't imagine pitting cherries any other way, and if you have little ones this is a good job to have them do. My mother in-law was telling me she always let's my nephew who is 5 pit all the cherries for her. He thinks it's a game and she gets a little work out of him! It's a win-win. So whether your cooling off at the pool or inside your home… make a big pitcher of this Cherry Lemon Sangria!
Katie Original Recipe
Ingredients
1 bottle Cherry Lemon French Soda
1 bottle Pinot Grigio
1 tsp granulated sugar
1 cup cherries, pitted and halved
1 lemon, thinly sliced
Directions
In a large pitcher, combine cherry lemon french soda, pinot grigio, granulated sugar, half the cherries and lemon. Mix well, then pour over ice. Garnish each glass with a few chopped cherries and a few slices of lemon.
https://www.katiescucina.com/cherry-lemon-sangria/
This recipe is brought to you by Katie Jasiewicz of Katies Cucina
Disclaimer: There are affiliate links in this post. This means if you click on it and buy it I will make a percentage from the sale. As always all opinions are my own. 
Warning
: Use of undefined constant rand - assumed 'rand' (this will throw an Error in a future version of PHP) in
/home/kjasiewicz21/webapps/katiescucina/wp-content/themes/katiescucina/single.php
on line
74
8 Responses to "Cherry Lemon Sangria"
Leave a Comment