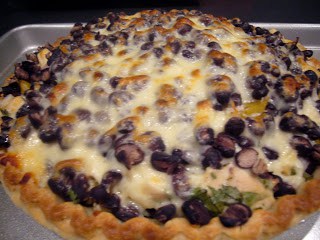 Once again while shopping for groceries I stumbled onto a sampling of this recipe. I was immediately taken back by the intense flavors–this is a savory and sweet kind of dish; so delicious and so easy to make!!! Not only did I know I had to make this recipe, but I would definitely have to blog about it! I'm not a huge fan of meat, but I ate every single piece of chicken that was in this pie! I even gave a serving to my neighbor, and after she finished it she was begging for more! I paired this pie with a salad and we were plenty full! Best of all this isn't all that bad for you. It's 500 calories for 1/6 of a serving. Although this could feed a family of six I'm reluctant to make the serving amount to six, because everyone will want to have seconds of this delicious meal! Heck if you have a family of 4 or 5 you might just want to make two of these pies!
Cook: 20 minutes
Serves: 4
Ingredients:
4 tbsp cilantro (finely chopped), divided
7 oz quesadilla cheese
1 medium onion
1 (11-oz) box frozen ripe plantains
1 prepared pie crust
1 Deli chilled rotisserie chicken (or 2 cups shredded cooked chicken)
1/4 cup mojo marinade
1 (15.25-oz) can black beans (drained and rinsed)
Directions:
Preheat oven to 400°F, start chopping the cilantro and onion. Shred cheese (about 1 1/2 cups).
Take plantains from the freezer and microwave them for a minute or two until they are soft enough to cut; cut them into small pieces
Pre-bake pie crust following package instructions.
Shred enough chicken to equal 2 cups. (Time-Saver Tip: You probably won't use the whole chicken for this recipe. Start by removing the large pieces of breast meat. Then, later, remove the remaining meat for another use.) Combine chicken, plantains, onions, mojo, and 2 tablespoons cilantro; transfer to pie crust.
Top with a layer of beans, then cheese. Cover loosely with foil; bake 15–20 minutes or until thoroughly heated and cheese is melted.
Sprinkle with 2 tablespoons cilantro. Serve.
Side Suggestions: spinach salad