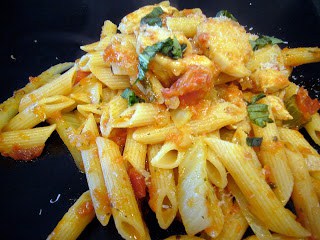 I had never cooked with fennel before until this recipe, and I think that is the reason why I was so intrigued to try it. Not only did it taste good, but it was very easy to make! This recipe will definitely make it into my rotation of recipes. The original recipe can be found here.
Cook: 20 minutes
Serves: 4
Ingredients:
1 cup fennel thinly sliced

3 boneless skinless chicken breast

1 tbsp olive oil

2 cups penne pasta

1 cup onions, diced

1/2 tsp dried Italian seasoning

1/4 tsp salt

1/8 tsp pepper

3 cups of your favorite marinara sauce
Directions:
Bring a large pot of water to a boil for the pasta. Remove leafy green top from fennel, clean, then slice fennel bulb and put off to the side. Clean and stack basil leaves. Roll up and then thinly slice to form ribbons–put off the side.

Cut chicken into 1-inch pieces. Pre-heat large saute pan to medium-high 2-3 minutes. Place oil in pan then add chicken; cook 2-3 minutes or until golden brown. Cook pasta following the box directions.

Stir in onions, fennel, Italian seasoning, salt, and pepper. Cook for 2-3 minutes or until vegetables have soften.

Stir in pasta sauce; cook 3-4 minutes or until sauce is hot. Toss sauce with pasta, and top with shreds of basil.
Side Suggestions: Crusty bread, salad.