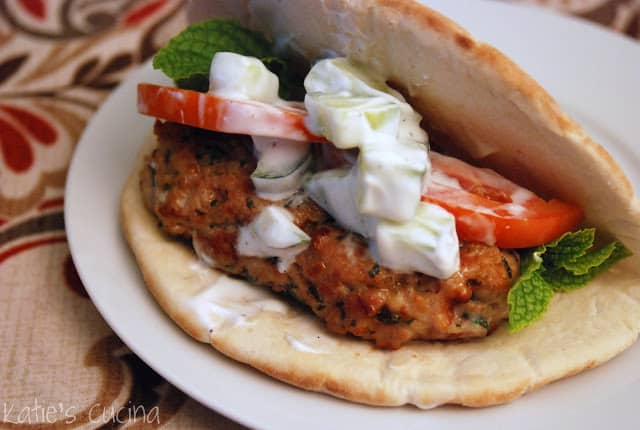 Every year when we attend Disney's Food and Wine Fest at Epcot Center I run to the Morocco pavilion where there is a cart set up selling beef koftas. Essentially it's a beef meatball like patty wrapped in a pita. As soon as I saw this recipe I knew I wanted to give it a try. I made this for dinner, and although filling I would highly suggest making this for a lunch. Or at least that was my husband's suggestion. He felt like the meal was too lunch like. Make sure you season the ground chicken well with salt and pepper, since this is the only time it can really be well flavored.


Source: Everyday Food, June 2011
Prep Time: 10 minutes
Cook Time: 12-15 minutes
Servings: 4


Ingredients:
1-1/4 lbs ground chicken
1/2 onion, diced small
1/2 tsp ground cumin
1/3 cup chopped fresh parsley leaves
salt and ground pepper
1-1/3 cups cucumber, diced large
1/2 cup plain Greek yogurt
2 tbsp vegetable oil
2 medium tomatoes, cut into 1/4-inch slices
8 pitas
1/2 cup fresh mint leaves, for serving


Directions:
1. In a large bowl, combine chicken, onion, ground cumin, and parsley–season with salt and pepper. Using your hands, mix until well combined. Form 8 oval patties.


2. In a medium bowl, toss together cucumber, yogurt, and season with salt and pepper. Place in the refrigerate until ready to serve.


3. In a large skillet, heat oil over medium-high. Cook patties until browned on all sides and cooked through, 12-15 minutes. Divide patties and tomatoes among the pitas. Top each pita with cucumber-yogurt sauce and fresh mint leaves. Fold and serve.