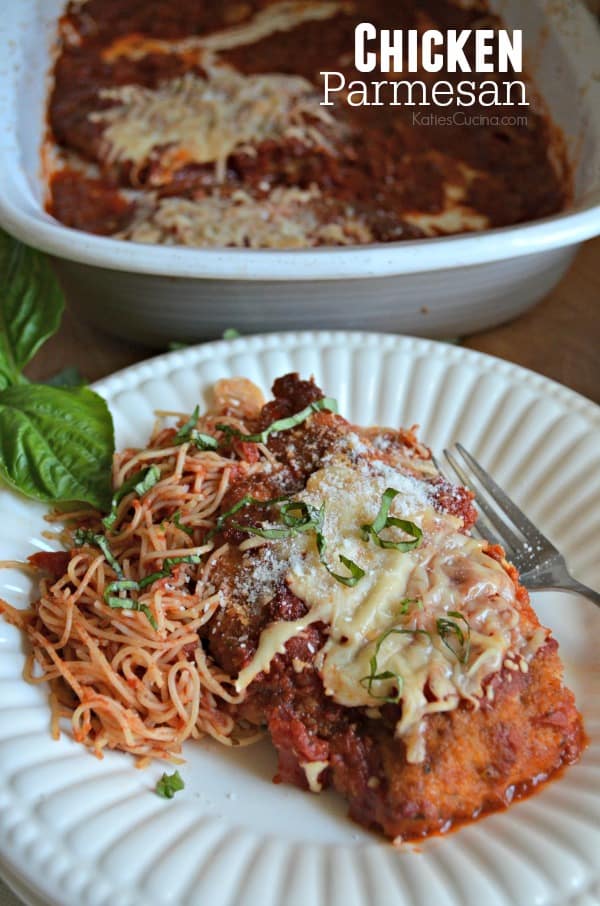 Since my husbands birthday is this week I figured I would share one of his all-time favorite recipes, Chicken Parmesan. His mom has been making this favorite meal of his for quite some time. I've tried mastering chicken Parmesan for years and time after time miserably failing. I could never get my breading to stick! Finally I consulted with my mother in-law and she told me a secret. Now, I think most people know this secret but for those who don't I'm ready to change your chicken breading life forever (just as it did mine). The secret is to pat dry your chicken and dry it off completely. Yes, that's it. Now that I know the secret I've been breading and frying just about everything and making Chicken Parmesan for my husband at least 1-2 each month. He's been loving it–and although it's not his mom's he still enjoys it. Nothing will ever be as good as when your mom makes it, but I think mine is a close second in his book! So now that I've perfected the recipes I'm excited to share with you the recipe.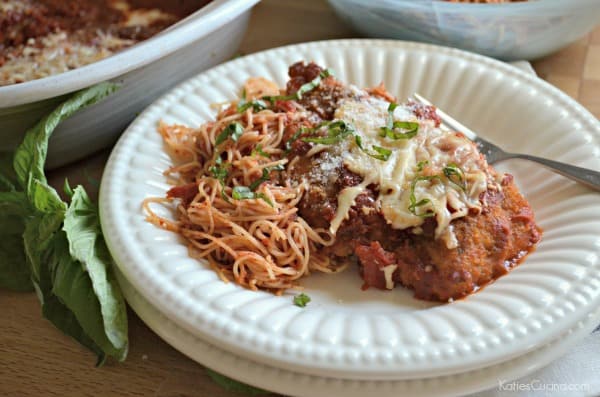 The process of making Chicken Parmesan is relatively easy and only requires just a few ingredients. Be prepared to fry the chicken and then bake it in the oven. Once you've patted your chicken dry, you'll ant to dip it into the egg wash followed by the bread crumbs. That's it! I like to fry on medium heat and I fry the chicken until it's 3/4 of the way cooked through.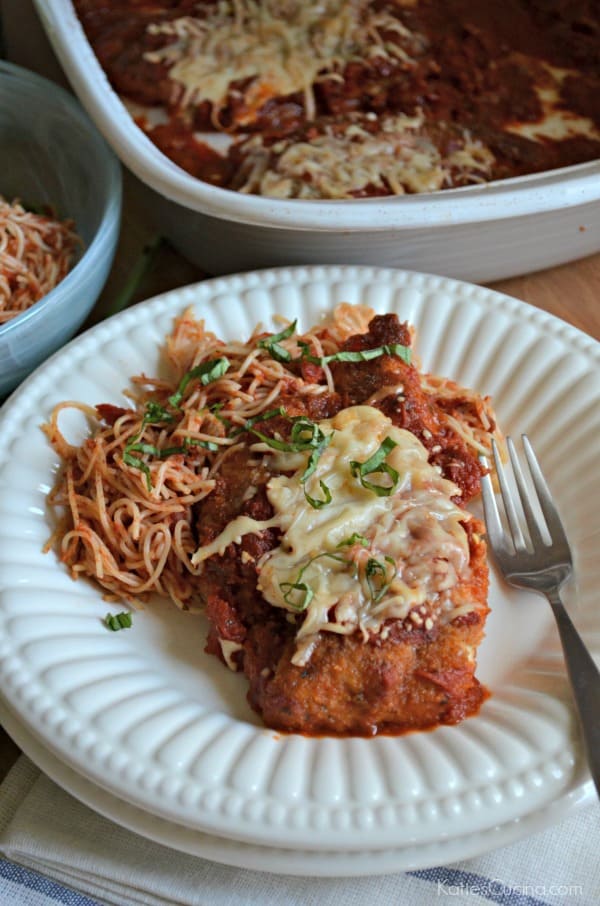 While the chicken is frying I preheat the oven. Then I like a 9 x 12 pan with a few ladles of my simple marinara sauce. As the chicken is almost done I begin removing each breast one-by-one and place into the baking dish. Once the chicken breast are all in the dish I place a few more ladles of sauce on top of the semi-cooked chicken breast. Sprinkle with a little mozzarella cheese and in the oven to bake (covered with tinfoil of course) for a good 20-25 minutes. During the last 5 minutes I pull the tinfoil off and let the cheese get golden brown in color. And just like that we have delicious chicken parmesan. Perfect dinner fit for a birthday boy, special occasion, or any evening of the week!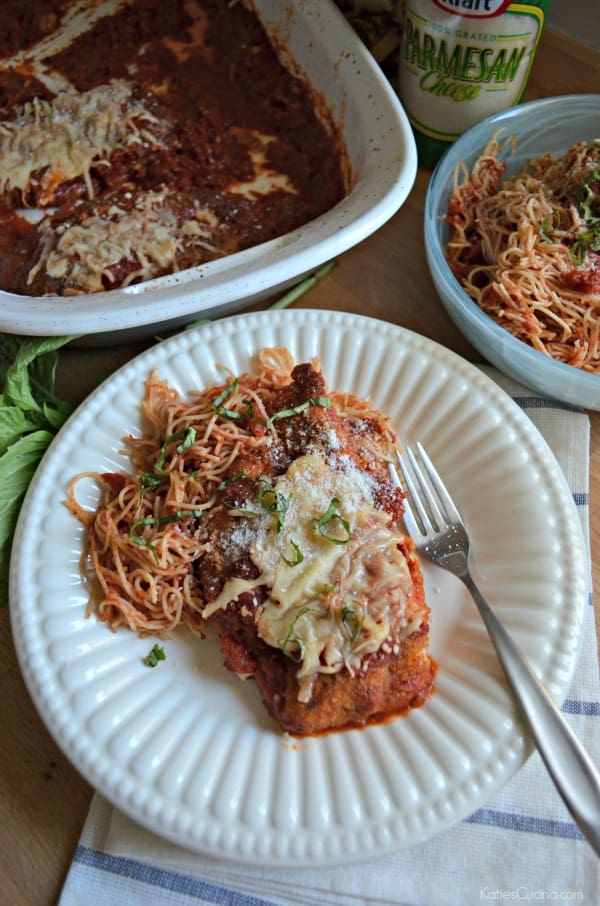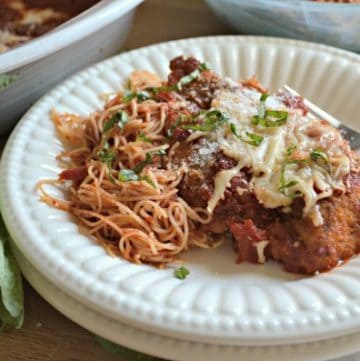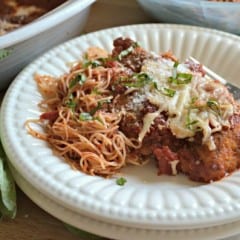 Chicken Parmesan
Since my husband's birthday is this week I figured I would share one of his all-time favorite recipes, Chicken Parmesan.
Print
Pin
Rate
Ingredients
1/4

cup

Grapeseed Oil

2

cups

Italian Bread Crumbs

2

eggs

3

boneless skinless chicken breast

4

cups

marinara sauce

1

cup

Mozzarella cheese

divided
Instructions
Preheat oven to 400 degrees Fahrenheit.

Place grapeseed oil in frying pan. Heat on medium-high. Whisk the egg in one shallow dish, and pour the bread crumbs in another. Clean the chicken and pat dry. Cut the chicken in half length-wise. Dip each chicken breast into the egg mixture then the bread crumbs. Place the chicken in the frying pan (make sure to not overcrowd) . Cook for 3-5 minutes turning and cooking on the other side for 1-2 minutes.

While chicken is frying, pour 2 cups of marinara sauce into a 9x12 pan. Place the cooked chicken in the pan. Repeat frying the chicken until it's all cooked. Once it's cooked ladle an additional 1-2 cups of marinara sauce on top of the chicken. Sprinkle 1 cup of shredded mozzarella cheese on top of the chicken (divided by each piece of chicken) Place tinfoil on top of pan. Bake for 25 minutes.

Remove tinfoil during the last 5 minutes to allow mozzarella to brown. Remove from oven and serve with pasta. Enjoy immediately.