Chicken Sausage and Peppers Soup
Do you love sausage and peppers but crave a hearty bowl of soup? Try my chicken sausage and peppers soup–made in just 20 minutes!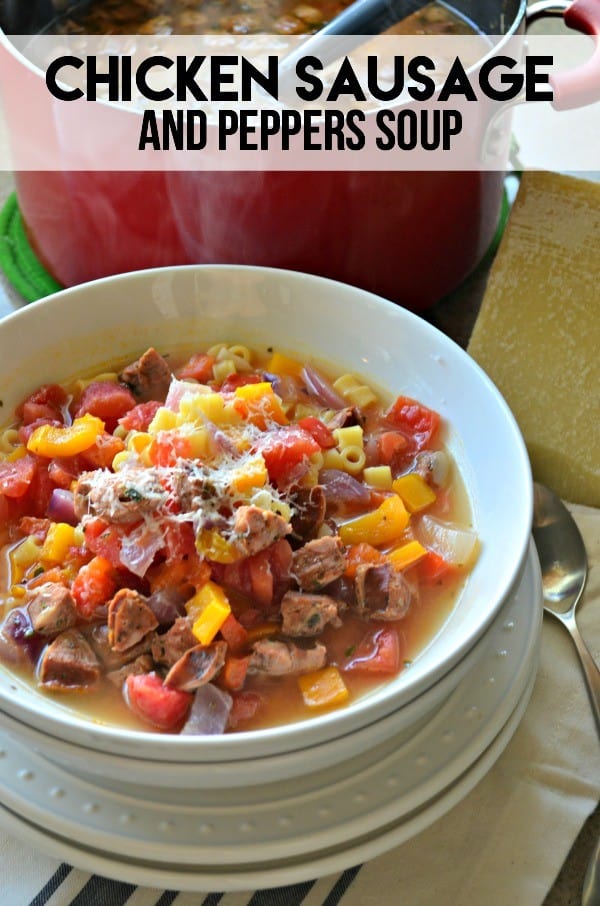 Winter in Florida can be a bit crazy. One day it's in the 80's and the next day it's in the 30's! I wish I was exaggerating but I'm not. So on the random days it's cold I make a pot of soup. Some days I don't plan well or simply don't want a pot of soup simmering all day on the stove top.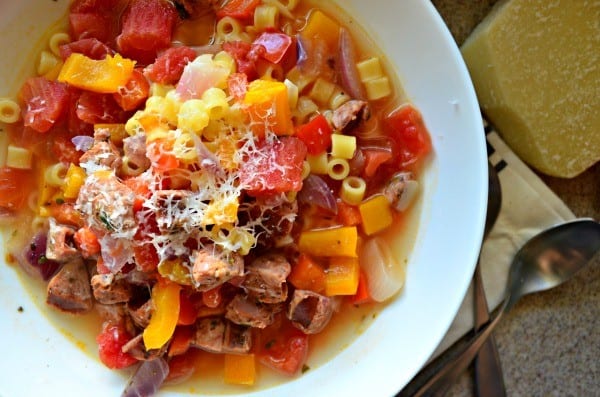 Here's where my chicken sausage and peppers soup comes in to play. It takes 20 minutes to cook total with about 5 minutes to prep (or less if you aren't negotiating with a toddler)! I dreamed up this idea and in my mind it worked perfectly. And then I made it and boy was I right. I love when my ideas work out perfect! I had a package of smoked chicken sausage in my refrigerator as well as a few bell peppers.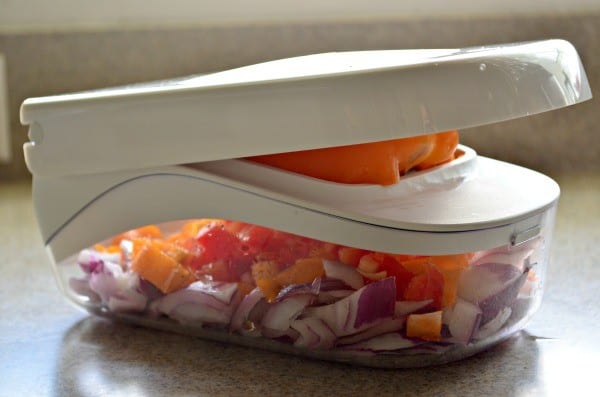 My friends at OXO sent me a Vegetable Chopper with Easy-Pour Opening. I'm going to be honest. I was so skeptical of this. I know I really shouldn't have because let's get real anything OXO makes is pretty amazing. They spend countless hours in research and development and carefully think of each and every feature. But even though I knew it was from OXO I was still skeptical. I tried one years ago that was crap. So of course to my surprise this one worked… Great! Like a total game changer in how I will ever chop good again! You might think I'm exaggerating but I'm not. I never have time to chop an onion with my rambunctious toddler around–so this is a game changer and a lifesaver for me. I'm in love. Once again, OXO hit it out of the park!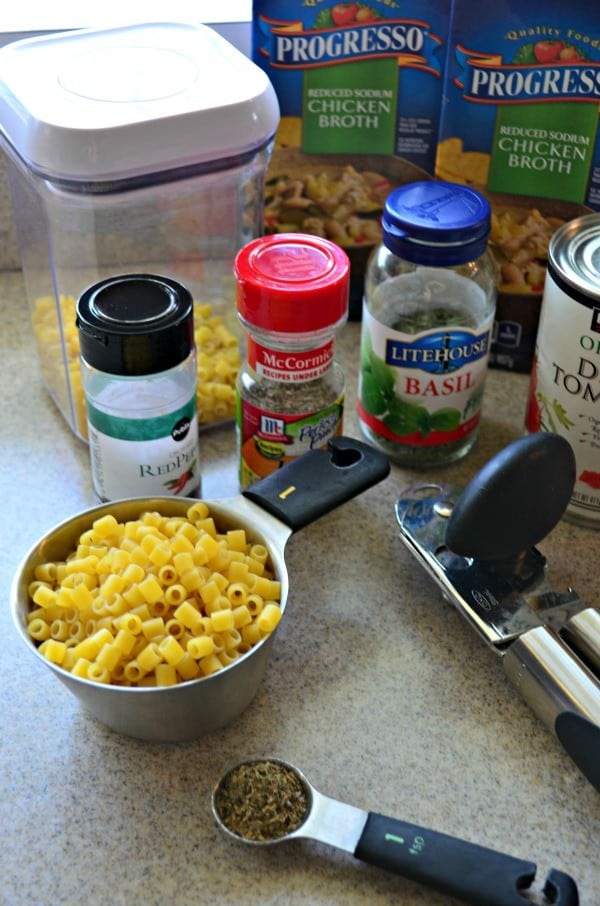 So thanks to the new OXO Vegetable Chopper with Easy-Pour Opening I chopped an onion and two bell peppers on record timing. And they were pretty even in shape which allows them to cook evenly! You'll combine basically all the ingredients minus the pasta, broth, and cheese in the pot to do a quick cook. Then add in the pasta and broth and boil until the pasta is tender. I rarely cook pasta in with my soup but I found for this recipe it works beautifully.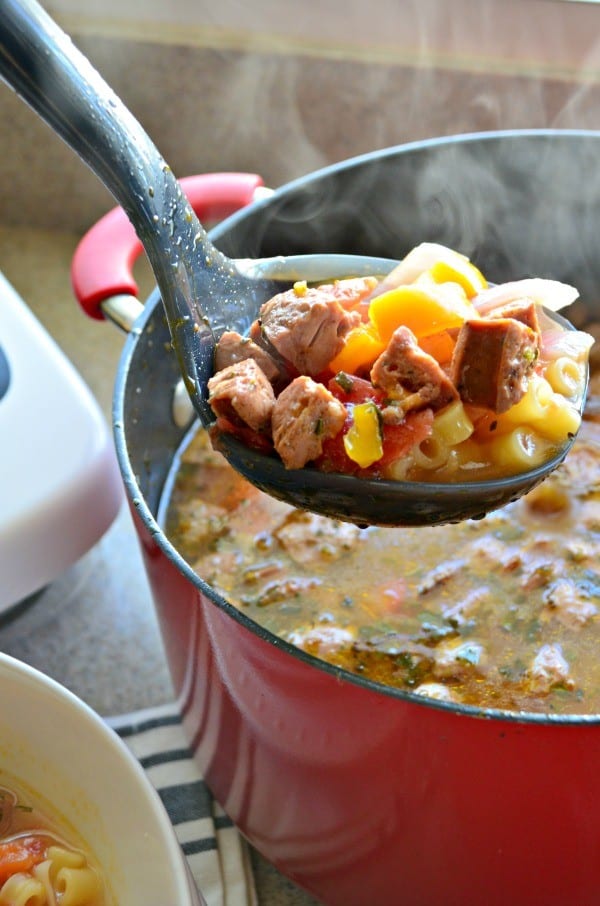 Once the soup is ready I used my Silicone Ladle to ladle up bowls of soup. Can we just pause for a second and stare at this dreamy photo. And take note of a silicone ladle. Genius! The first ladle that will not scrape and scratch my pot! Ok, un-pause…  Then topped each bowl with freshly grated Parmesan cheese. That's in–in just 20 minutes time you'll have the most delicious and hearty bowl of Chicken Sausage and Peppers Soup!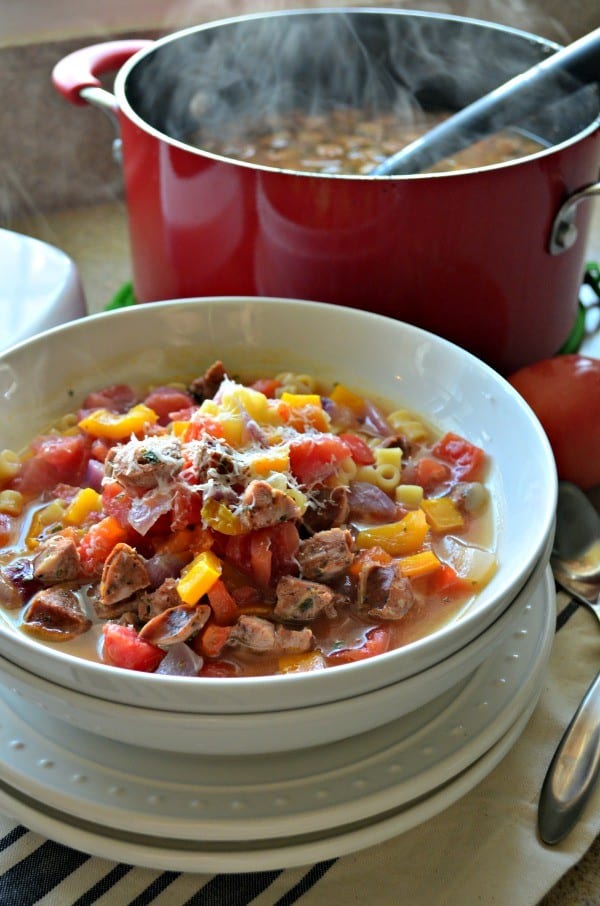 Chicken Sausage and Peppers Soup
Yield: 6
Prep Time: 4 minutes
Cook Time: 16 minutes
Total Time: 20 minutes
Ingredients:
1 tablespoon extra virgin olive oil
1 12oz. Packaged Aidells Italian Style Smoked Chicken Sausage with Mozzarella  Cheese, quartered
1 red onion, chopped
1 red bell pepper, chopped
1 orange bell pepper, chopped
1 tablespoon minced garlic in water
1 14.5 oz can of organic diced tomatoes
1 teaspoon Italian seasoning
1 teaspoon dried basil
Dash of red pepper flakes
2 32oz. Low sodium chicken broth
1 cup Ditalini Noodles
Grated Parmesean Cheese
Directions:
Using the OXO vegetable chopper, chop the red onion, red and orange bell peppers. Set to the side, then quarter the chicken sausage using a sharp knife. Set to the side.
In a large stock pot, pour the olive oil and cook on medium-high heat. Then add in the quartered chicken sausage. Mix well and cook for 1 minute with lid on. Then add in the chopped onions and bell peppers. Mix well, place the lid on the stock pot and cook for 5 minutes. Once the vegetables have sweated and are beginning to look softer add in the garlic, diced tomatoes, Italian seasoning, basil, and pinch of red pepper flakes. Mix well then add in the low sodium chicken broth an ditalini pasta. Mix well and continue to cook on medium-high heat until pasta cooks. Reduce heat if the soup looks like it's going to boil over. Cook for 10 minutes or until the pasta has cooked through.
Divide evenly among soup bowls and enjoy.
Disclaimer: Thank you OXO for supplying me with these kitchen tools (*and a Ground Meat Chopper and Turner). I absolutely love OXO products and can't imagine using anything else in my kitchen. As always all opinions are my own!
Warning
: Use of undefined constant rand - assumed 'rand' (this will throw an Error in a future version of PHP) in
/home/kjasiewicz21/webapps/katiescucina/wp-content/themes/katiescucina/single.php
on line
74
Leave a Comment