My Chipotle Cherry Tomato Salsa is easy to put together and only takes five minutes! The salsa offers a nice heat thanks to chipotle peppers in adobo sauce.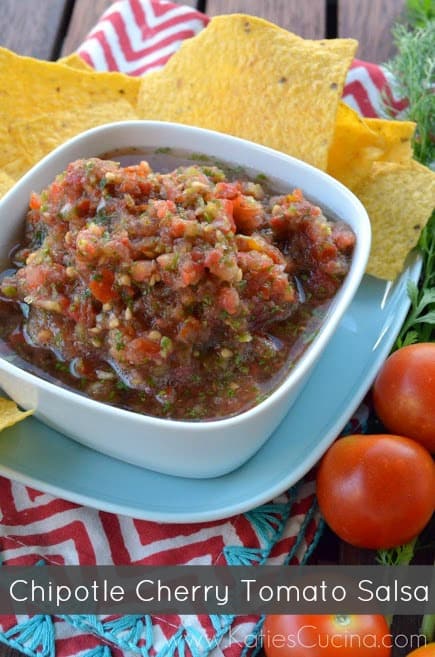 If you follow me on Instagram, you might know that I have a garden. For the past two and a half months while everyone has been shoveling snow, my husband and I have been picking cherry tomatoes like it's our job. Well, I guess its our side unofficial job–but you get the point. It all started back in late January when we both walked past our raised garden beds.
We noticed a 2-foot tall rogue tomato plant. Neither of us had planted the tomato plant. It just popped up. Since we had a tomato plant in the same exact spot last summer ,we figure it must have regenerated from a few rotten tomatoes. This poor plant had been neglected for who knows how many months. We even had a plastic covering the garden beds in hopes to kill off some of the crazy weeds that had grew into our beds over the past few months. So, we started to tend to the tomato plant. Although, we weren't religiously watering it and we definitely didn't cover it during any of the 3 freezes we had in Florida this winter.
The cherry tomato plant continued to flourish. Fast forward to present day. This plant has taken over our raised garden beds. It is over six feet tall and we have had to add a few additional supports since it spans about 10-feet wide. I kid you not when I say we pick 20-50 cherry tomatoes just about every other day. This tomato plant is made of steal although I realize that its days are coming to a close. We will probably get about another 100+ cherry tomatoes form it and then I think its done for the season.
So with our influx of cherry tomatoes came this salsa. Oh, and the fact that we have 4 big bushes of fresh cilantro in our garden. I decided I would hack off one bunch of cilantro. If you garden you know that it is extremely difficult to grow cilantro. This is our first successful year from seed in almost 6 years!
I'll be the first to admit that I'm not really one for salsa made from cherry tomatoes. As I was driving home from work the other week I knew I was cooking Mexican for dinner. I wanted to make salsa and knew I only had cherry tomatoes on hand since I refuse spend money on tomatoes right now since we have so many growing organically in our own garden.
We like our salsa spicy and I was trying to think of what else I could use in substitute for the traditional jalapenos. That is when it occurred to me that I had a jar of chipotles in adobo sauce in the refrigerator. This was an experiment of sorts and let me tell you that the experiment worked beautifully. The sweetness of the cherry tomatoes complimented the subtle sweet tones of the chipotle pepper in adobo sauce.
My husband was head over heals in love with this Chipotle Cherry Tomato Salsa. I didn't think he would be nor did I think I would like it but it was truly a success. He even told me that this should be my new go-to recipe. I'm not sure I would go that far, but I will tell you that when you have ingredients on hand and need to whip up a simple appetizer–make this recipe for Chipotle Cherry Tomato Salsa.
Delicious Recipe
If you are craving more delicious recipes that involve chipotles and tomatoes, here are a few more of my favorite recipes.
If you make this recipe, I would be honored and love for you to take the time to leave a star rating and comment! I spend hours developing and testing these recipes, and always love to hear feedback and user experience!
Don't forget to FOLLOW ME on Facebook, Pinterest, and Instagram, and subscribe to my email list!
Chipotle Cherry Tomato Salsa
My Chipotle Cherry Tomato Salsa is easy to put together and only takes five minutes! The salsa offers a nice heat thanks to chipotle peppers in adobo sauce.
Print
Pin
Rate
Ingredients
½

cup

cilantro

½

green bell pepper

1

shallot

1

clove

garlic

½

chipotle pepper in adobo sauce

4

cups

cherry tomatoes

whole

½

tsp

salt

½

lime

juiced
Instructions
In a food processor combine the cilantro, green bell pepper, shallot, garlic, and chipotle in adobo sauce. Puree for 30 seconds. Then add the 4 cups of cherry tomatoes, salt, and ½ lime juiced. Puree for 15 seconds until everything is well incorporated.
Notes
This recipe yields about 2 cups of salsa.
Nutrition
Serving:
0.25
c
|
Calories:
20
kcal
|
Carbohydrates:
5
g
|
Protein:
1
g
|
Fat:
1
g
|
Saturated Fat:
1
g
|
Sodium:
167
mg
|
Potassium:
197
mg
|
Fiber:
1
g
|
Sugar:
2
g
|
Vitamin A:
508
IU
|
Vitamin C:
25
mg
|
Calcium:
13
mg
|
Iron:
1
mg