Ever since I first started making my own granola last year–I've been hooked! I'm now finding myself experimenting and making new granola recipes. Last month, I joined my friend Christine from Cook the Story and MJ from The Merry Gourmet for the first ever Food Reading Monthly Twitter Party. One of my goals in 2013 is to improve on my writing. So, this idea came about last November, and I immediately placed Best Food Writing 2012 edited by Holly Hughes on my Christmas list. Lucky for me…. Santa brought it for me (i.e., my husband)!
So on the last Thursday of the month at 9:00pm Eastern Time we talk about one essay or story from Best Food Writing 2012, edited by Holly Hughes. Last month, we discussed 'Sweet Spot' by Paul Graham. This was a beautifully written story about harvesting maple syrup of all things. Something of which I had little knowledge of how tedious and pain staking the process is. Living in Florida I'm not really exposed to maple trees or maple harvesting. I read the short story before bed one evening. Big mistake. My entire nights sleep was filled with a variety of dreams that all had to do with maple syrup. I woke up the next morning starving and simply wanting to gulp an expensive bottle of precious maple syrup. And that my friends is exactly how this cinnamon-maple granola recipe was born.
Our next chat will be next Thursday, February 28th at 9:00 pm Eastern Standard Time. We will be discussing 'Lasagna Bolognese' by Deb Perelman (p. 103). You can also find this piece online on Deb Perelman's blog The Smitten Kitchen. This online book club is open for anyone to participate. You just have to have a twitter account. Whether or not you are a food blogger, I hope you can join us and indulge on a short story as a dozen of us food bloggers tweet about the story, our emotions tied with it, and our overall thoughts.
Katie Original Recipe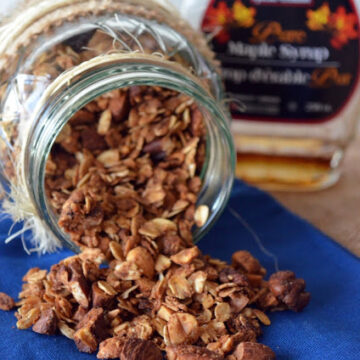 Ingredients
½

cup

maple syrup

2

tbsp

canola oil

3

cups

rolled oats

1

cup

chopped peanuts

1

cup

chopped pecans

1

cup

chopped almonds

¼

cup

wheat germ

1

tbsp

cinnamon
Instructions
Preheat the oven to 300 degrees.

In a sauce pan combine maple syrup and canola oil. Heat until hot but not bubbling, about 5 minutes.

While the syrup is warming in a large bowl combine oats, chopped nuts, wheat germ, and cinnamon. Mix well then pour the syrup mixture over the granola. Mix well again and then spread out on a lined baking sheet.

Bake for 45 minutes at 300 degrees. Make sure you mix the granola every 15 minutes. Once granola is out of the oven and has cooled--store in airtight containers (such-as mason jars) for up to 1 week.
Disclosure: This post contains affiliate links.