Fluffy and warm yeast bread filled with plump raisins make for the absolute best homemade recipe for Cinnamon Raisin Bread.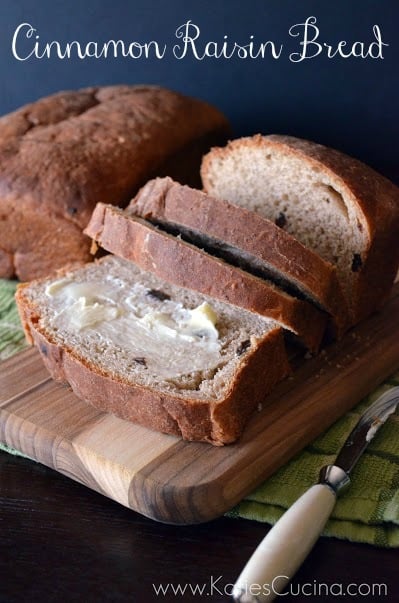 Let's talk about bread today. To be exact, homemade Cinnamon Raisin Bread. Ever since I took the plunge in working with yeast earlier this year I've been expanding my bread making horizons. We love to eat Cinnamon Raisin Bread in our home and I knew that two homemade loaves were really going to hit the spot. Growing up as a kid I loved to eat Cinnamon Raisin Bread toasted smeared with butter and sprinkled with additional sugar and a pinch of cinnamon.
If we didn't have Cinnamon Raisin Bread on hand my mom would just toast white bread for me. Seriously, when I wasn't eating soup for breakfast (yes, that's a true story) I was eating cinnamon sugar toast or for a real delicacy Cinnamon Raisin Bread with butter and cinnamon-sugar.
I was shocked at how easy this recipe was. This was my first full loaf bread baked in 8×8 bread loaf pans. I was a bit nervous as I always am when baking bread. After a few hours of rising and then baking I knew that my bread was a success! After it cooled I sliced a thick piece of the Cinnamon Raisin Bread to give it a taste test. It was amazing. More than I could have ever dreamed of. Full of cinnamon and plump raisins. Although, the next time I think I'll make it a little sweeter. But other than that… its amazing!

So whether you are baking Cinnamon Raisin Bread for an every day breakfast or plan on hosting a brunch this Mother's day. You may just want to include baking some fresh homemade Cinnamon Raisin bread and adding this to the spread!
For the full recipe go visit King Arthur for the Cinnamon Raisin Bread recipe.