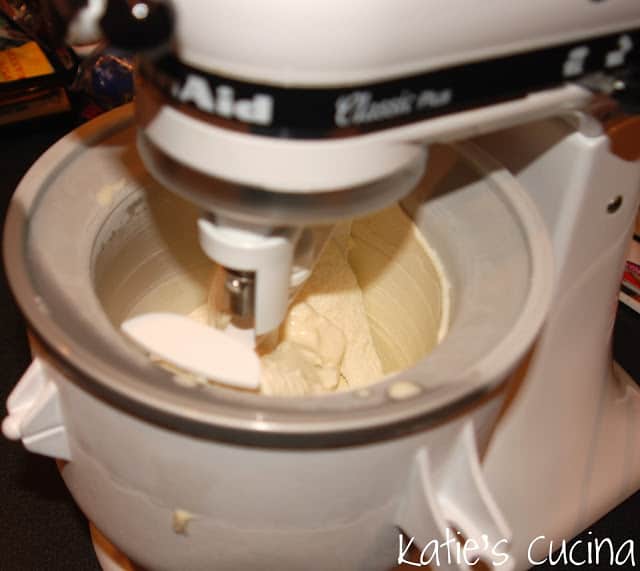 In honor of the last day of Thai Week here at Katie's Cucina what Chocolate-Coconut Cake would be complete without Ice Cream? This ice cream is much different than the ordinary and from the looks of it you would think its Vanilla Ice Cream, but it's a far cry from vanilla! The coconut flavor is subtle and the kick of ginger is just right. This ice cream truly compliments the Chocolate Cake I just posted about the other day. If you have an ice cream maker get it out and get ready to make some very unique ice cream! You can find the original recipe on the Thai Kitchen website. I did modify this recipe a tad. From past experiences of making ice cream I cooked the batter my way rather than the Thai Kitchen way. I felt that there way was a bit more complicated and the directions were hard to follow.
Prep:
20 minutes
Cook: 20 minutes
1 can (14 oz) Thai Kitchen Coconut Milk, well stirred

½ cup whole milk

2 tablespoon minced ginger

4 large egg yolks

⅓ cup superfine sugar

⅓ cup heavy cream

2 tablespoon dark rum
1.
Bring
coconut milk, milk and ginger to simmer in medium saucepan. Remove from heat. Cool slightly.
2. Beat
egg yolks and sugar in medium with wire whisk until fine yellow ribbons form. Gradually add ½ cup of the coconut milk mixture into the egg mixture, whisking until well blended. Pour the batter back into the sauce pan, and cook on medium heat (constantly whisking the mixture–the batter should never boil yet simmer). Cook until mixture thickly coats the back of a wooden spoon. Remove from heat. Cool completely in refrigerator overnight. The next day once the batter has cooled completely, strain through a fine sieve. Stir in cream and rum until well blended.
3. Pour
into an ice cream maker. Freeze according to manufacturer's directions.