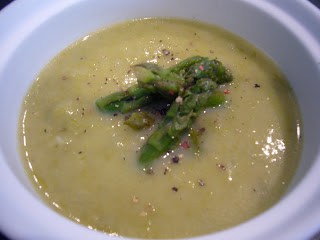 I was craving Cream of Asparagus soup the other day–the kind that they serve on the cruise ships. I had never made this before; however, I knew it had to be pretty simple. I did a little research and found this recipe on the TLC Cooking website. What was supposed to be an easy soup to make turned out to be my first cooking fiasco of 2010. Pretty good being that we are now in the fourth month of the year! The recipe calls for you to puree the asparagus in a food processor or blender… I did and ALL my hot asparagus juice went a flying… everywhere!!! I then decided to put it back in the pot, add the brother, and puree using my handy-dandy emulsion blender!
Cook: 20 minutes
Serves: 4
INGREDIENTS:
1 pound fresh asparagus
3-1/2 cups chicken broth, divided
1/4 cup (1/2 stick) butter
1/4 cup all-purpose flour
1/4 cup of diced onions
1/2 cup light cream
1/2 teaspoon salt
1/8 teaspoon black pepper
DIRECTIONS:
1. Trim off and discard coarse ends of asparagus. Cut asparagus into 1-inch pieces. Combine asparagus and 1 cup broth in medium saucepan; cook 12 to 15 minutes or until tender.
2. Remove 1 cup asparagus pieces; set aside. Purée remaining asparagus pieces with broth in blender or food processor.
*I did this and it was disastrous–if you have an emulsion blender use it instead and then remove the asparagus mixture so that you can follow step three. If you don't have an
emulsion stick
blender… puree the asparagus pieces with very little to no broth in the food processor!
3. Melt butter in large saucepan, and add onions. Cook onions until translucent and then stir in flour. Gradually add remaining 2-1/2 cups broth; cook, stirring occasionally, until slightly thickened. Stir in cream, salt, pepper, puréed asparagus mixture and asparagus pieces; heat through. Serve in bowls and top with a little extra ground black pepper.
Side Suggestions: crusty bread and a Waldorf salad