Creamy Greek Pilaf Salad + Giveaway
I am honored to be a member of the Stonyfield Clean Plate Club. I received product and coupons for writing this post, but all opinions are my own.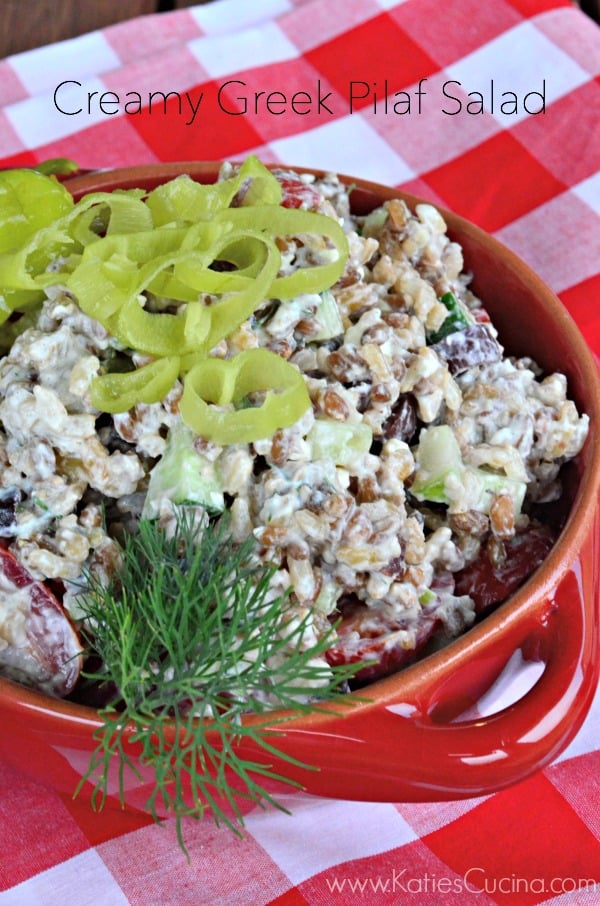 The official start of summer is next Saturday, and barbecue season is upon us. Looking for a healthy side dish to bring to your next barbecue? Why not try my recipe for Creamy Greek Pilaf Salad? Its full of flavor and healthier than most "creamy" salads–I used Stonyfield Plain Greek Yogurt to obtain that creamy texture!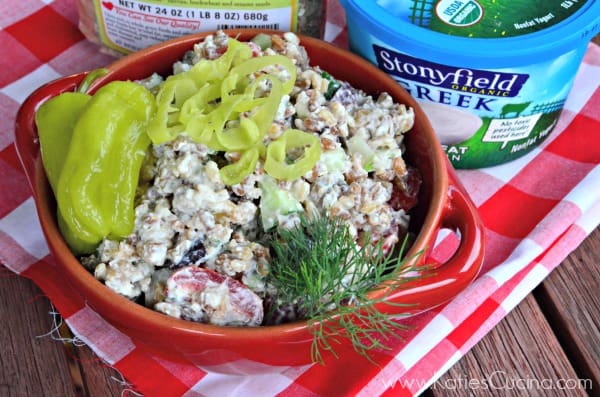 I recently received a box of Bob's Red Mill grains as well as Stonyfield Yogurt coupons to create a salad perfect for summer. I found my self starring at a box of grains I've never cooked with–let alone ate. Grains like Amaranth, Bulgur, Farro, Grande Whole Grains Blend, and Sorghum. Ok, I've had bulgur, but that's about it. I went for the whole grains blend because that seemed the most common to me. My goal was to create a pilaf salad fit for a picnic or barbecue.
The Bob's Red Mill Grande Whole Grains Cereal/Pilaf is a special combination of grains, blending wholesome hard red wheat, nutty long grain brown rice, fiber-rich oats and barley, rye, triticale, plump Kamut® Khorasan wheat, earthy buckwheat and sesame seeds for a little bit of crunchy texture. I had never cooked with it before the challenge, and now I'm hooked. It's an easy and healthy side dish or even better you can use it as a hearty breakfast cereal!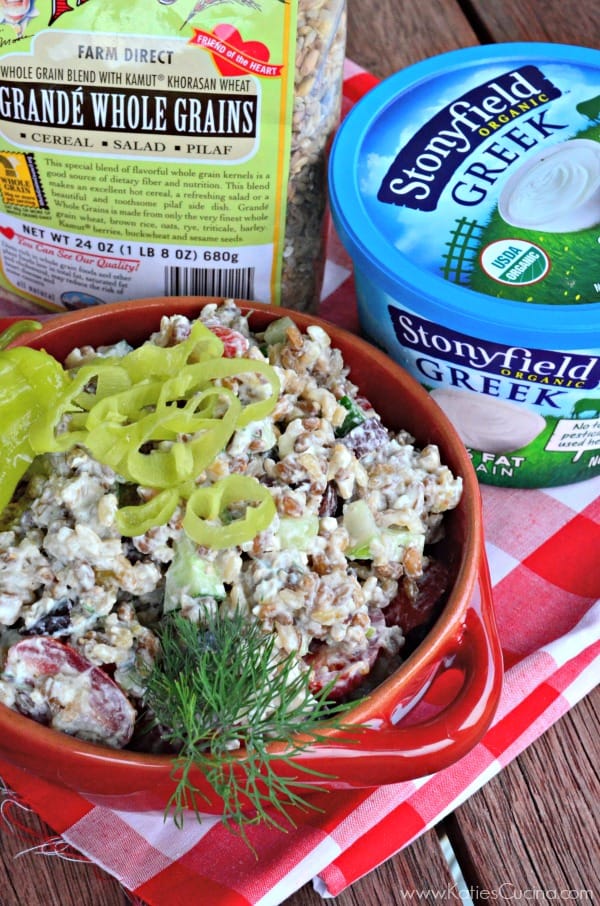 Make sure you scroll past the recipe for a chance to win a box of grains from Bob's Red Mill and free yogurt coupons from Stonyfield so you can make my recipe for Creamy Greek Pilaf Salad!
Here are a few other grain salad recipes from the challenge:
Greek Tabouli Recipe from Cook the Story
Goat Cheese and Grape Salad with Green Goddess Yogurt Dressing from Sweet Remedy
Creamy Balsamic Sorghum Salad from Big Flavors from a Tiny Kitchen
Mexicali Grain Salad from My Baking Heart
Southwestern Pilaf Salad from Turning The Clock Back
Katie Original Recipe
Ingredients
1 cup Bob's Red Mill Grande Whole Grains Blend
2-1/2 cups water
1/2 cup Cucumber, diced
12 Grape Tomatoes, halved
1/4 cup Kalamata Olives, sliced
3 Peporicini's, sliced (optional--I used them as a garnish)
1/4 cup Feta, divided
1/2 cup Stonyfield Plain Greek Yogurt
1 tbsp Greek Seasoning
1 tbsp Fresh Dill, minced
Directions
Cook 1 cup Bob's Red Mill Grande Whole Grains Blend with 2-1/2 cups water according to package (I used my rice cooker and it turned out perfect)! Remove from pot and set to the side to cool.
In a large bowl place the Bob's Red Mill Grande Whole Grains Blend with diced cucumber, halved grape tomatoes, kalamata olives, and sliced peporicini's (if you want the heat) in the bowl. Add 2 tablespoons feta and mix together.
In a separate bowl, add Stonyfield Plain Greek Yogurt, greek seasoning, fresh dill, and the remaining 2 tablespoons of feta. Mix well.
Combine the greek yogurt sauce with the pilaf. Refrigerate for at least 30 minutes before serving. Enjoy!
https://www.katiescucina.com/creamy-greek-pilaf-salad/
This recipe is brought to you by Katie Jasiewicz of Katies Cucina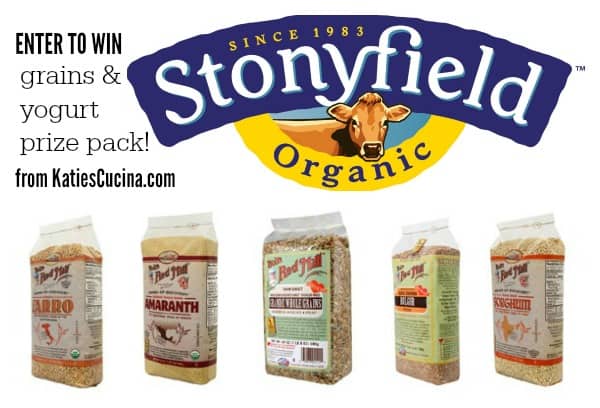 One lucky reader will win a package of Bob's Red Mill grains (Amaranth, Bulgur, Farro, Grande Whole Grains Blend, Sorghum) and two Stonyfield quart coupons (Greek or traditional)! Wait for the rafflecopter widget to load or click on the link to enter. Winner must do mandatory entry. Giveaway open to US residents only. Winner will be chosen at random. Good luck!
Warning
: Use of undefined constant rand - assumed 'rand' (this will throw an Error in a future version of PHP) in
/home/kjasiewicz21/webapps/katiescucina/wp-content/themes/katiescucina/single.php
on line
74
13 Responses to "Creamy Greek Pilaf Salad + Giveaway"
Leave a Comment