Creamy Sundried Tomato Sweet Potato Noodles and Chicken
Want to change up dinner? Try my recipe for one pot Creamy Sundried Tomato Sweet Potato Noodles and Chicken in under 30 minutes!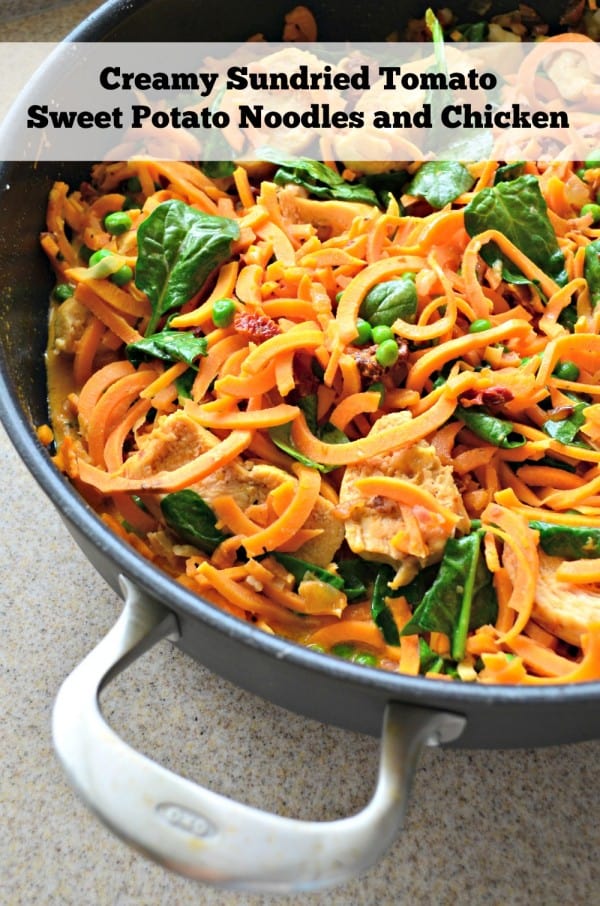 You guys… I've been in a big dinner rut lately. Like I have no desire to cook dinner. So I've been turning to my freezer and thawing out cooked meals to make. I finally got back in the kitchen and created this one pot Creamy Sundried Tomato Sweet Potato Noodles and Chicken.  I was trying to spice things up and make something out of the box. My friends at OXO sent me their new Spiralizer. Let me just tell you, I was in love with the hand-held spiralizer and now I'm even more in love with the full on spiralizer. I find myself making a spiralized meal of sorts at least once a week for dinner and a few times a week for lunch. Good thing squash is about to be in season because I've been eating a lot of it. But when squash is not in season you can also spiralize other vegetables too, like sweet potatoes.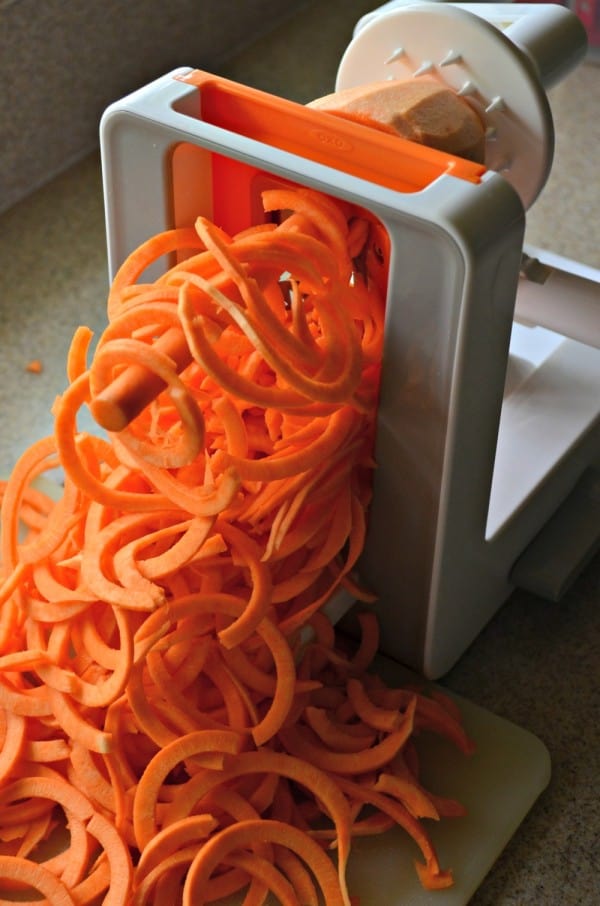 You'll want to peel the sweet potatoes  first and then cut the ends to make a flat surface so that it will lock in place when you go to spiralize. The new OXO Spiralizer is perfect for creating vegetable noodles, a tasty, healthy alternative to pasta. Using the Spiralizer is much faster and safer than a knife plus you get the most perfect circular cuts that you could never replicate using a knife. The Spiralizer retails for $39.99 and comes with three stainless steel blades: spaghetti cut (1/8th inch), fettuccine cut (1/4th inch), or ribbon cut noodles, and the removable blade box keeps blades clean, safe and organized when not in use. I store my blades up top in my cabinet away from little fingers and the actual base in a cabinet below the counter. I also like that the Spiralizer features a Stronghold™ suction cup for non-slip stability on counter-tops. Even when it's not locked in place it's suctioned on to the counter-top making it impossible for it to slip and get hurt.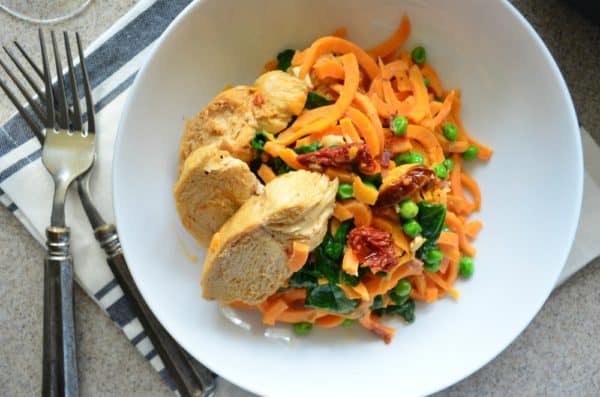 So let's talk about this "pasta" dish. I love that it's still the traditional chicken and potato but in a totally different form. I loved the sweet and savory mix too. The sweet potatoes are sweet and the pancetta gives it a little salty kick. I always tend to put both green peas and spinach in pasta and since I had it on hand. And I rarely use sun dried tomatoes but I had a jar in my pantry and it's been calling my name. If you love sun dried tomatoes you can use the whole jar. I only used half the jar because sometimes we find they can be a bit over powering. Totally a taste preference.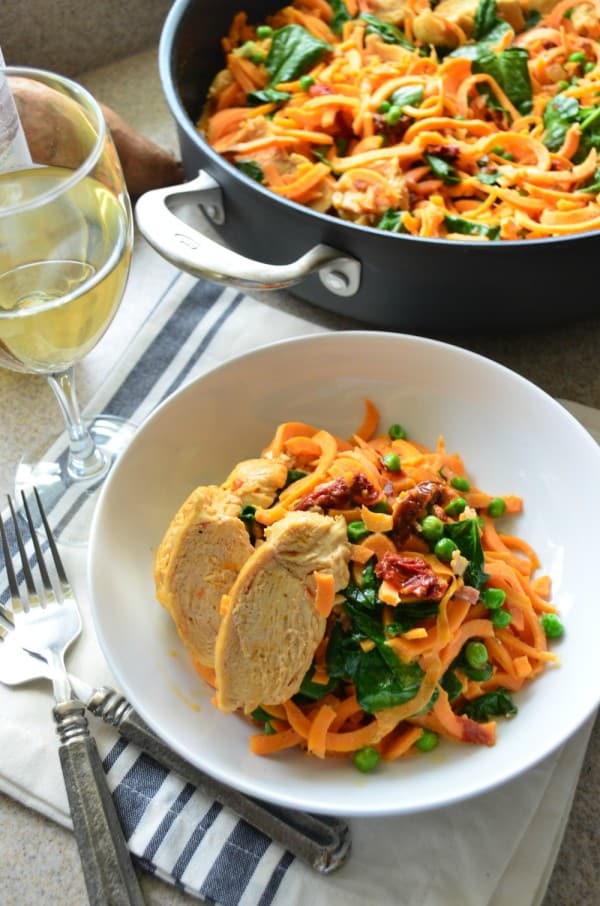 I cooked the entire meal in my OXO Non-Stick Pro Saute Pan. It's the perfect size for one pot meals and it's really light weight so I don't have to worry about breaking my wrist as I pick up the pan full of food! I use this pan almost every night in my home–I love it! My husband really liked this meal and felt like he wasn't eating one of my same-old meals I make. He did; however, think we were eating carrots until he took a bite and realized it was sweet potatoes! Even my picky toddler ate a little bit which is a win-win in my book.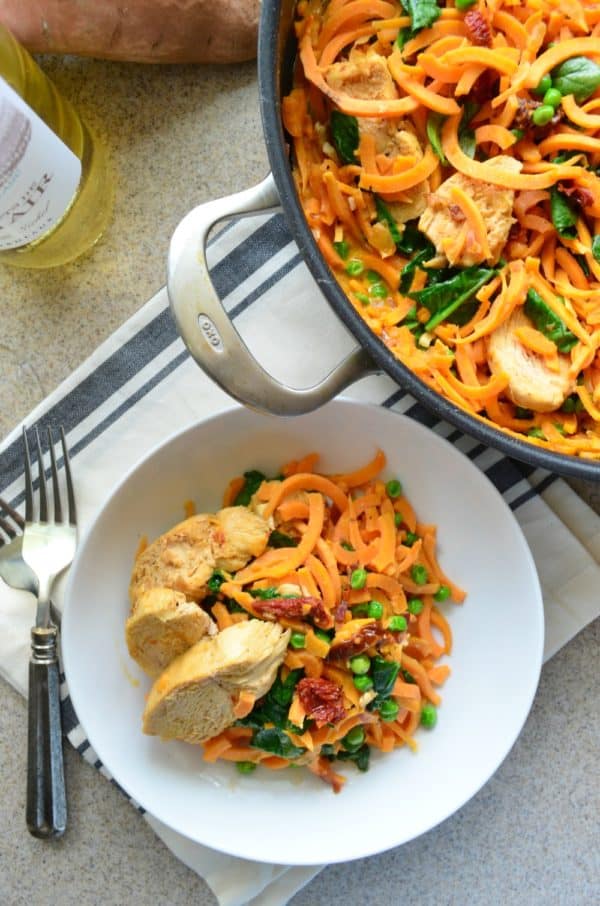 If your looking to branch out and spice up your dinner I invited you to try my recipe for Creamy Sundried Tomato Sweet Potato Noodles and Chicken!

Creamy Sundried Tomato Sweet Potato Noodles and Chicken
Yield: 4-6
Prep Time: 10 minutes
Cook Time: 25 minutes
Total Time: 35 minutes
Ingredients:
2 large sweet potatoes, peeled and ends chopped off
1 tablespoon grapeseed oil
1 tablespoon McCormick Garlic and Herb Seasoning
2 boneless, skinless chicken breast
1/4 cup diced pancetta
1/4 cup diced onion
1/4 cup white wine
1/3 cup sun dried tomato, chopped
1/2 cup heavy cream
2 cups chopped spinach
1/2 cup frozen peas
Directions:
Peel the sweet potatoes and cut each of the ends off so that you have a flat edge. Using the OXO Spiralizer with the orange fettuccine cut (1/4th inch), spiralize both sweet potatoes and set to the side.
Season chicken breast with garlic and herb seasoning.
Preheat a large OXO skillet on medium heat with 1 tablespoon olive oil. Place the chicken breast and diced pancetta in the pan and cook for 5 minutes. Then add in the onion, mix well, turn the chicken and cook an additional 5 minutes.
Remove chicken from pan, slice into 1-inch thick slices, return back to the pan and add the spiralized sweet potato noodles and 1/4 cup of white wine. Cover with lid and cook for 5 minutes. Then add in the sun dried tomatoes, heavy cream, chopped spinach and frozen peas and cook for an additional 8 minutes. Stir well, divide evenly among 4 plates and enjoy.
Disclaimer: OXO provided me with the new spiralizer; however, I was not compensated to create this post. I love OXO and as always all opinions are my own!
Warning
: Use of undefined constant rand - assumed 'rand' (this will throw an Error in a future version of PHP) in
/home/kjasiewicz21/webapps/katiescucina/wp-content/themes/katiescucina/single.php
on line
74
Leave a Comment