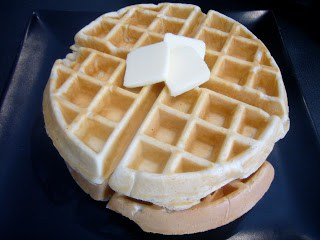 I bought a cheap waffle iron about 5 years ago for maybe $20. I used it so much that by year three of owning it the waffle iron was literally hanging together by it's wires. Naturally, after I got engaged and we started registering for gifts at stores I started doing research on waffle irons. Of course, being the cook I am I needed to graduate to the next level of waffle making, and so I registered for the Waffle Maker. I did not think I was going to get it, but figured I would put it on the list. Low and behold all my co-workers chipped in and bought it for my bridal shower. It will be two years next month that I've been married and to this day I still use this waffle iron! I love it and can't imagine my kitchen without it! This recipe that I'm sharing came with my first $20 waffle iron. I love this recipe because it's not only easy, but makes delicious waffles!
Prep: 10 minutes
Cook: 12 minutes
Serves: 4-6
Ingredients
1 egg
2 cups all-purpose flour
¼ cup vegetable oil
1-½ cups of milk
3 tablespoon sugar
3 teaspoon baking powder
¼ teaspoon salt
1 teaspoon vanilla extract
1 vanilla bean (optional)
Directions
1. In a medium bowl, beat egg until frothy. Add remaining ingredients; mix until smooth. *You can refrigerate the batter for up to 24 hours before using it–if you do this the batter might be thick… just add a little milk until it's a nice flowing consistency.
2. Add ⅔ cups of batter to pre-heated waffle maker and spread evenly with a rubber spatula so that all parts of the iron are covered with batter. Cook according to waffle iron.
3. Carefully remove waffle using a fork. Repeat with remaining batter until all the batter has been used. Top waffles with heated maple syrup and butter OR add sliced fruit, whipped toppings, powdered sugar, jam, etc…
Side Suggestions: breakfast potatoes, sausage, bacon