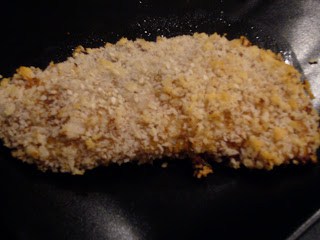 Super easy twist on fish. Once again I found this recipe in my super suppers cookbook!
Cook: 50 minutes
Serves: 4
INGREDIENTS:
nonstick cooking spray
¾ cup Dijon mustard
2 tablespoons hoisin sauce
1-½ cups panko bread crumbs
6 pieces of white fish (like tilapia, sea bass, triple tail)
DIRECTIONS:
Preheat oven to 375°F. Coast a baking sheet with cooking spray.
Stir together mustard and hoisin sauce. Place panko bread crumbs in a shallow dish. Brush both sides of fish fillets with mustard mixture. Coast both sides of fish fillets with bread crumbs.
Place fillets on prepared baking sheet. Bake, uncovered, about 30 minutes or until fish is flaky.
Side Suggestions: crusty bread, salad