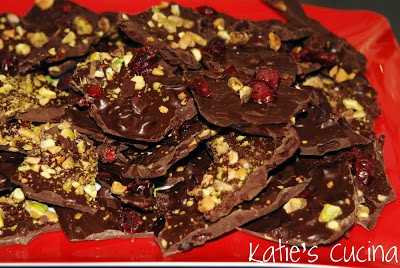 I am a huge fan of peppermint bark, so naturally when I saw this on
Oprah's website
I was very excited and intrigued to want to try and make this; however, Oprah's version had dried cherries and pumpkin seeds. Not a fan of pumpkin seeds, and I had no dried cherries on hand. I did have craisins (aka dried cranberries)! I typically make a home made trail mix that consist of semi-sweet chocolate chips, craisins, and pistachios, so I knew with a few modifications I would love this bark! This is by far one of the easiest recipes I've ever made and it speaks volumes. All of my coworkers were impressed and I kept assuring them that this was by far the easiest recipe on the planet–even there kids could make it!
½ cup shelled, dry-roasted, salted pistachios , coarsely chopped

¾ cup coarsely chopped dried cranberries

1 pound bittersweet chocolate (at least 64 percent cacao), finely chopped
1.
Line an 11″ x 17″ baking sheet with parchment paper. Combine pistachios and dried cranberries in a bowl. Set aside ½ cup of mixture.

2. To temper chocolate: Using a microwave, place ¾ of chocolate in a microwave-safe glass or ceramic bowl (set aside remaining chocolate). Program microwave at 50 percent power. With bowl uncovered, heat chocolate for 30 seconds and then stir with a rubber spatula. Repeat, heating for 30 seconds and then stirring, until almost all the chocolate in the bowl is melted, about 4 minutes total.

3.Using an instant-read thermometer, check temperature of chocolate. It should be no more than 115°. If it hasn't reached desired temperature, continue to heat (in 10-second increments). Then add reserved chocolate and stir constantly until completely melted and smooth and thermometer reads 88° to 90°. Chocolate is now tempered.

4. Stir nut mixture into bowl containing chocolate.

5.Using an offset spatula, spread chocolate in an even layer, about ¼ inch thick, on the parchment. Sprinkle with reserved ½ cup nut mixture. Allow bark to cool until hard, at least 20 minutes. Break into irregular pieces.

Tip: Wrap in gift boxes or airtight tins lined with decorative waxed paper, or place in cellophane bags and tie with ribbon. Chocolate bark will last several weeks.